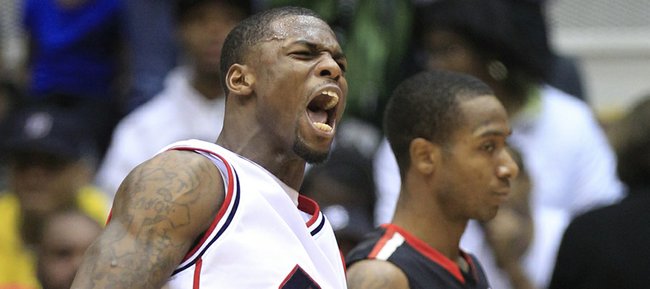 Gargantuan scoreboards that play basketball highlights tend to show more plays featuring players dunking than curling around screens, catching the ball, squaring to the hoop and swishing the shot.
It's only natural. Dunks get the juices flowing. Anybody can make a jump shot. Not everybody can dunk with a variety of deliveries. That takes rare sky-walking ability.
Even basketball eyes so trained they're entrusted with decisions on six-figure, four-year scholarships tend to make most of their mistakes on guys who can rock the rim. At crowded AAU tournaments with six games going on at once, it's the leapers who stand out. Player A might have better lateral quickness than Player B, but if Player B gets up higher, he's more likely to be noticed first.
The subconscious never rests, and to a large extent, it's at that level that the mind triggers adrenaline. You can't just tell yourself, "OK, I'm going to get really excited right now." Either you do or you don't. Your adrenaline would tend to stay at rest watching a three-point shooting tape of Nik Cochran, Davidson's 6-foot-3, 188-pound Canadian who scored 21 points in the upset of Kansas, yet anybody's juices would roar watching video of Detroit Mercy's Dunkin' Doug Anderson, a YouTube sensation since his high school days.
Detroit has five double-figure scorers, plus Anderson, who starts and averages 9.1 points and 4.7 rebounds. He wears No. 23 and dunks like another No. 23. Any number of word combinations typed in the YouTube search box will bring you to his highlights. Such as: "Detroit's Doug Anderson Massive follow Dunk vs. St. John's." And: "Crazy put-back by Detroit's Doug Anderson." And: "Doug Anderson has INSANE bounce, Best Dunker in college basketball?"
His dunk during Detroit's 20-point blowout at Valparaiso made No. 1 on ESPN's Top 10 plays of the night.
It's not reasonable of us to think that men who range in age from 18 to 23, men who spent their entire lives living in the highlight era, would not experience a greater adrenaline rush watching great dunkers, too.
So maybe the words Kansas coach Bill Self spoke about Detroit before Tuesday's practice should do more to encourage those emotionally invested in Kansas basketball than discourage them. Watching video of Titans get up, way up, might help Kansas get up for the game on a subconscious level.
"I'm serious," Self said, "you could make a highlight tape of Detroit, and it's as good as Baylor's highlight tape. I mean, they are athletic. They're as athletic as any team in our league, I think. They've got a terrific point guard, and they've got size up front. And they make athletic plays."
The higher Detroit plays on tape, the faster the adrenaline should flow Friday night for Kansas.
More like this story on KUsports.com