Take that, Harvard.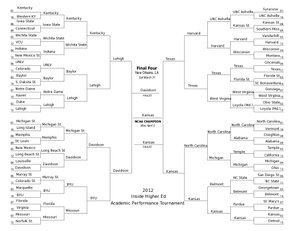 Kansas University grasped top honors in the website Inside Higher Ed's annual Academic Performance Tournament, which uses teams' graduation rates and academic performance to determine a winner.
KU was joined in the bracket's Final Four by Texas, Lehigh and Davidson.
Each game is judged using teams' Academic Progress Rate. In case of ties, the teams' Graduation Success Rates are used.
A team's APR is a score the NCAA uses to track academic eligibility and retention among players. In May, the NCAA recognized KU's men's basketball team as one of the teams to earn a perfect 1,000 score.
"While their APR is probably the last thing on these athletes' mind at the moment, it shouldn't be," the website reported. "That's because in October, the NCAA Division I Board of Directors passed rules that by the 2015-16 season schools will be required to have at least a score of 930 to participate in any sport's postseason competition."
The GSR is a stricter metric that measures graduation rates. KU had a GSR score of 91, using six-year graduation rate data calculated from 2003-09. That's up from last year's score of 80.
KU beat Detroit, Purdue, Belmont, North Carolina, Texas and Davidson on the way to the championship. KU was in the annual bracket's Final Four last year, and won the tournament again in 2010.
"I think it reflects the effort that our basketball players, our faculty members, our academic counselors and our tutors put into the academic side of college life," said Jim Marchiony, associate athletics director. "It certainly is nice that we've done so well the last three years."
And as for KU's traditional rivals, Missouri and Kansas State? MU lost in the Sweet 16 to Brigham Young, and KSU dropped in the Round of 32 to UNC Asheville.
More like this story on KUsports.com