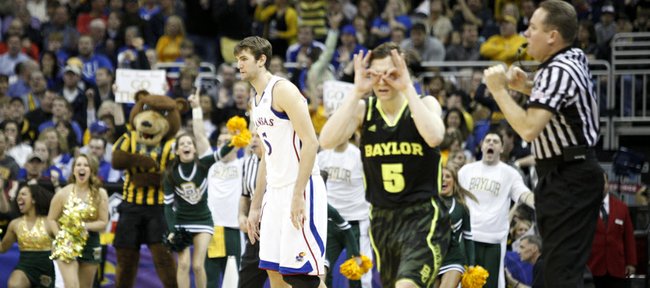 Podcast episode
Kansas coach Bill Self talks to reporters following the Jayhawks' 81-72 loss to Baylor on March 9, 2012.
Podcast episode
KU players Tyshawn Taylor and Jeff Withey talk to reporters following the Jayhawks' 81-72 loss to Baylor on March 9, 2012.
Podcast episode
Baylor coach Scott Drew and players Perry Jones III, Quincy Acy and Pierre Jackson talk to reporters following the Bears' 81-72 victory over Kansas on March 9, 2012.
KU vs. Baylor
Kansas City, Mo. — Senior point guard Tyshawn Taylor spoke up, breaking the silence in a somber Kansas University basketball locker room Friday night in Sprint Center.
"I just told my team once coach walked out that everybody should be disappointed because we shouldn't have lost," Taylor said after the Jayhawks' 81-72 Big 12 tournament semifinal setback to Baylor.
"But our goal is not to win the Big 12 tournament championship. Our goal is to win the Big 12 (regular-season) championship, which we have, and the national championship, which we still can.
"It sucks to lose any game," Taylor added of his message to his teammates after the Jayhawks' sixth loss against 27 victories, "but it's not the end of the season. It's not. A lot of teams lose their conference tournaments and go home and still have something to play for. We've got to get back in the lab and need to be getting better, not dropping. We're going to be all right."
The Jayhawks, who will anxiously be awaiting their NCAA Tournament fate on Selection Sunday, believe they know why they are not playing in the Big 12 tourney finals today.
As simplistic as it sounds, the Jayhawks believe Baylor (27-6) merely wanted it more. KU blistered the Bears, 92-74 in Lawrence, and 68-54 in Waco, this season.
"It's human nature. How would you feel if somebody beat up on you twice?" KU junior guard Elijah Johnson said after scoring 15 points off 6-of-16 shooting (one of six from three)."
After all, it's not as if the Bears have a bad team. BU is ranked 12th in the country, KU third. And yet the Jayhawks easily handled Scott Drew's crew twice.
"They were a little more aggressive. You could tell they wanted this bad. They came out like we would if we lost two games," noted Taylor, who scored 20 points off 8-of-15 shooting. He hit one of four threes on a night KU made just two of 13 to Baylor's nine of 19.
"I hate that that's always our excuse, that we came out flat," Taylor added. "When it's game time and the ball goes up, you've got to be ready. We have to understand that."
Whatever the reason, KU, which rallied from a 14-point deficit (49-35 with 18:39 to play) to grab a two-point lead (58-56 with 10:21 left), faded down the stretch and will be sitting home today while BU plays Missouri in the 5 p.m. final.
"I don't know if overconfidence is the right word. I guess it could be," said KU coach Bill Self, whose Jayhawks won five of the past six Big 12 tourney titles. "We beat them twice. We had Baylor down over 20 both games we won.
"If that is the case, then how immature is that? That's the thing that bothers me. I'm not buying in to that at all. When you are playing for a championship of any kind, how in the world could that ever be the mind-set? Going into the NCAA Tournament, that can't be the mind-set. Maybe it's a good lesson for us."
Taylor scored seven points and Thomas Robinson (15 points) six in an 18-3 run that turned a 53-40 deficit into a 58-56 lead at 10:21.
BU woke up at that point, embarking on a 19-8 run to build a 75-66 lead at 1:07. Brady Heslip iced three three-pointers (including one that gave the Bears a 59-58 lead) in that stretch. Also, Perry Jones (18 points) contributed eight in that surge.
"I think it was a lot more than that," Taylor said, asked if Heslip's bombs beat the Jayhawks, "but it came down to him hitting those threes. He's a great shooter. The first one, Travis (Releford) had his hand up. We know better than to let him shoot open shots like that."
Noted Self: "The whole deal on Heslip is, the most we're ever going to leave him is to bluff at the ball and get back to him. We made two critical mistakes, critical. You can't just put it on Travis because if we got through the back screen quicker maybe we could have released and got to the shooter quicker. That definitely went against scouting report."
The Bears, who wore their new, camouflage uniforms for the first time against KU, added another new wrinkle in the third meeting this year: man-to-man defense.
"I would rather them play man, honestly," Taylor said. "I don't think that was it (reason for defeat) at all. I think defensively we didn't play our best. They rebounded the ball well (the teams tied 37-37 on the boards) and made big shots when they needed to."
KU All-America candidate Robinson sat out the last five minutes of the first half after picking up his second foul. KU trailed, 43-35, at the break, the lead growing from four to eight with Robinson out.
"The reason Thomas came out was because of two fouls," Self said. "But let's call it like it is. Withey (Jeff, 11 points, seven boards) and Young (Kevin, five points, five boards) were our best guys the first half. We had so many bad possessions (at the end of the first half). The foul situation was the biggest reason he came out."
KU is expected to be a No. 1 or No. 2 seed and play first-round games in Omaha, Neb., starting Friday.
"Our season is not over," Taylor said. "The exciting thing is it's just getting started for us. We can learn from this and do some great things."
More like this story on KUsports.com