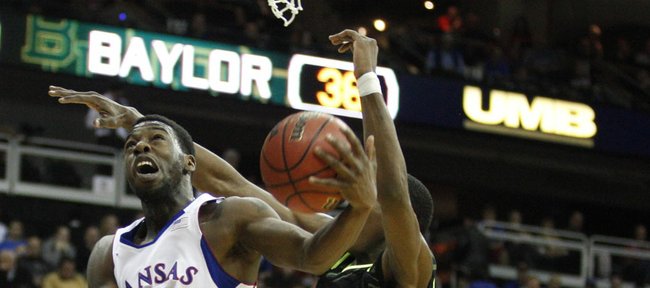 Podcast episode
Kansas coach Bill Self talks to reporters following the Jayhawks' 81-72 loss to Baylor on March 9, 2012.
Podcast episode
KU players Tyshawn Taylor and Jeff Withey talk to reporters following the Jayhawks' 81-72 loss to Baylor on March 9, 2012.
Podcast episode
Baylor coach Scott Drew and players Perry Jones III, Quincy Acy and Pierre Jackson talk to reporters following the Bears' 81-72 victory over Kansas on March 9, 2012.
KU vs. Baylor
Kansas City, Mo. — There will be no third meeting between Kansas and Missouri this college basketball season ... unless the squads meet in the NCAA Tournament.
Jayhawk coach Bill Self was asked Friday if there was any relief in not having to "deal with all the emotion that goes into a game like that?"
"Zero," Self said after the Jayhawks' 81-72 Big 12 semifinal loss to Baylor in Sprint Center.
Baylor will meet Missouri in today's 5 p.m. final.
"I would rather be playing Saturday regardless of who we would be playing against, whether it be Texas or Missouri," Self added. "But I didn't come over here thinking about the rivalry or anything like that. What we were trying to do was just win and focus on whatever would be the case tomorrow. So we had two epic games with them this year. Two epic games. And it's unfortunate it (rivalry) is going to end."
Junior Travis Releford said, "No," when asked if he was especially disappointed KU would not be meeting MU in the final. "We just wanted to win today. It would have been nice, though," he added.
One or two seed?: Self said he did not know if KU would receive a No. 1 or 2 seed in the NCAA Tournament on Sunday.
"We hurt ourselves tonight if our goal is to be a No. 1 seed," he said.
It's believed KU will play first- and second-round games in Omaha, Neb., on Friday and (if KU wins the first game) Sunday.
After that, KU could still land a spot in the regional in St. Louis. Phoenix has been listed as another possibility.
"I don't know if it's an advantage or not to play in St. Louis," Self said. "We'd have to win two games to play in St. Louis. If we win two games, I couldn't care less where we play."
Taylor makes cut: KU senior Tyshawn Taylor on Friday was named one of five finalists for the Bob Cousy Award, which goes to the country's top point guard. There had been controversy when Taylor was left off the organization's midseason watch list.
Other finalists: Isaiah Canaan, Murray State; Matthew Dellavedova, Saint Mary's; Damian Lillard, Weber State and Kendall Marshall, North Carolina.
"I'm glad I'm on the list. I'm glad they noticed me. Those are some good point guards," Taylor said.
Stats, facts: KU is 4-4 this season when trailing at halftime, including an 0-2 mark at Sprint Center. ... KU had won seven straight games in the Big 12 tourney. ... KU is 18-3 against Baylor and 10-2 under Self. ... Kansas went on a 20-5 run during an eight-minute stretch in the second half, which turned an 11-point Baylor lead into a two-point Jayhawk advantage. ... A total of four Jayhawks (Thomas Robinson, Jeff Withey, Taylor and Elijah Johnson) were in double-digits, marking the 14th time KU has had at least four players with 10 or more points in a game. ... Taylor's 20 points moved him into sole possession of 19th place on the KU all-time scoring list, passing Tony Guy and Bud Stallworth with his 1,503 career points.
It's moot now: NCAA Tournament Selection Committee chair Jeff Hathaway was asked this week what would happen if Missouri beat KU in the finals of the Big 12 tournament. That now will not happen since KU was ousted by Baylor in a semifinal Friday. Missouri beat Texas to move to the final.
"We would look at Kansas, and we would look at Missouri and we would look at those other handful of teams that we believe are due consideration for the first line and the second line and we would compare them all with each other," Hathaway said. "So it goes back to what I alluded to, and that is head-to-head competition is a factor that's considered. Common opponents is a factor. Right down the list. We'll look at the full body of work. One game — one game is not going to determine, be the sole determinant for where they're going to be seeded."
More like this story on KUsports.com