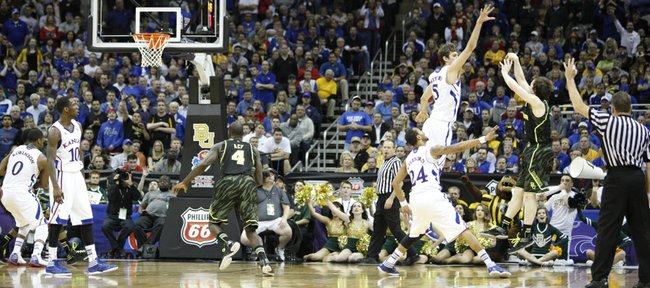 Podcast episode
Kansas coach Bill Self talks to reporters following the Jayhawks' 81-72 loss to Baylor on March 9, 2012.
Podcast episode
KU players Tyshawn Taylor and Jeff Withey talk to reporters following the Jayhawks' 81-72 loss to Baylor on March 9, 2012.
Podcast episode
Baylor coach Scott Drew and players Perry Jones III, Quincy Acy and Pierre Jackson talk to reporters following the Bears' 81-72 victory over Kansas on March 9, 2012.
KU vs. Baylor
Kansas City, Mo. — It might not have been a career night for Baylor guard Brady Heslip in the box score, but it definitely was as important a night as he ever had experienced.
After attempting just five shots and making one during a combined 44 minutes of playing time in his first two match-ups with Kansas University this season — both Baylor losses — the 6-foot-2 gunner from Burlington, Ontario, made four of seven shots Friday night, including four of six from three-point range, to help the fourth-seeded Bears knock off top-seeded Kansas, 81-72, at Sprint Center.
Heslip finished with 12 points in 33 minutes, a modest line by most standards, but the triples he made proved to be back-breaking for Kansas (27-6), including two daggers during the game's final three minutes. The first, a bomb from the left wing, pushed Baylor's lead from 67-64 to 70-64 with 2:06 to play.
The next, a pure swish from the opposite wing, gave the Bears' a 73-66 lead with 1:18 remaining.
After each, Heslip responded with a move Jayhawk fans have seen from KU senior Tyshawn Taylor more than a few times this season — right hand makes a circle with index finger and thumb, leaving three fingers in the air and a perfect frame for an assassin's eye.
"I've seen him do that in practice before," Baylor big man Perry Jones III said. "Sometimes he gets a little excited."
Asked about the celebratory gesture that, until Friday, had been for his teammates' eyes only, Heslip shrugged.
"I was just caught up in the game," he said. "I just had to throw it up one time. I went double after the second one. It was just an amazing environment and an incredible experience, especially against a great team like Kansas."
While Heslip's smooth shooting and clutch jumpers proved to be crucial in BU's victory, the Canadian hardly operated alone. Six Bears scored in double figures, including Jones, a likely lottery pick, who paced Baylor with 18 points and seven rebounds.
"We're way better when everybody plays together," Jones said.
Added point guard Pierre Jackson, who scored 13 points and dished seven assists: "Once we all are clicking like that, we're hard to beat."
Jackson assisted on the second of Heslip's daggers, and junior A.J. Walton (12 points, six rebounds) picked up the assist on the first. Baylor finished with 16 assists and just nine turnovers.
"Whenever Brady puts a shot up, we all think it's going in," Jackson said. "So I'm glad he had the confidence to (shoot). I'm glad he hit both of those threes. We needed them."
It's hard to say exactly why the Bears picked now to reveal two of their best games of the season. But there were a few guesses.
"We saw all the advertisements coming into the tournament, 'It's gonna be Kansas versus Missouri,'" Heslip said. "We used that as motivation. When we got that first win (against Kansas State on Thursday), we were playing with a different mind-set, and we were confident."
Jackson's answer was simpler.
"We know what time of year it is," he said.
Baylor (27-6) will face Missouri (29-4) at 5 tonight for the tourney title.
More like this story on KUsports.com