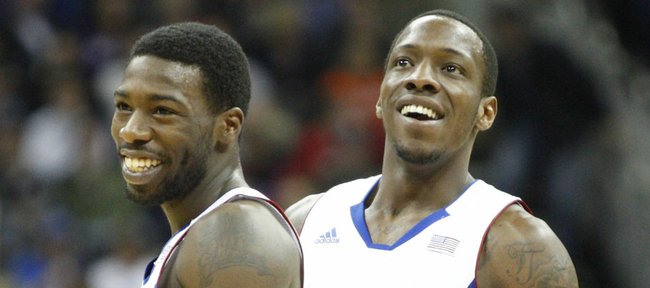 Podcast episode
Kansas coach Bill Self talks to reporters following the Jayhawks' 83-66 victory over Texas A&M; on March 8, 2012.
Podcast episode
KU guard Elijah Johnson and forward Thomas Robinson talk to reporters after the Jayhawks' 83-66 victory over Texas A&M; on March 8, 2012.
Podcast episode
Texas A&M; coach Billy Kennedy and players Keith Davis and Khris Middleton talk to reporters following their team's 83-66 loss to Kansas on March 8, 2012.
KU vs. Texas A&M
Kansas City, Mo. — Kansas University junior combo guard Elijah Johnson headed home to Gary, Ind., with a heavy heart Sunday as he mourned the death of his beloved uncle, William D. "Dough Boy" Couisnard, Sr.
Johnson returned to campus Tuesday night with a smile on his face, feeling invigorated after spending quality time with his loved ones at Monday's visitation and Tuesday morning's funeral service.
"I think I just needed to get a little love from my family, honestly," Johnson said after busting a three-game scoring drought by scoring a career-high 26 points in KU's 83-66 Big 12 tournament quarterfinal victory over Texas A&M; on Thursday in Sprint Center.
"When I went home for a little bit, it gave me something I needed to get going into March," added Johnson, who hit eight of 11 shots, including a career-best five three-pointers in seven tries. "Being there for my family and hearing the stuff they say, it did something to me. It did something to my heart. It really did."
Johnson had scored 22 points in KU's last three games following a 21-point explosion against A&M; on Feb. 22 in College Station.
"The whole time I was home," Johnson said, "everybody was supposed to be sad, but everybody wanted to talk to me about ball. It made me realize where I'm at. It was another reality check. At Kansas, we get spoiled a lot. We play on TV every game. We play on center stage every game. There are thousands of people at our games, every game.
"Back home, people I haven't seen in years are telling me, 'Hey, I saw you on TV.' That makes me feel good. It gives me that extra boost. It makes me want to do more. It makes me want to push a little harder.
"I've got this family here, too. They (KU players, coaches) are always saying encouraging things to me, but to go home and hear it from your real family, it can do a lot for you."
KU coach Bill Self ran Johnson through an individual workout Sunday before allowing him to miss two full practices. Self had some encouraging words for Johnson on Thursday.
"When I was walking out of the locker room — I'm always the last out of the locker room — coach said to me, 'I like the way you were shooting yesterday,'" Johnson related. "I said, 'I didn't know you were paying attention.' He said (jokingly), 'Yeah, I know everything.'
"Hearing that from your head coach ... if a player doesn't feel special when recognized by his head coach, then there's not many people who can get through to you."
Self said he was truly impressed with the 6-foot-4 guard at practice Wednesday.
"Every time he teed it up, I thought it was going in," Self said. "I told him before the game, 'I've got a great feeling about you.' I could tell he was confident."
Johnson scored 13 points in an 18-4 run that opened a 30-21 lead with 4:22 left in the first half. He scored 15 points the initial half, just three shy of the 18 he had against A&M; in the first half of the victory in College Station.
"I felt like T-Rob feels sometimes, like I can't miss," Johnson said. KU junior power forward Thomas Robinson scored 19 points off 6-of-9 shooting. He hit a pair of threes on a day the Jayhawks swished 10 of 15 from beyond the arc.
"I kind of felt like Superman (Robinson) today," Johnson added. "I've been around him enough. It's about time it rubbed off on me."
Johnson's backcourt partner, Tyshawn Taylor, hit three threes in four tries and scored 16 points.
"We were feeding off each other tonight," Taylor said, "because he would make some shots then look at me, and I'd make some shots and vice versa. It opens up the floor for me, Thomas and Jeff (Withey, 11 points, six boards) when Elijah plays like that."
Johnson, who also went 5-for-5 from the free-throw line, said it was gratifying that his teammates noticed he had the hot hand.
"Conner (Teahan, 0-for-2 from three) passed up a couple shots to give me the open look," Johnson said. "After I made the first two, Tyshawn looked at me. I looked at him and said, 'Yeah, it feels great.' He shook his head. It was like, 'Say no more.' He knew I was feeling good."
Johnson realizes there are no guarantees he'll be just as productive in today's 6:30 p.m. tourney semifinal against Baylor.
"I believe 100 percent that tomorrow is a different day," Johnson said. "I don't go into the game saying, 'Hey, I had 26 yesterday,' because I could have zero tomorrow. I just have to go in with the same drive, the same mind-set and be ready."
He said he appreciates the fact Self demanded a lot of him Thursday and will again, today.
"Coach has a good way of turning your attention to back what it needs to be on," Johnson said. "When Thomas went through what he went through (death of mom and two grandparents last season), coach said in an interview that he couldn't let up on him. He had to keep yelling at him to make him feel normal. I don't want people to make me not feel normal. If that's yelling at me, it's water off my back. It doesn't bother me. I know coach is not trying to treat me special. He wants me to know, 'Hey, snap back into it. Stuff happens. Deal with it.'"