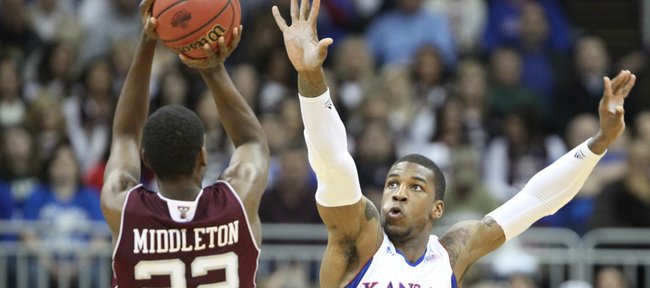 Podcast episode
Kansas coach Bill Self talks to reporters following the Jayhawks' 83-66 victory over Texas A&M; on March 8, 2012.
Podcast episode
KU guard Elijah Johnson and forward Thomas Robinson talk to reporters after the Jayhawks' 83-66 victory over Texas A&M; on March 8, 2012.
Podcast episode
Texas A&M; coach Billy Kennedy and players Keith Davis and Khris Middleton talk to reporters following their team's 83-66 loss to Kansas on March 8, 2012.
KU vs. Texas A&M
Kansas City, Mo. — Perry Jones III, the sleeping giant of the Big 12's sleeping giants, awakened on his opening day of the postseason Thursday in the Sprint Center.
Jones, Baylor University's long-armed, 6-foot-11, 235-pound sophomore from Duncanville, Texas, doesn't always put himself in the right spots to take advantage of his length. At times, he seems to avoid contact. Too often, some teammates fail to realize what they have in him and don't look to feed him.
None of those shortcomings were in evidence when he and the Bears dominated Kansas State for much of the afternoon in scoring an 82-74 victory in a Big 12 quarterfinal.
Stationing himself closer to the basket more often than usual, especially in the first half, Jones looked for contact. Teammates looked for him, and look what happened. With on-site NBA scouts salivating, Jones amassed 31 points and 11 rebounds. By halftime, he had 21 points and eight boards.
Suddenly, the semifinal matchup between a much deeper No. 4 seed Baylor and a more intense, better organized Kansas, the No. 1 seed, takes on the feel of a big-time game, a tougher one to forecast than the seeds or one-sided regular-season results would indicate.
One game does not a season change, but with Baylor it's so easy to believe it can do so much better than it did during a 12-6 regular season. Point guard Pierre Jackson is so driven, so quick, power forward Quincy Acy so scrappy, such a leaper, and Jones so very talented. When the Bears play with a purpose and the right guys take the shots, their ceiling is so high.
Teammates raved about Jones making both three-point attempts, but that wasn't his most meaningful statistic. He made seven of nine free throws, attempting that many from the line for just the third time all season, a sign he welcomed contact instead of shying from it.
"Just being aggressive going to the hole," Jones said, explaining the extra trips to the line. "Not really looking for the foul, but just going into the body, hopefully I get the call. Just being able to finish, and convert and-ones. And it's postseason and you won't get that many foul calls. You gotta be aggressive. You gotta be tough, and just attacking the glass, attacking the basket."
In past confrontations with KU's Thomas Robinson, Jones has looked more like a player in retreat mode. In this season's two games — KU victories of 18 points and 14 points — Jones made 36 percent of his field goals and averaged 11.5 points, four rebounds and three free-throw attempts. Robinson shot .586 and averaged 21 points, 12.5 rebounds and 4.5 free throws.
Typically, Robinson's will and power give him the edge against Jones, whose length has the potential to rattle Robinson.
Part of Jones getting so much done close to the basket had to do with him establishing position and teammates looking for him. K-State not doing enough to push him outside played a factor as well.
"During the course of the year, there have been times where we didn't get him the ball as much as we should have," Baylor coach Scott Drew said. "And that's my fault."
Credit a coach for recognizing his failures. Drew's upbeat approach with players can lead to them taking advantage of him. In the two KU games, the Bears played more like a collection of All Stars than a driven, unselfish team.
When things get rough for the Bears Friday, can they play the smart basketball they played Thursday? And can Jones force his way inside against Robinson the way he did against K-State? The answer to those questions will determine the size of the hurdle Kansas must clear to advance to Saturday's final.
Kansas junior 7-footer Jeff Withey, Robinson's sidekick in the paint, expects to be facing a different Baylor, a different Jones today. At the same time, he sounds confident about going to battle with the same Robinson who has prevailed in past matchups.
"We just need to be physical with them," Withey said. "Thomas definitely knows how to do that. (Jones) is a great player. He scored 31 today. It's definitely going to be rough. They have a lot of length and a lot of explosion. They all can jump out of the gym."
Improving post player Jordan Henriquez (22 points, 14 rebounds, four blocked shots) had a big game for Kansas State, but in the first half couldn't keep Jones from doing so much damage close to the hoop.
"Thomas has the strength to keep him off the block for sure, so I think he'll do that," Withey said of Jones. "Even if he is on the block, I'll be there to help him out. We're so lucky we have so much length ourselves. We always talk about how Baylor has so much length, but Thomas is 6-9. I'm 7-foot. We have a lot of length too."
The team with the strongest will for two-plus hours, not necessarily the longest arms, will advance.
More like this story on KUsports.com