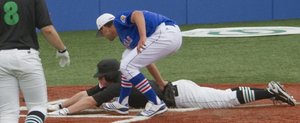 Kansas University baseball coach Ritch Price was in no mood to sugar coat Wednesday's 12-9 loss to visiting North Dakota at Hoglund Ballpark.
"There's no doubt about it," Price said. "That's a devastating loss for us."
It wasn't just that the Jayhawks (6-6) lost, it was the way it happened.
After scoring multiple runs in the bottom of the first for the second straight day, it looked as if the Jayhawks might be headed for an easy victory.
Junior catcher Alex DeLeon ripped a three-run double in the first to give KU a 3-0 lead, but the lead was short-lived. In the top of the third, UND scored five runs on just two hits.
"It seemed like one walk after another set the tone for their five-run inning," Price said. "Way too many free passes allowed them to put up that crooked number."
KU pitchers walked four and hit one in the third inning. North Dakota (1-5) added two more in the fourth and opened an 8-3 lead.
The Jayhawks kept fighting. Freshman outfielder Connor McKay launched a solo home run in the bottom of the fourth to give KU life, and freshman Michael Suiter homered for the second day in a row in the fifth to pull KU within a run.
"When you're down in that big of a hole, you need someone to put a good swing on a ball for you to put up a crooked number," Price said. "To have a freshman do it was a big momentum-builder."
McKay struck again in the bottom of the seventh with an RBI single that scored Suiter, and Chris Manship followed with a bases-loaded walk that plated Jake Marasco. The two-run seventh gave KU the lead, but UND scored four in the top of the ninth off of KU closer Tanner Poppe, who was working his fourth game in five days for the first time in his career.
More like this story on KUsports.com