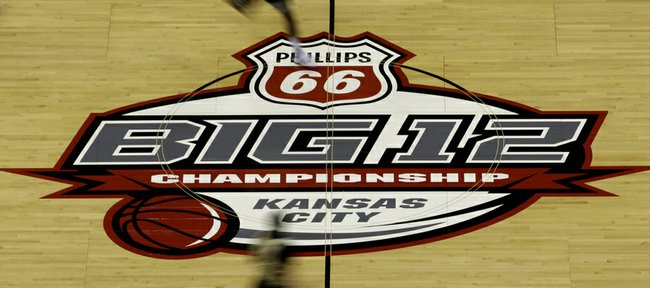 The Phillips 66 Big 12 men's basketball championship will be held in Sprint Center in Kansas City, Mo., this week as well as in March of 2013 and '14.
But after that?
It remains to be seen if/when the popular tournament will return to the Missouri arena now that the University of Missouri has defected to the SEC, leaving no Big 12 member institutions from that state.
"To me the fact the arena is located across the river or whatever is irrelevant," said KU coach Bill Self, who is all for the tourney staying in Sprint Center. "It's in the state of Missouri, but it's still Kansas City.
"Kansas City is split. I still think Kansas City is more of a K-State, KU town than it is a Missouri town, at least the way we see it. If you are going to poll the people that are living in the 30-mile radius, I'd think you would have far more K-State and Kansas people than you would Missouri people.
"It's who puts on the best show," Self added of the city to ultimately be awarded the Big 12 tourney. "Obviously Kansas City has done such a great job historically. I can't see it taking a step backward at all from an interest standpoint and attendance standpoint, I don't," he added.
"I think it would give the appearance it (MU leaving) would hurt it, but I can't see that happening. This will be a situation moving forward I think there will be as much interest in the conference tournament as there ever has been."
The vote: Self revealed on Monday that he voted for Missouri's Frank Haith for Big 12 Coach of the Year. Self and Iowa State's Fred Hoiberg were named co-conference Coach of the Year Sunday in voting of their peers. On Monday, the media named Haith the Associated Press Big 12 Coach of the Year.
"That's perfect," Self said of Haith being recognized by the AP media panel. "In all honesty, I voted for him. He deserved it. Fred has done a remarkable job, and he definitely deserves it. Everybody gets a piece of it. That is a tribute to the coaches and the programs in the league. The only way you can ever win Coach of the Year is if your team does well. We had three teams in this league far surpass what their expectations were. You could make a case for a lot of different guys."
Foot is fine: KU junior Travis Releford, who has not worn a protective boot on his left foot for several weeks now, said his foot is healed. He had the early stages of a stress reaction back in January.
"My foot is good. I have no problem with it at all," Releford said. "It's a lot better."
Return the picture, please: KU sophomore forward Justin Wesley lost his wallet on Saturday night. In the wallet was a much-cherished picture of his dad, Isiah, who died when Wesley was 4-years-old.
Wesley's mom, Charlene Taylor-Mask, says she and her son would like for the person who found the wallet to at least return the picture. Wesley has a mailbox in the KU men's basketball office.
"It was an old picture, black and white of his dad in a basketball uniform when he played in high school," Taylor-Mask said. "Justin's dad's brother came to the Texas game in Austin and gave Justin the picture. We can buy another wallet. We can cancel the credit cards, but the picture ... it would mean a lot to get that back," she added.
Jeff Withey on winning the Big 12 Defensive Player of the Year award: "Coach Self challenged me to be the top shot-blocker in the league. That was my goal, and I am definitely happy to be able to get that award," he said.
Self noted: "Certainly he deserves that, I don't know if anybody in our league blocks or alters as many shots as he does. For the most part, Jeff has been consistent for the whole year on the defensive end. He has been a presence the whole year. One reason Thomas (Robinson) has had such a great year is because Jeff guards the other team's best post player. Jeff has been great for us, he has had a terrific year."
Wangmene out for season: Texas senior forward Alexis Wangmene will miss the rest of the season after suffering a broken left wrist in Saturday's loss at KU. The 6-7 Wangmene, who averaged 4.7 points and 4.8 rebounds, fell on his left hand when he braced himself for a fall after pursuing a defensive rebound. Wangmene is an adopted son of former KU assistant coach R.C. Buford, GM of the San Antonio Spurs.
Up next: KU will meet Oklahoma or Texas A&M; at 2 p.m., Thursday, in a Big 12 tournament quarterfinal in Sprint Center. A victory would push KU into a semifinal meeting with Kansas State or Baylor at 6:30 p.m., Friday. The title game is 5 p.m., Saturday.
Self was asked Monday what it would be like to play Missouri in the final. The two split games in the regular season.
"It'd be great because that means we've won two games so that would be absolutely fantastic. It would be absolutely fantastic to play Texas or Iowa State or anybody else. It doesn't make any difference because it would mean we won two games," Self said.
Redbirds fall: Former KU assistant Tim Jankovich's Illinois State team fell to Creighton in overtime in the finals of the Missouri Valley tournament on Sunday in St. Louis. "They played great. Tim should really be proud of his guys," Self said.
Tournament seeding: Self was asked if the Jayhawks need to win a certain number of games at the Big 12 tournament to land a No. 1 seed in the NCAAs: "To me, obviously Kentucky and Syracuse are No. 1 seeds no matter what. Then you'd almost have to say, if nothing really strange happens, one from the ACC, and North Carolina was so good the other night (against Duke), but I don't know if there's two from the ACC. 
"The Big 10 has gotten a little bit sideways because of the three-way tie for first, so maybe the one that wins the league there — Ohio State or Michigan State are certainly still in the running — and then us and Missouri are still in the running. I still think one of us (KU, Mizzou) still has a great shot at being a No. 1 seed regardless of how the other leagues do, because I think our league is good enough that we warrant that."
More like this story on KUsports.com