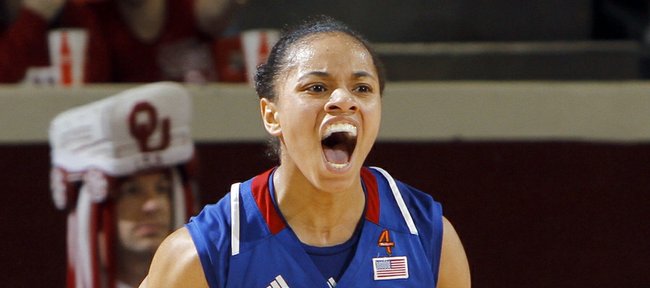 Kansas University picked up a huge women's basketball victory Sunday.
Behind Aishah Sutherland's 23 points and nine rebounds, the Jayhawks beat Oklahoma, 83-77. It snapped a 15-game losing streak to the Sooners, gave KU coach Bonnie Henrickson her first victory over OU and, more importantly, gave the Jayhawks a No. 6 seed and resultant bye in the first round of the upcoming Big 12 tournament.
It was the Jayhawks' fifth Big 12 road win of the season, the most by KU since 1997.
Kansas improved to 19-11 overall, 8-10 in the league and earned the No. 6 seed based on league tiebreaker rules. The Jayhawks — who claimed their highest Big 12 finish under Henrickson and whose eight league wins are their most since 2000 — will face third-seeded Texas A&M; at 7:30 p.m. Thursday at Kansas City's Municipal Auditorium.
OU (19-11, 11-7) is seeded second and will play at 5 p.m. Thursday against Oklahoma State or Missouri.
"I thought Kansas played incredibly inspired and we didn't," OU coach Sherri Coale said. "We were as flat as could be. We knew what was on the line, we knew what was at stake and I can't explain it. I wish I could."
Freshman guard Natalie Knight and junior guard Angel Goodrich also had double-digit scoring efforts for KU. Knight scored 18 points and grabbed seven rebounds, while Goodrich contributed 12 points, six rebounds and nine assists.
Kansas shot 43.5 percent from the floor, including 44.4 percent from behind the arc. KU hit eight of 18 threes and 21 of 25 free throws, including 17 of 20 in the final five minutes.
"Kansas averages three threes a game, I believe," Coale said. "The way we defended them was according to the way they've played. I think that strategy was correct.
"You have to make free throws. When you make free throws, you win the game. It's that simple. Obviously, they made a lot of free throws down the stretch as we were trying to foul and get back in it. But, up until that point we had plenty of opportunities."
Kansas jumped to an 11-3 lead before OU rallied.
The Jayhawks led, 31-30, at halftime.
OU claimed the first four points after the break, grabbing its first lead. Goodrich responded with a layup, and sophomore CeCe Harper knocked down a three to give the Jayhawks back a 36-34 advantage with 18:47 left to play.
The two teams traded baskets for the next three minutes with the lead changing four times. Kansas then went on a 9-0 run, sparked by a jumper from Sutherland and supplemented by another three from Harper. Sutherland had six of the points during that stretch.
A jumper from Knight gave the Jayhawks a 10-point lead, their largest, with 9:11 to play. After swapping baskets over the next few minutes, Knight hit her career-best third three-pointer of the night to make it 58-47, KU. Goodrich and sophomore guard Tania Jackson soon followed with threes of their own to make it 64-50 with 4:24 to play.
"We didn't play as fired up — bottom line," Coale said. "We didn't get 50-50 balls, we didn't cover for each other on defense, and we didn't crash the offensive boards. We got blocked out, and they were physical, and we were done with it. They wanted it worse than we did. Simple."
More like this story on KUsports.com