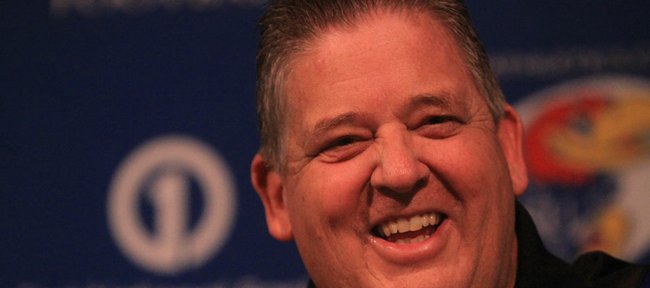 Kansas City, Mo. — As coincidences go, the connection between Kansas University football coach Charlie Weis and new KU offensive line coach Tim Grunhard runs pretty deep.
Weis, the former Notre Dame coach, and Grunhard, the former Notre Dame player, actually met years ago at a charity golf tournament in South Bend, Ind., for the foundation started by Weis and his wife, Maura, to benefit others with special needs like their daughter Hannah.
"My niece worked there," Grunhard said of Hannah & Friends, a charity that was founded in 2003 and has reached South Bend, Florida, Boston and now has stretched into Kansas City. "She went to Notre Dame, and I went to a golf tournament at Notre Dame for Hannah & Friends and really kind of fell in love with the whole charity and what it stood for. I'm just really excited about being involved with them."
Friday night, at The Dubliner Irish Ale House and Pub in Kansas City's Power and Light District, Weis and Grunhard hosted a soft opening for various members of the KU football program, athletic department and friends. Around 150 people attended and throughout the night were reminded of the reason they were there. Sure, part of it was to give the new restaurant, which is partially owned by Grunhard, a dry run, but the most important element was to benefit Hannah & Friends. All proceeds from the event and the several KU items that were auctioned off went to the charity.
"I know a lot of the enticement was KU," Weis said. "Rock Chalk Jayhawk and all that. I get it. I'm buying in. But, really, KU is my job. Hannah & Friends is our passion."
Weis, who was joined at the event by Maura, his son, Charlie Jr., and several members of the KU coaching staff, spoke to the crowd on a couple of different occasions. He talked about the evening, the upcoming season and shared with those in attendance his belief the Jayhawks were going to get good in a hurry. He also went further into the purpose behind the Hannah & Friends foundation — his daughter, who soon will turn 17.
"She was the person who inspired my wife's vision for us to do work for what we call people with different abilities," Weis said. "We want to make the quality of life of people with different abilities a little bit better."
Weis has not been shy about sharing the importance of his foundation with his new community. He took it a step further Friday night.
"One of the most important things we want you to know is wherever we raise the money, that's where the money goes," Weis said. "The money we raise tonight will be going to this community."
For Grunhard, that was the best part about attaching his new business endeavor to the cause.
"Really, because of Hannah & Friends, I sit where I sit now," said Grunhard, who said the charity was at least in part responsible for him landing the job at Kansas. "This whole thing just worked out really well. We really needed our staff to get a little experience, and with the excitement of the Big 12 tournament coming next week and this wonderful charity, it just worked out perfect. The stars were aligned for a great event."
Friday's festivities also were dubbed a kickoff to March Madness, and as the men's and women's Big 12 Tournaments invade the area next week, Grunhard had one final message for KU fans.
"Even though it's an Irish bar, we kind of want to make it a Jayhawk bar, too," he said.