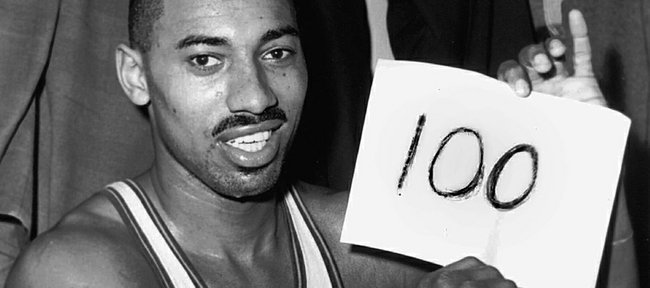 Fifty years ago today, Joe Ruklick sat comfortably courtside in warmups, watching his friend Wilt Chamberlain play the greatest game in the greatest season ever produced by a basketball player.
What happened next startled Ruklick.
"I am cold as ice and I see our coach, Frank McGuire, peek out from the huddle and wave me to the scorer's table," Ruklick said by phone. "I'm thinking, 'What the hell am I going to do but kick the ball out of bounds at a bad moment?' I take the warmup off and go into the game."
As it turned out, Ruklick, 73, cemented a spot in sports history by getting the assist on Chamberlain's 99th and 100th points in the Philadelphia Warriors' 169-147 victory over the New York Knickerbockers. Years later, Chamberlain solved the mystery of why McGuire called Ruklick's number.
"Wilt told me, 'I told Frank to put you into the game,' " Ruklick said.
Why?
"We had some guys on the team who weren't eager to see Wilt score a hundred," Ruklick said. "Wilt knew I wouldn't take a shot, or miss him if he were open. Our friendship was a good one."
And why weren't all the players eager to see Chamberlain reach the milestone? Because he was black?
"Because he was black," Ruklick echoed. "It was terrible the way black players were treated in the NBA then. It started getting better by 1963, 1964."
The thick-skinned Chamberlain, Ruklick said, handled the slights well.
The two men first met on the Kansas University campus, when the opposing centers were brought together for a photograph the day before Wilt's varsity debut as a sophomore against Northwestern in Allen Fieldhouse.
"I looked at him and I said, 'Wilt, I want to apologize to you,' " Ruklick remembered. "The reason I said that to him was because in the summer of 1955, at the old North-South high school basketball game in Murray, Ky., I was picked as prep All-American center and Wilt wasn't there. He wasn't invited. No black guys. I told him, 'I stood there with four other guys and stood in your place, Wilt.'"
Chamberlain's response — "Don't even think about it, man. You earned it." — made a first impression on Ruklick that he never second-guessed.
"From that point on, I realized Wilt Chamberlain was made of great stuff," Ruklick said. "He was strong in many ways."
The day after that meeting, Chamberlain made his debut in a way that to this day echoes in Allen Fieldhouse.
"What he did to me in Lawrence, I still need psychiatric help with it," Ruklick said. "I held him to 52 points."
It remains a KU single-game scoring record.
The next year, Northwestern played a zone defense and held Chamberlain to 27 points, "and we almost beat the Jayhawks." No slouch himself, Ruklick remembered scoring 22 points against KU in Lawrence, 27 in Evanston, Ill., where the former Northwestern center lives in retirement. He witnessed Ohio State's two-point victory against his Wildcats on Wednesday night.
Chamberlain invited Ruklick to be his guest at his 1998 jersey retirement in Allen Fieldhouse and told his former foe and then friend and teammate, "Man, I'm always glad to see you. I got 52 against you."
Ruklick said Chamberlain sent the jersey he wore in the 52-point game to Ruklick's son, John.
It was in their third season as teammates with the Philadelphia Warriors that Chamberlain scored his 100 points against the New York Knicks. No TV camera was there to record it.
Chamberlain, the Babe Ruth of basketball, had one hole in his swing. He never mastered the free throw. But on his 100-point night, he made 28 of 32 from the line and hit 36 of 63 field-goal attempts. In all the years since, Kobe Byrant is the closest anyone has come to Chamberlain's mythical round number. Bryant scored 81 points against the Toronto Raptors in 2006.
Chamberlain averaged an unthinkable 50.4 points in 1961-62, so dominant performances became expected of him on a nightly basis.
"Did we expect him to score 100? No," Ruklick said. "It came up kind of fast, suddenly. Everyone realized in the middle of the fourth quarter that he was getting kind of close."
Ruklick confirmed look-back reports that state the Knicks began fouling other players before Chamberlain could get the ball, but said it was not accurate that the Warriors began fouling Knicks in order to get the ball back more quickly.
Ruklick's historic assist came with 46 seconds remaining.
"The game went on and I got fouled," Ruklick remembered. "I go to the free-throw line, I'm ready to take my shot and I yelled, 'Hey, Wilt, I'm dumping,' which meant I'm going to miss on purpose. The ref was Willie Smith, a short, fat, calm easy-going guy who drank beer with us. A good guy."
A good guy and apparently not half bad as an actor.
"Willie says, 'Hey Ruklick, I heard what you said. You'll never play in another game. The record of this game will be taken out of the scorebook and the game will be forfeited to New York,'" Ruklick recounted. "Then he handed me the ball and started laughing. But for about five seconds I thought he was serious, and I almost flooded my jock."
Ruklick proceeded to miss the free throw on purpose, but one of the Knicks, not Chamberlain got the rebound, which for the sake of symmetry, was a fortunate thing. The famous black-and-white photo of a smiling Wilt holding a white sheet of paper wouldn't have looked quite as cool had the numbers on it read, "102."
After that season, the Warriors moved to San Francisco, but Ruklick didn't go with them and retired from basketball, even though he was told he had a roster spot.
"Eddie Gottlieb, a principal founder of the NBA and the owner of the Warriors looked at me and said, 'Fans won't buy tickets if you have too many Negroes on the team,'" Ruklick said. "I went home and told my wife he said that. She said, 'You mean we'll be moving to San Francisco because you're white?' I was making $8,000, plus $1,500 playoff money. What I saw in the way black guys were treated soured me on the NBA. We didn't move to San Francisco."
He turned from basketball player to basketball fan, rooting especially passionately for the guy who dropped 52 on him in 1956, the guy who, five-and-a-half years later, turned him into a footnote in basketball history.
More like this story on KUsports.com