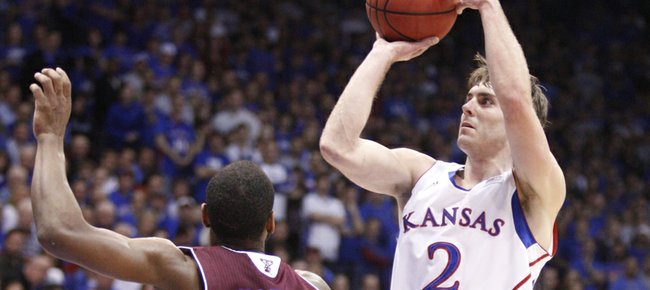 Conner Teahan — who worked so hard for four years for the opportunity to play meaningful minutes on Kansas University's basketball team — actually panicked a bit during the 2011-12 exhibition season when his dream became a reality.
"I was stressed out," the former preferred walk-on out of Kansas City Rockhurst High said of learning he'd finally earned a slot in Bill Self's regular rotation.
"I am cool with sitting the bench and winning. If I'm out there on the court, though, I want to help the team win. I didn't want to be playing a lot and us losing. I did not want that at all."
Teahan, as it turned out, made a smooth transition from scout team player to sixth man on a wildly successful team.
The slender 6-foot-6, 212-pounder scored 11 points in KU's season-opening rout of Towson, followed it with eight points in a narrow loss to Kentucky, and after a so-so Maui Invitational, went for nine points against Florida Atlantic.
Teahan became a fixture in the rotation and has put together a solid body of work entering Saturday's Senior Day contest against Texas (8 p.m., Allen Fieldhouse).
He has averaged 6.4 points (off 39.6 percent shooting; 36.8 percent from three) and 2.2 rebounds while logging 21.2 minutes a game for the (25-5, 15-2) Big 12 champion Jayhawks.
"I feel happy. I always was happy, but I just wanted to show I could actually play," Teahan said. "You sit on the bench for a while and people forget. High school is high school, I'm not saying that (I was great) at all, but in terms of accolades, I don't know if too many people have gotten (Missouri) Gatorade Player of the Year their junior and senior year.
"(You) come here, sit on the bench for a while and it's like, 'He can't play ball.' I wanted to prove that I wasn't just a scrub on the bench. That's kind of the main thing, but helping Kansas win — I love Kansas basketball. I really do."
There actually came a time when Teahan thought maybe, just maybe, playing time simply wasn't in the cards. So in a radical move, he elected to return to his high school roots and try out for the football team — as quarterback — during spring ball, 2010.
Teahan was starting QB at traditional-power Rockhurst, where he helped the Hawks to a state runner-up finish his junior year.
"I did kind of feel, 'Maybe this basketball thing ... I might never play,'" Teahan said. "At the same time I felt comfortable with my football skills. I thought I could possibly get high up on the depth chart."
He completed one of two passes in KU's spring game, but failed to emerge as one of the top QBs on Turner Gill's depth chart.
Thus he returned to basketball workouts — with a new spirit.
"It's the best thing that ever happened to me," he said of the KU football experience, "just because I started to work harder. I always worked hard, but every day I saw improvement on the (football) field because I hadn't played in so long. I loved it.
"I told myself, 'You've worked harder than you've ever worked, just keep it going with basketball.' Over that time period I realized life was passing by. I wasn't going to have opportunities like I had with basketball ever again, and I had to make the most of it."
So Teahan red-shirted during the 2010-11 hoops season in advance of this breakout year.
"That was easy for him: Do you want to play or not play?" KU coach Bill Self said of the red-shirt decision. "I told him, 'If you are going to be in our top rotation then you should play.' When you look at some of the cats that we had I don't think that was a hard decision at all."
Self has been thrilled with the progress of Teahan — somebody he placed on scholarship two years ago, helping Conner shed the walk-on label once and for all.
"He has been great for us. He is a threat and you have to guard him," Self said of the sharpshooter who is 6-for-6 from three in two games versus Missouri this season.
"I had a recruit tell me the other day when we played Missouri, he said 'Coach, go back and look at the tape, and every time that Thomas Robinson got good touches on a certain block, Teahan was always on his side.' It is pretty smart for a recruit to figure that out because they (defenders) can't help off of it. So when you look at value, the value isn't just Conner making shots, it's the value of him being on the court. I think he carries great value."
Teahan's teammates knew that, if given an opportunity, he could help the Jayhawks win games.
"We knew for a couple years of his ability to stretch the floor and knock down shots. At 6-6, he has a body that can bang and rebound," said senior guard Tyshawn Taylor. "He had to wait patiently for his time, and he's taken full advantage of it."
Teahan — his older brother Kyle played football at Missouri State; younger brothers Chris (12) and Marcus (11) compete in a variety of sports including football and basketball — says his own sports career ends following this season.
Armed with two degrees — in finance and accounting — he's going job hunting.
"I like finance better than accounting. It's not as structured as accounting," Teahan said. "I've wanted to work with people's finances, help them get their situations in order and what they need to invest in. At the same time, I stress myself out enough. I think worrying about other people's money would make me get a whole head of gray hairs," he added with a smile.
The worrying apparently is a waste of time, like the worrying about how much he'd contribute as a rotation player.
"Great kid," Self said, adding, "Conner will do well in life. I personally think any business, any company would make a smart move in hiring him."
More like this story on KUsports.com