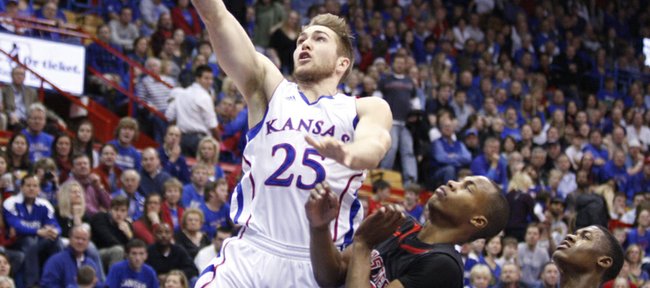 A Fort Hays State University scholarship offer didn't tempt hometown hero Jordan Juenemann, nor did overtures from various other NCAA Div. II teams and junior colleges in Kansas.
The 6-foot-3 guard, who averaged 17.3 points and 6.0 rebounds a game his senior year at Hays High, was determined to play major-college basketball at Kansas University and arrived in Lawrence in August of 2008 focused on making his dream a reality.
"My parents dropped me off the day before school started. I was not prepared for college at all. I took 12 hours so I could focus and train for walk-on tryouts," Juenemann said.
"I'd play pickup with KU players and try to get in and watch practices. I woke up early morning for Boot Camp (in late September). I wasn't able to do it, but I watched it to learn some things about how I could get in shape. Wayne (Simien, former KU All-American) worked out with me, all leading up to the tryouts."
Tryouts, held a few days after the mid-October Late Night in the Phog, were not a mere formality for Juenemann, a first-team all-league and third-team all-Class 5A selection.
"We didn't know him. We didn't guarantee him anything," KU coach Bill Self said. "He worked so hard, he made the team. After he made it, he kept working to contribute to the team."
Four years later, Juenemann enters KU's Senior Day contest against Texas (8 p.m. Saturday, Allen Fieldhouse) with a batch of achievements that include a college degree in exercise science (minor in business), All-Big 12 academic mention and four Big 12 Conference championship rings.
Nothing tops the excitement he felt the day after walk-on tryouts.
"Coach Self called me in the office and said, 'We'll try you out to be a practice player,'" Juenemann recalled. "After the first practice, he said, 'Good job, Jordan. We threw you right in the fire.' Next thing I knew, I had a jersey and was able to play in the first exhibition game. From then on out, I tried to earn the respect of teammates and coaches at practice, try to be a guy who is seen, not heard, and do what they asked."
Mission accomplished for Juenemann, who has earned his keep at practice, where he's a member of the Red team — the scout team, the unit designed to make the starters better.
"Tyshawn (Taylor) and Elijah (Johnson) get mad at him all the time ... because he fouls them all the time," Self said of Juenemann, who has scored 19 points in 12 games this season. "We tell him to foul. We tell him to make them frustrated. We tell him, 'Foul, reach, grab, slap, get 'em tougher.' And he does it."
Juenemann, who scored a career-high seven points while playing four minutes in a Feb. 18 home win over Texas Tech, rattled off the highlights of a career that he says "has gone by so fast."
"Just being at practice my first year with coach Self as a Kansas kid was unreal for me," Juenemann said. "I remember my freshman year meeting Kirk Hinrich before the Missouri game when his jersey was retired. All the KU greats I've become friends with now. I had dinner with Nick Collison, talking man-to-man. Our tourney run (to Elite Eight) last year was a blast. This year has been great.
"It's game after game, traveling to city after city. It makes the time go so fast. I remember my freshman year listening to (fellow walk-ons) Brennan (Bechard) and Matt (Kleinmann) speak like it was yesterday. Now it's our Senior Day," he added of himself, Tyshawn Taylor and Conner Teahan.
Juenemann, who is working as an intern for KU's Williams Fund this semester, plans to attend grad school next year and/or play for Athletes in Action's traveling team.
"I've been praying a lot about it. I feel I'm being led into coaching," Juenemann said. "I'm kind of torn in-between of being in coaching and athletic administration."
It's a no-brainer where he'll attend graduate school.
"This is the pinnacle of everything," he said of KU.
He'll be lavishing praise on family members, coaches and teammates during his senior speech after Saturday's game, a game in which he'll make his first college start. On hand will be mom Dalene, dad Jerry, older sister Jessica, who graduated from KU in the spring of 2008, and younger brother Jaydan, who played basketball a year at Avila College and is working full time.
"I really want to thank coach Self for the opportunity," Juenemann said. "This has been everything I thought it'd be."
Self, who placed Juenemann on scholarship this semester, said he'll give the highest recommendation to business owners who inquire about his pupil.
"I totally admire Jordan," Self said, "for how hard he tries, taking the hard path in making the team and turning himself into a player. I think he'd be an unbelievable addition to anybody's company."
Robinson honored: KU junior forward Thomas Robinson has been named to the Naismith College Player of the Year Midseason Watch List as announced by the Atlanta Tipoff Club. Robinson is one of 30 players on the list. Others from the Big 12: Marcus Denmon, Phil Pressey, Missouri; Perry Jones, Baylor; and Royce White, Iowa State.
More like this story on KUsports.com