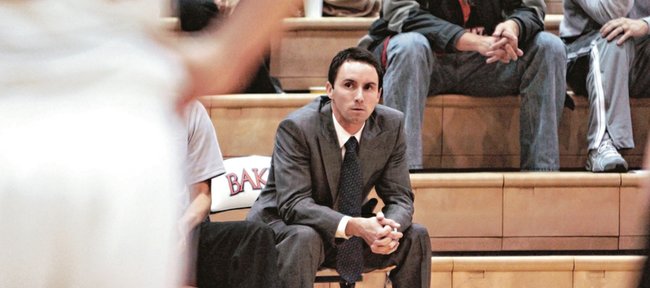 Baldwin City — Now director of basketball operations for Kansas University's third-ranked basketball team, Barry Hinson knows how to evaluate college basketball coaches, having been a successful one himself.
In nine seasons at Missouri State, Hinson had three 20-victory seasons, made the postseason four times and became the poster child for NCAA Tournament selection committee injustice.
To say Hinson was impressed with the coaching job he witnessed Wednesday night from the top row of bleachers at the Collins Center on the campus of Baker University would be an understatement.
Hinson was on hand to support his friend and former co-worker, Brett Ballard, Baker's second-year head coach.
"It's a mini-Kansas," Hinson said. "They're running all of our stuff, and they're running it great. Matter of fact, I'm sitting here thinking, 'Gosh, some of the stuff they're running better than we are.' And, obviously, you can see he's got a touch of coach (Bill) Self in him because here we are with two minutes to go in the ballgame and the other team has 38 points."
Ballard's third-seeded Wildcats advanced to the semifinals of the Heart of America Athletic Conference tournament with a 55-41 victory against No. 6 seed Benedictine College. Baker plays Friday night at No. 2 seed Evangel.
It was Baker's first victory in a conference tournament game since 2000.
"It's never easy to leave a place like Kansas," Ballard said. "But this place has been incredible. These guys have really bought in, and they compete at a high level. They practice hard every day, and they're good guys to be around."
Three schools from the HAAC will advance to the 32-team NAIA national championships, played March 14-20 at Municipal Auditorium in Kansas City, Mo. The only way Baker isn't one of the three is if fifth-seeded Graceland pulls off consecutive road upsets to win the HAAC tourney.
Ballard's players play extremely hard — without the benefit of TV timeouts to catch breathers — and are especially effective defensively. Going into Wednesday, the Wildcats ranked fifth in the nation in opponents' field-goal percentage (.390). Benedictine made just 30 percent of its shots Wednesday.
Ballard has made a smooth transition to calling the shots, even if it's difficult for some to comprehend that winning two-thirds of your games is a good thing.
"I'll talk to KU people who don't know a lot about Baker, and I'll say we're 20-10, which is pretty good, and they'll look at you like, 'Aw, (I'm sorry.)' Because in coach Self's and KU's insane standards, that would be the worst season in the history of time. I'm joking, but thanks to coach Self, he's put unbelievable pressure on me to win every game and win conference championships every year because that's what he does."