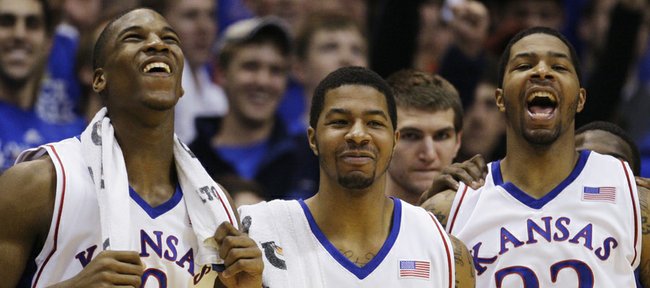 Newark, N.J. — Their seats at the Prudential Center were in a different spot, but their emotions were the same.
Thursday night, a little more than one year after they were picked with back-to-back selections in the 2011 NBA draft, former Jayhawks Marcus and Markieff Morris watched with pride as KU teammate and F.O.E. (Family Over Everything) co-creator Thomas Robinson was selected fifth by Sacramento in the 2012 draft.
"It felt just like last year when me and my brother were called up there," said Marcus, who was picked 14th by Houston in 2011. "He's our brother, too."
Robinson's final draft positioning was a little different than he had expected throughout the weeks and days that led up to the big event.
Like many, Robinson believed he could go as high as No. 2 to Charlotte or even No. 3 to Washington. Didn't happen. Instead, he slipped to No. 5, providing the Kings with what one NBA analyst described as "a dream scenario."
"I hope he's not upset that he went fifth," Marcus said about an hour after the pick. "Fifth is a great spot to get drafted. He gets to play with (Kings center) DeMarcus Cousins and that'll help him out a lot. I know this, though; he's pissed off. The NBA is getting a pissed-off player. And that's only going to mean good things for T-Rob."
Last year, while being interviewed by ESPN radio after being picked 13th by Phoenix, Markieff heard his brother's name called right behind him and the two were able to share the experience together. It was a similar scene on Thursday. Before being taken away to fulfill the endless stretch of media obligations that follow being drafted, Robinson walked to the section of the arena where the Morris twins were sitting and was swallowed up by hugs from his "family."
"We mean it when we say that, man," Markieff said. "Family is everything to us, and he's family."
Robinson, who was understandably emotional throughout the night, said it meant a lot to have the Morris twins — along with their mother Angel, who sat with him in the green room — there to support him.
"I looked up to 'em, man," he said. "It was great."
With the emotion and excitement of draft night behind them, the trio of former KU teammates can begin to think about their first match-ups against one another. All three occupy roster spots with Western Conference teams, which increases the opportunities for them to face off on the floor.
The Morris twins began thinking about it Thursday.
"Funny," Marcus said. "That's what I'd say it'll be. Funny."
Added Markieff: "It'll be just like when we're working in the gym. Unless one of us is hitting jumpers, and then who knows what'll happen."
It was not just Robinson who the twins paid close attention to on Thursday night. In addition to tracking the moves made by their own teams, both also kept an eye on former KU guard Tyshawn Taylor, who was picked 41st by Portland and then traded to the Brooklyn Nets.
The team didn't matter, nor did the draft position. Marcus was ready to call Taylor one of the steals of the draft immediately.
"Ty is going to be an all-star," Marcus said.
When asked why, Taylor's former teammate was more than happy to explain.
"He's super talented," Marcus said. "Super talented. I've been around him for three years, and I've seen all that he can do. I don't think most people have seen that yet."
While the twins spent a lot of Thursday focusing on their former teammates, they also took some time to reflect on their own experiences in the same building. The prevailing thought shared by both was summed up best by Marcus.
"It's just crazy being back here," he said. "I mean, ridiculous. It went so fast. It's just hard to believe. It went so quick."