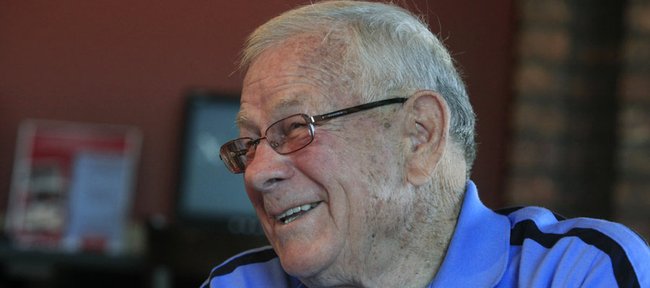 Former Kansas baseball coach Floyd Temple, who posted 438 wins from 1954 to 1981, passed away Friday at the age of 85.
Temple served as KU's skipper for 28 seasons and led the Jayhawks to a mark of .500 or better in conference play in 14 of those years. He led KU to its first conference tournament, qualifying for the Big Eight Championship in 1976 and coached future major leaguers in Bob Allison, Chuck Dobson and Steve Renko.
"I'm deeply saddened to hear of the passing of Floyd Temple," KU baseball coach Ritch Price said. "My thoughts and prayers are with his family. I truly valued his friendship and it was always a joy for me to see him at our alumni days and any time he came out to the ballpark."
Temple began his career with KU as a football player in 1948. He lettered two years each in baseball and football and was the third baseman for the 1949 baseball team that earned the Big Seven Conference title — the Jayhawks' last baseball title prior to the 2006 Big 12 Championship.
Temple went on to play minor league baseball in 1950 for the Gladewater Bears of the East Texas League. In 1951-52, he played for the Iola Indians of the Kansas-Oklahoma-Missouri League and managed the team for parts of those seasons. In all, Temple played in 110 minor league games and posted a .278 batting average.
Temple achieved the majority of his accomplishments despite the fact that he only had four baseball scholarships to award until 1975. During that time, many other schools in the conference had as many as 24 scholarships.
Temple also served as an assistant coach for the football team during 20 of the 28 years (1958-77) he was the baseball coach.
Temple led the Jayhawks to their first 30-win season in 1978 and followed it with 30-win seasons in 1979 and 1981. After the 1981 season in which the Jayhawks posted a 32-19 record and finished third in the Big Eight, Temple retired as the baseball coach to become a KU assistant athletic director.
In Temple's last six seasons as coach, when his number of scholarships were increased to 13, KU went a combined 171-101-3 for a winning percentage of .629. Temple coached four All-Americans and seven future Major League players while at Kansas, including the 1959 American League Rookie of the Year and three-time MLB All-Star Allison.
Temple's No. 13 was retired in 1982 and remains the only jersey number displayed on the outfield wall of KU's home stadium, Hoglund Ballpark.
Floyd is survived by his wife Beverly, son Biff and daughter Ann as well as grandchildren Stephanie, Kelley and Taylor Ann. Services are pending.
More like this story on KUsports.com