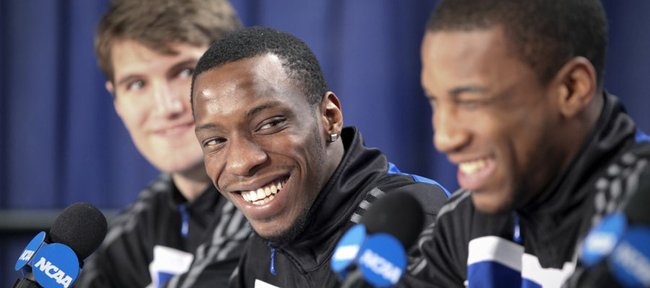 To get to know Tyshawn Taylor, even at big-time college basketball player/reporter distance, is to love him. Unbridled enthusiasm for playing the game, such a people person, so funny.
Former teammates know him 100 times better and want the best for him.
Will Taylor make it in the NBA?
"I'm sure of it," said Norfolk State forward A.J. Rogers, a teammate at St. Anthony High in Jersey City, N.J. "There's no doubt in my mind. Whatever he's got to do — if he's got to grow five inches to come to the league — he's going to do it."
Taylor has growth potential as a basketball player, but enough that a team will select him in the first round of Thursday night's NBA draft? Probably not. Then again, nothing's more overrated than how early a player gets drafted, nothing more underrated than how a player fits with the team that selects him.
Jim Clibanoff of Clib Hoops, a scouting service to which many NBA teams subscribe, doesn't have any emotions invested in Taylor. He brings objectivity to his breakdown. He projects Taylor to go somewhere from 40th to 60th in the draft.
"Not by any means is it a given that he'll have a long shelf life in the NBA," Clibanoff said. "If he has a long NBA career, it wouldn't surprise me, and if he doesn't, it wouldn't surprise me."
How long will it take to make a a judgment with more conviction?
"If he cashes NBA checks for two years and doesn't become a producer in that time, then he's probably overseas," Clibanoff predicted.
The scout said he always had Taylor listed as a point guard and not one that excited him much.
"This year he finally breaks out, not really as a distributor, but as a scorer," Clibanoff said. "His senior year kind of confirms him as a two guard. If you're not so turned on by having to have a guard who's a prototype and you can throw him on the court and put good players around him, he could help that team. He'll need to define his identity and refine his game at the NBA level. That's what the second round is for."
His identity, the scout said, will have to be as a guard who takes pride in playing outstanding defense against point guards and shooting guards. Clibanoff offered Armon Johnson as a comparable. Johnson was taken out of Nevada with the 34th pick in 2010 by the Portland Trail Blazers, has gone back and forth between the NBA and the D-League and now is the property of the Brooklyn Nets.
"If all goes well, try Keyon Dooling," Clibanoff wrote in his draft guide, citing the former Missouri guard who has averaged seven points per game in 11 seasons with six different franchises.
Dooling has earned roughly $35 million, not bad work if you can get it. Taylor's best shot at getting it lies in becoming a focused, non-stop defensive pest from Day 1.
More like this story on KUsports.com