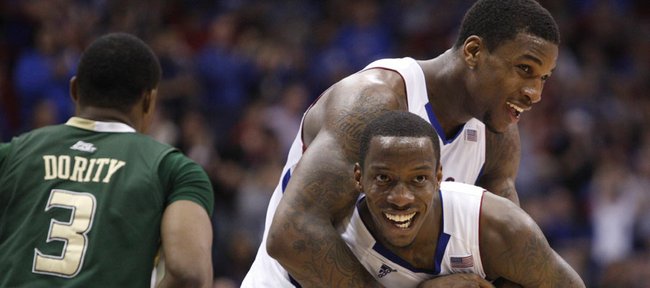 New York — 11:15 a.m. update: By Jesse Newell
Hey guys — We were having some issues with our blogs earlier, but those problems have been resolved.
Because of that, we've switched Matt's live coverage over to his Tale of the Tait blog. You can find his latest updates at the link above.
Original post: By Matt Tait
For the third year in a row, fans of the Kansas University men's basketball program have a rather compelling reason to tune into the annual NBA Draft — two of them actually.
Although it's unlikely that former Jayhawks Thomas Robinson and Tyshawn Taylor will become the third consecutive pair of former KU stars to be drafted with back-to-back picks — Cole Aldrich and Xavier Henry were picked 11th and 12th, respectively in 2010 and twin brothers Markieff and Marcus Morris went 13th and 14th, respectively last year — it seems safe to say both will be picked.
What's more, it seems possible — perhaps even likely — that Robinson, a first-team All-American and runner-up in most national player of the year votes, will become the second highest Jayhawk draftee in school history, behind only Danny Manning, who went first in the 1988 draft.
A decade later, the Denver Nuggets picked Raef LaFrentz with the No. 3 pick in the 1998 Draft, and, in 2002, Memphis made Drew Gooden the fourth overall selection.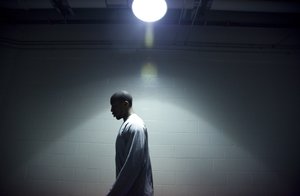 Robinson, it has been rumored, could go as high as No. 2 to Charlotte, one spot behind Kentucky's Anthony Davis, who is all but guaranteed to be the top pick.
The way things look today — and, remember, it's the Draft so things could change A LOT between now and Thursday night — Robinson appears to be the pick for Charlotte as long as the Bobcats keep their selection. If they trade out of it, which is a distinct and increasing possibility, Robinson may drop a couple of spots, but most believe he'll be at least a Top 5 pick no matter what.
Taylor's draft prospects are a lot more uncertain, as most scouts and analysts I've talked to see him going anywhere between 22 and 42. People seem to be split on whether Taylor is a first-round guy or not and there are even those out there who believe he might not be drafted at all.
From where I sit, based on who I've talked to, that would be nuts. It seems clear that he'll be picked and my gut tells me it'll be closer to 30 (on either side) than 40.
Time will tell, but in order to help us get to that point, here's a quick look at what's in store for the day. As has been the case during each of the past two drafts, I am on the ground out here in New York and I'll be spending time with Robinson and Taylor throughout the day.
As a sure-fire lottery pick, Robinson has a lengthy list of NBA-affiliated obligations today, including a media session from 11:30 to 12:30 (central time), an NBA Cares event with a Boys and Girls Club and a rookie initiation hosted by the league. That's to say nothing about endorsement opportunities that his agent set up and all of the photo and video shoots for draft night and various video games. It's a crazy day every year and I'll try to tag along for as much of it as I can.
In addition, I hope to spend some time with Taylor — either in the city or back in his neighborhood in New Jersey — and also have lined up a few interviews with people from Taylor's past, who watched him grow up dreaming of this moment.
Stay tuned to the blog throughout the day for video clips and photos from the Big Apple. Naturally, I'll also be live at the draft on Thursday night, blogging the picks and getting Robinson's reaction right after he's selected.
I'll be pounding the pavement and hopping onto trains and into cabs a lot throughout the day, so getting to the computer could be a challenge at times. Jesse Newell will be back at the office helping me get the videos and photos posted to the blog. So be sure to check in often for updates.
In addition, I'll be using my Twitter account — follow me here — to provide updates while on the go.
As always, it should be a blast of a day and I'm hopeful that it will deliver some great stuff.
Before, we get to it, here's a quick look at some other notable Jayhawks who were selected in the first round of previous drafts. In all, KU has produced 27 first-round picks, including 11 since 2002: Paul Pierce (10th) in 1998, Kirk Hinrich (7th) and Nick Collison (12th) in 2003, Julian Wright (13th) in 2007, and Brandon Rush (13th) in 2008, along with old-school standouts Clyde Lovellette (9th) in 1952, Wilt Chamberlain in 1958, Wayne Hightower (5th) in 1962, Walt Wesley (6th) in 1966, JoJo White (9th) in 1969, Bud Stallworth (7th) in 1972, Norm Cook (16th) in 1976, and Darnell Valentine (16th) in 1981.