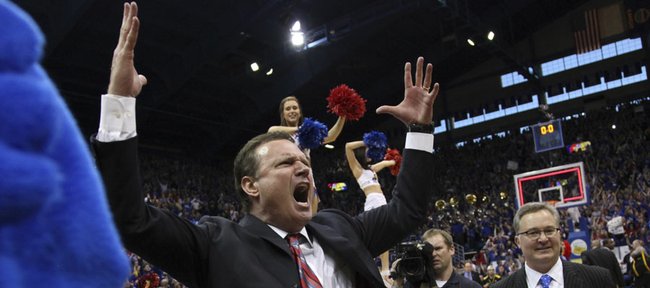 The Kansas men's basketball 87-86 overtime victory over Missouri on Feb. 25 has been nominated for "Game of the Year" in this year's ESPY awards, ESPN announced Wednesday.
Then-No. 4 KU overcame a 19-point second-half deficit to beat No. 3 MU at Allen Fieldhouse. The contest also was the final conference battle against the two schools following a 105-year league history.
The win gave the Jayhawks at least a share of their eighth-straight Big 12 regular-season title — a championship they would win outright two days later.
An ESPY nomination special will air Wednesday at 10 p.m. on ESPN2, and fans can vote for the contest on ESPN's site.
Other "Best Game" nominees are Game 6 of the World Series between the Texas Rangers and St. Louis Cardinals and the NFL Playoff game between the San Francisco 49ers and New Orleans Saints.