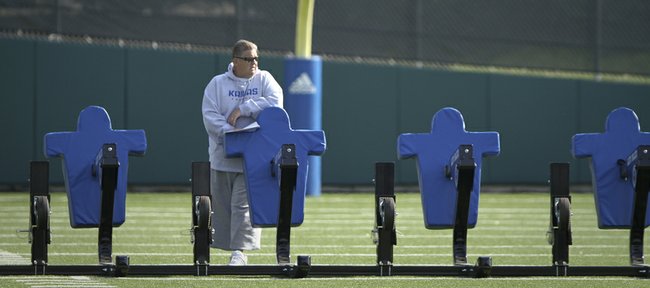 With the backdrop of Memorial Stadium over his right shoulder and a box containing an inflatable mattress, comforter and pillow sitting on the floor near his desk 10 feet in front of him, Kansas University football coach Charlie Weis on Monday delivered a state of the summer address to a small contingent of media members.
"Whenever I'm done, I turn that fan around on my face and that's where I end up going (to sleep)," Weis said from the captain's corner of the room. "There's a little music playing; I can watch TV if I want to. You're looking at my bedroom. You're in it."
Monday's surroundings were obvious signs of a season yet to be. The empty stadium. The bedding for those long nights in August and during the season when Weis works too late to leave his office. Heck, even the laughs and jokes were indicative of a new coach still enjoying the weeks in which he is measured by stories, experiences and stature and not yet wins and losses.
"I'm entrenched here," Weis said. "Do you not think that I want to go in here and win every single time I play? What bigger statement would there be than to come into a team that's 2-10 and walk out of here a perennial winning football team?"
Don't let the big-picture talk fool you. Weis is ready for the small battles — more ready than ever in some ways. And while he makes it clear that he's looking forward to taking most of July off — as he says, "Fellas, everybody needs a break" — it's obvious that he is ready to make a splash at KU. How big depends on how his team executes on the field and how well he upgrades KU's roster in the coming years. But Weis is ready.
Proof of that is in the evidence he provided.
By the time most of you read this, the scouting reports for KU's first four opponents will be finished. Three of the four were done by last weekend, and Weis and his staff spent Monday night and part of today putting the finishing touches on their preparations for Northern Illinois. They will do more work, of course, but this kind of start is unlike anything seen at KU in the past few seasons — maybe ever. Practice plans are drawn up — detailed to the minute — for the first seven practices of fall camp, which opens Aug. 1. And the roster, which, since the end of the 2011 season, has lost more than 40 percent of its players to graduation, dismissal or defection, is almost complete.
"There isn't a loss I'm worried about," Weis said. "None."
More to the point, Weis said he was looking forward to working with the guys who had stuck around — guys who saw their head coach aspire to change KU's football culture and then rolled up their sleeves and did the heavy lifting for him.
"My intent was to have everything settled by the time we got to training camp," Weis said. "Because once you now coach these guys through a football season, if someone screws up it's on your watch. It's not what happened last year. It's what happened this year now. I don't look at it like some of the other coaches that have taken over new programs. The guys that are here now, they're my guys. And I'm responsible for 'em."
Lewandowski to O-line
With a half-dozen defensive linemen joining the team this summer and his coaching staff having had the chance to watch the defensive linemen already here this spring, Weis announced one position change and hinted at another Monday.
Pat Lewandowski, a sophomore from Blue Valley West High, has moved from defensive tackle to offensive tackle.
"We're trying to get him up to 285-290 (and) he was 273-275," Weis said. "Where he was playing, that weight was fine. Where he's gonna play, bigger is better."
Weis also said another current defensive lineman also was moving over to the offensive line but chose not to reveal who that was.
Agostinho adding weight
Weis said junior defensive end Keba Agostinho was up to 280 pounds, up five from the weight KU listed him at on the pre-spring depth chart. In general, Weis said strength and conditioning director Scott Holsopple was pleased with the progress the team had made in the weight room so far this summer. Weis and Holsopple generally meet three times a week to talk about performance. In addition, Weis meets with George Matsakis, KU's director of football operations, every day at 7:30 a.m., and follows that up each day with a meeting with Murphy Grant, KU's assistant athletic director for sports medicine. So far, Weis said the reports from Grant about KU's health were all good. He then proceeded to knock on wood.
Newcomers almost here
While most of the incoming class of recruits reported to campus at the beginning of June, a handful of arrivals were delayed because of different graduation schedules at their schools.
Weis said Monday that all but two players in the recruiting Class of 2012 would be here by this weekend. He also said all of the players who signed with KU in February were on pace to be in town and ready to go by the start of fall camp.
Depth chart changes
Although the next official depth chart will not be released until the Jayhawks report to fall camp on Aug. 1, Weis hinted that changes were coming. Four times in a row, the KU coach referred to the fact that "a lot" of new names would show up on his next two-deep depth chart. The only concrete information he gave about the new chart's relation to the pre-spring version was in the secondary, where he said the starters would remain the same. That means Greg Brown and Tyler Patmon enter camp as the top cornerbacks and Bradley McDougald and Lubbock Smith as the top safeties.
Two on watch list
Senior wide receiver D.J. Beshears and junior punter/kicker Ron Doherty on Monday were named to the 2012 College Football Performance Awards (CFPA) Special Teams Watch List. Beshears, from Denton, Texas, was listed as one of the top all-purpose players in the country, while Doherty, from Klein, Texas, was listed as one of the top punters in college football.
More like this story on KUsports.com