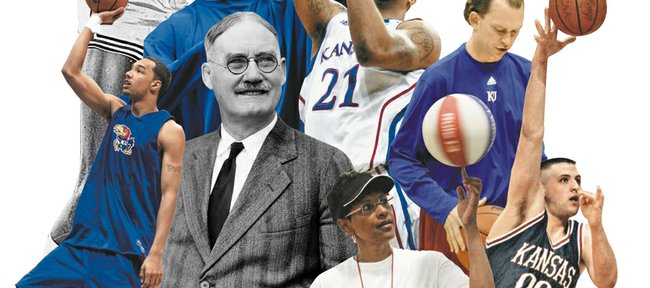 It's one of the oldest and easiest games of basketball known to man and also the setting for Part II of our summer series of fun and memorable questions that cover some of the biggest and best names in Kansas University sports history.
Horse, also known as H-O-R-S-E, includes just a couple of basic rules and is about as cut and dry as games come. Miss a shot, get a letter. First one to log all five letters of the word is out until there's just one player left standing.
In this proverbial game of H-O-R-S-E, our panelists employ a variety of angles in coming up with the list of four people from KU basketball history that they'd invite to a game. Some, like Tom Keegan and Matt Tait, picked guys they thought they would have a chance to compete against. Others, like Gary Bedore and Jesse Newell went with the good-guy vibe and picked people they would enjoy being around. And, finally, Andrew Hartsock went with a combo of the two schools of thought.
Either way, all five lists bring a different flavor to the question, and since it's all fictional anyway, we'll never know which guys would actually have a shot to win their games. Then again, maybe we already know that answer.
Anyway, on with this week's lists:
Matt Tait
Markieff Morris — Markieff's a good shooter, but I think he thinks he's a great shooter. As long as there's no dunking allowed, that could keep me in it.
Kenny Gregory — KG was a lights-out shooter in high school but never showed that while at KU. He's one of my all-time favorite Jayhawks so rooting against him will be weird, but I'm hoping for one of those cold streaks.
Brett Ballard — One of the new assistant coaches at Tulsa and I have been pretty good friends for a while now, so I'll toss him into the competition in hopes that all of the ridiculous inside jokes I can throw at him might make it hard for him to focus.
Joe Dooley — They call him the Shot Doctor and I'd love to see him in action.
Andrew Hartsock
Dr. James Naismith — But only if we could use peach baskets.
Wilt Chamberlain — Surely Chamberlain, a notoriously bad free-throw shooter, would S-U-C-K at H-O-R-S-E, too, right?
Max Falkenstien — I've seen the man play handball, and let me assure you, dude can ball. But I might — MIGHT — be able to take him at H-O-R-S-E.
Lynette Woodard — Woodard scored 3,749 points in her four-year career and would so totally kick my butt in H-O-R-S-E, but darned if Woodard, one of the best women's players ever, isn't also one of the nicest people on the planet. Maybe she'd take pity on me.
Tom Keegan
David Johanning — Sandbar proprietor whose claim to fame is being KU's all-time leader in blocked shots per minutes played also claims that his shooting range did not extend beyond dunking. Since dunks aren't allowed in H-O-R-S-E, here's one guy who won't win the game.
Sasha Kaun — A terrific defender, Kaun's another guy who had limited shooting range, which makes him ill-suited for the rules of this game.
Dean Smith — A far better coach than he was a player, Smith would have the need to coach someone to victory and I would try to position myself to be that guy.
Wilt Chamberlain — Just the chance to meet him makes him an easy choice and there's always a shot he could pile up letters at and around the free-throw line. The gentle giant qualifies as one of the greatest athletes of all-time.
Jesse Newell
Paul Pierce — "The Truth" is invited simply because I think he would dominate the game with his shooting ability.
Wilt Chamberlain — He would be fun to watch while doing any basketball activity, and I can imagine he would be the trick-shot king.
Rex Walters — He was one of my favorite players to watch growing up, and I'm sure he could still fill it up in this setting.
Billy Thomas — A three-point contest between him and Walters would be a treat after I was quickly eliminated from the game.
Gary Bedore
Drew Gooden — He'd probably have me laughing the whole time. Funny guy.
Greg Dreiling — See Drew Gooden explanation.
Scot Pollard — See Gooden, Dreiling explanations.
Greg Ostertag — See Gooden, Dreiling, Pollard explanations.
More like this story on KUsports.com