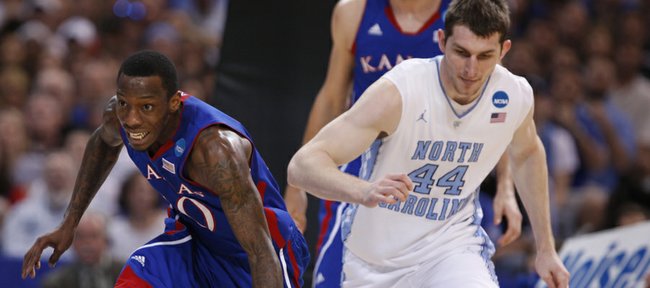 In November of 2010, Kansas University's then-junior point guard, Tyshawn Taylor, sat in the media room of Allen Fieldhouse and offered a self-evaluation.
During KU's 113-75 victory over Longwood, Taylor totalled 17 points, 10 assists and three steals in a team-high 28 minutes. In many ways, the stat line resembled the nightly output of Boston Celtics star Rajon Rondo, and Taylor was happy to take the compliment.
"I think Rondo is the man," Taylor said at the time. "He's definitely one of the guys that I watch a lot, and I take stuff from his game. I'm kind of a similar player to him. But I think I have a long way to go before I compare myself to him."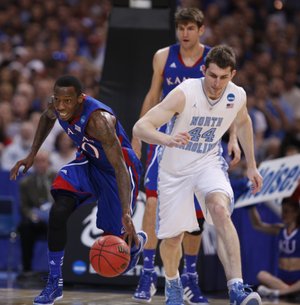 Long, lean, lightning-quick and passionate on every play: Those are the ways the 6-foot-3, 185-pound Taylor and Rondo, 6-1, 185, are alike. But in that runaway victory over Longwood, one very un-Rondo-like element of Taylor's game also showed up — six turnovers.
While many look at the builds and abilities of these two and see similar players, one NBA assistant coach contacted for this story said most guys at the pro level see Taylor in a completely different light than Rondo.
"I don't think anybody in the NBA thinks he's a point guard by any stretch," the coach said of Taylor. "His decision-making is just not a strength. With your point guard having to be such a good decision-maker because it's the most important position in the NBA these days, I think people are seeing him more as a spark plug, combo guard off the bench who can give you some scoring punch and get the pace of the game going up and down."
Rondo, who this postseason emerged as one of the league's top players and the unquestioned leader of the Celtics, has restored an element of glory to the pass-first point guard. Even while putting up incredible point totals and amazing all-around stat lines, the former Kentucky guard has looked first to get others involved.
"Rondo is so frickin' highly regarded in the league as far as his decision-making, the way he can get in there and create and the way that he can still orchestrate an offense and run it even though people don't guard him outside of the paint," the coach said. "His arms are so long, his hands are so big, and he's got so much action with the ball that he's pretty dynamic. There aren't a whole lot of guys like him."
One other trait that the coach said made Rondo different from Taylor was his moxie.
"To an extent, he got thrown to the fire," he said. "They didn't have a point guard, and they threw him right into the mix, and he's an alpha for sure. That's one of the things that they've credited their years of success to. Here's this young kid who's got (Kevin Garnett), Ray Allen and Paul Pierce, and he's not afraid to stand up to them. Never has been."
While Taylor may never be an all-star like Rondo, the NBA assistant said the former KU guard could play meaningful NBA minutes if he opted to make fundamentals his top priority.
"The talent is obviously there," the coach said. "He reminds me of (New York Knicks guard) J.R. Smith. He's really talented, and he can do all these things, but instead of just doing the simple stuff, he tries to do all this flashy stuff all the time, and it ends up hurting you."
Smith, who has bounced around the league and been a part of some highly publicized confrontations with coaches, is a world-class shooter capable of hitting seven or eight three-pointers in any game. His sweet stroke is the reason he keeps getting opportunities. Taylor doesn't have that. But the assistant coach said the skills Taylor does have could make him an asset to any pro team.
"Tyshawn's piece at this level is his ability to get into the paint," he said. "If he gets to be a little more of a consistent outside shooter, his first step and his ability to blow by guys who run out at him and then his athleticism, length, ability to knock down floaters and finish when he gets to the rim is what I think gets him into an NBA game.
"I was skeptical of him being a guy who would actually stick on an NBA team until I saw what he did this year. I was amazed."
Although he made sure to point out that the final decision for his team's drafting did not rest with him, the coach said he had not heard much talk about Taylor being a first-round selection in this month's draft.
"It only takes one (team), and I suppose there's a chance he could go in those last five or six picks of the first round, if someone really likes him," he said. "But it seems more likely that he's a second-rounder."
This year's NBA Draft is scheduled for June 28 at the Prudential Center in Newark, New Jersey.
Barber likes KU, Bama: Anthony Barber, a 6-2 senior basketball point guard from Hampton (Va.) High, tells the Hampton Daily Press that Kansas University and Alabama are his leaders in recruiting. Barber made an unofficial visit to Alabama's campus on Tuesday and Wednesday. Barber also is considering Virginia, Virginia Tech, Duke, Baylor, Florida State and Syracuse. Barber is ranked No. 13 nationally by Rivals.com.
Venting: Former KU guard Russell Robinson has a theory on why the Miami Heat players such as LeBron James and Dwyane Wade have been seen on camera barking at ex-Jayhawk Mario Chalmers during games.
"My opinion is they can't yell at each other," Robinson said of James and Wade. "He falls victim to the venting. That's all it is. It's all in good spirit. They are all good teammates. Mario is a tough guy."
More like this story on KUsports.com