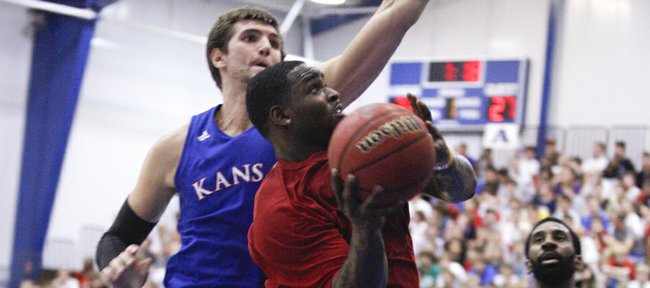 Former Kansas University point guard Sherron Collins, who has been rehabilitating a sprained knee that sidelined him at the end of the 2011-12 Turkish Basketball League season, has decided to relocate from Chicago to Lawrence to get in what he hopes will be the best shape of his life.
"I'll be here all summer," the 5-foot-11, 220-or-so-pound Collins said with a smile after playing sparingly in the Red (alumni plus some current KU players) Team's 64-57 loss to the Blue squad (all current players) on Wednesday in front of 800 Bill Self campers in Horejsi Center.
"There's not a better place to work out — with people that love you and want you to succeed. Hudy (Andrea, KU trainer), coach (Bill) Self, coach (Joe) Dooley, coach T (Kurtis Townsend), the whole staff ... they help me. It's something I need."
Collins, who missed five shots without a make, said Hudy is the key to his possible return to the NBA. Collins played sparingly for Charlotte two seasons ago before getting cut and moving to Turkey, where he averaged 10.6 points a game for a team in Ankara.
"Hudy is great for me, like a second mom. I always said that," Collins said. "Anything I need from her, whatever time, Hudy has always been there for me. She's the best at the college level. Every player she's had from UConn to here ... her résumé speaks for herself. She's great for me, man. I tell her all the time that she knows how to kick my butt and make me feel good about it."
The 25-year-old Collins said he's going to play summer league basketball for a yet-to-be-determined NBA team this July.
"The plan is go somewhere and make some money. The plan is the NBA. We're on schedule for that, working up to that," Collins said. "I have a chance to get there. If things don't work out, we'll find somewhere else to play and try again. It's a process, always a process."
Of Turkey he said: "It was all right. It was a different chapter of basketball over there, not the same as the NBA, a little rougher, actually. I think it prepares people for the NBA.
"My funniest story ever," Collins added, "was my first night there. It's a Muslim religious country. It was like 5 in the morning. ... I had jetlag and couldn't sleep. That's when this noise came. I called my coach. I said, 'Am I all right? I'm scared.' He said, 'No, just pray. It (noise in the streets) is telling people to pray.' He told me to pray, so every time it came on I just prayed. It was crazy."
Collins had discovered the "Call to Prayer," which takes place several times a day in Turkey.
•••
Langford scores 24: Former KU guard Keith Langford, who played for Israel Maccabi Tel Aviv last season, scored a game-high 24 points for the losing Red team.
For part of the game, he guarded his brother Justin Wesley, who returned the favor and guarded Keith.
"It was interesting. A couple times I had to do an 'old man foul' because he's incredibly athletic," the 6-4 Langford said of the 6-9 Wesley, who scored four points, including a vicious dunk off a pass from Naadir Tharpe that gave the Blue team a 60-54 lead in crunch time.
"He's a lot bigger than me. It's interesting to see him grow and develop into what he's become," Langford added.
At one point, Langford called for Wesley's teammates to pass his brother the ball in the paint.
"I knew he wasn't going to hold me off and I was going to be able to get around and cheat and get a couple steals," Langford said. "He has a couple things to learn. I have a couple 'vet' tricks. I'm definitely happy with what he's doing and his progress."
•••
Tharpe hits for 10: KU sophomore point guard Naadir Tharpe scored 10 points for the winners. He drilled a clutch three that gave the Blues a 56-52 lead and fed Ben McLemore (16 points) for a vicious dunk that gave the Blues a 62-54 advantage. McLemore scored what proved to be the winning bucket off a rebound, erasing a 52-51 deficit.
"It was good. We wanted to beat those guys," Tharpe said. "Russell (Robinson, two points), Sherron, all those guys that were here … we wanted to show them, 'You know, you guys are the old dudes. We are the new young dudes in line right now.' We were just stepping up to the challenge."
Of his big three late, Tharpe said: "I was trying to put 'em away. I said I was ready to close the curtain early."
•••
Doyle's day: KU freshman Milt Doyle hit two threes and scored eight points for the winners.
"It feels good to play with them, learn from their experience, get a good 'learn' in," Doyle said with a smile, referring to the KU alumni players.
He guarded Langford at times.
"Man, it was hard. He didn't really miss today," Doyle said of Langford, who hit nine of 15 shots and swished three threes.
Doyle impressed in front of 1,000 or so fans.
"I knew Milton when nobody knew Milton. I knew he was going to be good," said Collins, who, like Doyle, is a Chicago native. "I knew him when he was at Tilden High School before he transferred to Marshall (two years ago). I think he'll be a good player here. I think he needs to get a little bit stronger (he's 6-4, 175). He's a player who can do it all and help the team."
Doyle, by the way, said he prefers the name "Milt" to "Milton."
•••
This, that: McLemore opened the scoring with a vicious dunk after a drive down the lane ... Perry Ellis' only bucket came off a spin move in the lane. ... Chicagoan Doyle hit Chicagoan Jamari Traylor with a pinpoint pass in the lane for a layup ... McLemore iced a three from the corner. ... Doyle had a steal and a dunk on the other end. ... Collins will sign autographs of the book "Beyond the Phog" from 3-5 p.m. Saturday at Dillons, 3000 W. 6th Street.
BLUE TEAM (64)
Ben McLemore 7-14 0-0 16, Jeff Withey 3-4 0-0 6, Travis Releford 4-9 0-0 8, Naadir Tharpe 4-6 0-0 10, Justin Wesley 2-4 0-0 4, Milt Doyle 3-5 0-0 8, Kevin Young 2-5 0-0 4, Jamari Traylor 3-5 0-0 6, Andrew White 1-5 0-0 2, Nike Roberts 0-3 0-0 0, Tyler Self 0-2 0-0 0. Threes: McLemore 2, Tharpe 2, Doyle 2.
RED TEAM (57)
Russell Robinson 1-8 0-0 2, Keith Langford 9-15 3-4 24, Perry Ellis 1-3 0-0 2, Brady Morningstar 3-4 0-0 6, Aaron Miles 1-3 0-0 3, Zach Peters 2-4 0-0 4, Jeff Hawkins 4-6 0-0 10, Landen Lucas 1-7 2-2 4, Christian Garrett 1-1 0-0 2, Sherron Collins 0-5 0-0 0, Evan Manning 0-0 0-0 0. Threes: Langford 3, Hawkins 2, Miles 1.