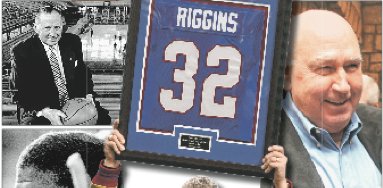 Inspired by a question posed in one of our weekly Kansas University football chats, we would like to introduce the first installment of a summer series that will take you on a trip down memory lane.
From the top players and coaches ever to come through KU to those who gave the best quotes, which guys were underrated and which guys you'd like to have on your side in a dicey situation, the following lists will provide not only an off-the-beaten path look at some of the biggest and brightest names in KU sports history, but also give you some insight into the guys who cover them for the Lawrence Journal-World and KUSports.com — good or bad.
We'll run a different list of four names from each guy every week throughout the summer months with input from sports editor Tom Keegan, who is preparing to begin his eighth year of covering KU sports; associate sports editor Andrew Hartsock, whose time covering KU dates back to the late 1980s and includes all of the ups and downs of the past three decades; KU football beat writer Matt Tait, who has been with the paper since 2007 but also can draw on his experiences as a KU student in the late 1990s; and online editor Jesse Newell, who also has enjoyed two separate stints of covering the Jayhawks.
Up first, the question that inspired it all: If you could invite to dinner four people, living or dead, from KU football history, who would they be?
Let's get on with the lists.
Matt Tait
Don Fambrough — Really, he'd be all you needed. And saving him a place would ensure that the dinner party would go deep into the night.
John Riggins — Pretty sure this one needs no explanation. Besides, could you imagine Fam and Riggo at the same table?
Chuck Long — Say what you will about his coaching, but Long's two years in town were loaded with great stories. I'd love to hear more.
Chris Harris — One of my all-time favorites sharing Tim Tebow and Peyton Manning stories? Yes, please. Of course, with this crew (myself included) it could be tough for Chris to get a word in.
Andrew Hartsock
Forrest C. Allen — I imagine ol' Phog would want a break from talkin' hoops. I'd like to pick his brain about that magical 1920 season, when he went 5-2-1 in his only year as a football coach at KU.
Don Fambrough — Honestly, I grew a little weary of his anti-Missouri schtick, but darned if he didn't make the world — or at least our little corner of it — a more interesting place.
Tony Sands — I was a cub reporter for his 58-carry, 396-yard tour de force against Missouri in 1991. Though I recall him to be an awful conversationalist, I'd like to hear Tuxedo Tony say "It's all about the kids" one more time.
John Riggins — I seem to recall a story about Riggo livening up a dinner party with a certain U.S. Supreme Court justice; surely he'd provide a spark at mine. Dinner party, that is. I don't have a justice.
Tom Keegan
John Hadl — To watch him out anywhere in Lawrence is to see every person at the table with him having a great time. Joe Namath stories, Jack Mitchell stories, John Wayne stories.
Terry Donahue — An assistant coach at KU under Pepper Rodgers, Donahue's as smart a football guy as there is on the planet. And he knows how to tell a story, too. The youthful former UCLA boss was the most underrated college football coach of the 20th century, and if he could be talked into giving it another shot would figure out a way to win in today's game.
James McClinton — He's funny and with any luck his passion for life would rub off on everybody. Such a dominant force for KU, his body type didn't translate to the NFL, which is a shame because he was an energetic team-changer in college.
Aqib Talib — As long as he's not packing.
Jesse Newell
Mark Mangino — I like good storytellers, and this foursome would make for an entertaining night. Mangino would have lots of good stories to tell.
John Riggins — Riggins seems like a character when I see him on TV.
Don Fambrough — Fambrough was a character from the times I talked to him in person.
Steven Johnson — Steven Johnson just seems like the kind of guy I would hang out with outside of football because of his laid-back and up-front nature.
More like this story on KUsports.com