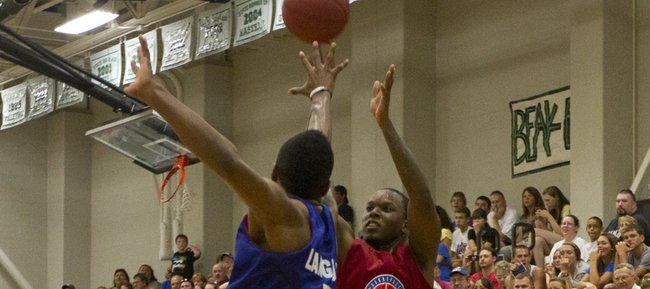 Russell Robinson, who has played professional basketball in Spain and Turkey the past two seasons after a stint in the NBA Developmental League, says he's thoroughly enjoyed competing overseas.
"The money is good. The competition's good everywhere in Europe," said Robinson, starting point guard on Kansas University's 2008 NCAA championship team.
There's been one huge drawback to earning six-figure paychecks, however.
"I miss home. That's the biggest thing," said Robinson, a 26-year-old native of New York. "I get away and enjoy it a little bit, but then I get homesick."
The 6-foot-1, 195-pounder returned from a six-month stay in Trabzon, Turkey in mid-May. He spent a few weeks with family members in New York, before heading to Lawrence on Thursday for the Rock Chalk Roundball Classic charity basketball game — one in which he scored 21 points off 7-of-17 shooting. He hit five threes.
"I'll be here two weeks. I booked a one-way flight here. Maybe I'll stay longer," said Robinson, who plans on working out with KU's current players, who are in town for summer school.
"I love to come back any chance I get. It's always good to be around some love. With KU fans, you feel a lot of love," Robinson added.
He averaged 13.4 points (off 47.8 percent shooting), 3.2 assists and 2.1 steals a game last season for Turkish League team Trabzonspor.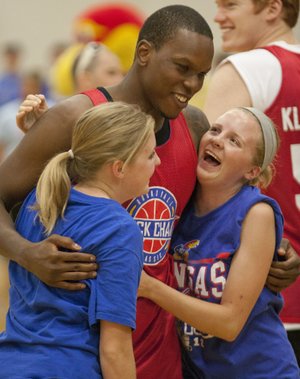 "I had a couple minor things that nagged me," said Robinson, who missed several games because of a dislocated thumb and sprained knee.
"That whole tournament run saved my season," he added of the Jayhawks advancing to the national title game in the NCAA Tournament. "(Because of the injuries) I was a little stressed out over there. Watching them on TV ... seeing the guys do so well helped me so much."
He wasn't surprised the Jayhawks stormed past North Carolina and Ohio State en route to the title game appearance vs. Kentucky.
"They had two great players in Tyshawn (Taylor) and T-Rob (Thomas Robinson) and other guys playing well. And coach (Bill) Self, who is a great coach," Robinson said in an interview at Self's Parent-Child camp on Friday.
Robinson plans on playing in Wednesday's Bill Self camp alumni game while finalizing plans for next season.
"I've got some things on the table now," Robinson said. "The NBA ... I'm still trying to do that. If it doesn't work out, I'll go back over there (Europe). I've done (NBA) summer league four years. I've played for a lot of teams. We'll see if that's an option.
"Europe is always an option for me. I could always go back to the D-League. We'll see."