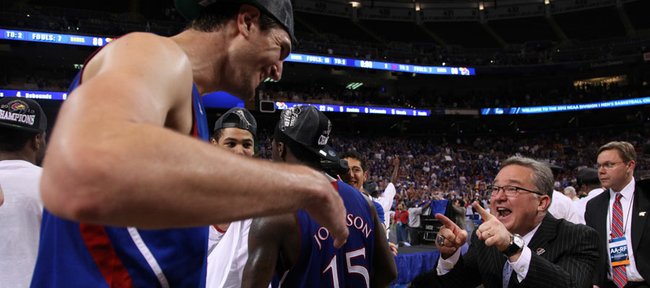 Endless smiles. Quick one-liners. Southern-fried charm. An encouraging word and a drop of wisdom for everyone who crossed his path. Bill Self's close friend Barry Hinson showed that face to the public during his four years in Lawrence working for the Kansas University athletic department in the wake of his unjust firing by Missouri State.
Now that he's back in the ranks of head coach, hired March 28 by Southern Illinois University, Hinson reveals that was his poker face Lawrence saw. Behind it, a bruise stretched from head to heart to gut.
"There were probably only three people in Lawrence who knew how much it bothered me and how much it hurt me," Hinson said by phone from his new office in Carbondale, Ill. "My wife, Angie, coach Self and Cindy Self."
Hinson didn't hide his true feelings when interviewed by the SIU search committee charged with finding a replacement for Chris Lowery. After nearly two hours of answering questions, Hinson was asked if he had any himself. He said he had one question and then a statement.
The question: "I'm going to ask you guys if you have any concerns with me because I got fired."
Hinson said it was quiet until one member said if they had concerns he would not be standing in front of them.
The statement: "I'm not damaged goods. We won at Missouri State. We didn't have any violations. We graduated our student-athletes. And we had the third-best record in the Missouri Valley (Conference) in my nine years. I'm not damaged goods. If you hire me, you're going to hire a guy who comes into this conference extremely upset."
Hinson said he grew very emotional during that point of the interview.
"Later to find out," he said, "they liked it."
They also liked that Hinson had the highest academic-progress rate in the conference. SIU athletic director Mario Moccia mentioned a decline in academics first when citing the reasons for Lowery's dismissal. In every public appearance with his new coach Moccia has cited Hinson's academic record as the No. 1 reason for his hiring, Hinson said.
"It makes me very proud because that has to be the emphasis," Hinson said.
NCAA regulations didn't motivate Hinson to stress life after basketball with his players at Missouri State. The academic progress report penalties weren't in place when he took the job at Missouri State and began to teach his players the value of saving money and investing it wisely. Some of the Missouri State players, for example, took their housing stipends, invested in property and lived there, instead of renting. By the time they graduated, they already had earned equity and a head start in life.
Heading to their ninth year, the APR rules demonstrate yet again that any attempt to legislate morality is at best flawed. The APR culture makes staying eligible a priority over learning.
Penalties for not meeting established academic-progress rates include postseason bans, which can lead to mass transfers wherein the players don't have to sit out a year. The players who take care of business in the classroom pay the price of NCAA bans by not getting a shot at participating in a tournament.
If the NCAA insists on keeping the APR in its current form, it ought to punish offending coaches by banning them from postseason participation and, in extreme cases, banning them from coaching an NCAA program for a period of time.
Such matters are for others to sort out. Hinson must play the hand dealt him, and it's a scary one.
"We've got a mess," Hinson said. "We have major issues on the floor and off the floor that we have to take care of. And we have no margin for error in several of those areas."
Upon taking the job at SIU, Hinson said he met with his players and told them, "No matter what's happened before this date, I won't get mad at you. But these are the guidelines you are going to live by from this day forward and if you mess up on my watch ... "
He'll get mad, maybe even kick the offending player off the team.
Hinson took a patient approach to assembling his coaching staff. Associate head coach Tom Hankins had been at Oral Roberts since Hinson, then the school's head coach, hired him in 1997. Former Kansas State basketball player Anthony Beane, Sr., had been an assistant for Tim Jankovich at Illinois State. Terrance McGee, who played for Hinson at Missouri State, was hired away from Division II Grand Valley State.
Guard Anthony Beane, Jr., a three-star recruit who had received scholarship offers from Iowa and Boston College, will follow his father to SIU. Hinson also recruited Jalen Pendleton, a combo guard and football quarterback from Evansville, Ind.
Hinson, a native of Marlow, Okla. — population 4,950 — won't draw borders around his recruiting region.
"I've even been doing some recruiting in Europe, believe it or not with my accent," Hinson said.
He won't be able to recruit the caliber of athletes that he interacted with the past four years at KU — the first two as director of external relations, the next two as director of basketball operations — but he does have a model for a team getting the most out of its talent, and it's very fresh in his mind.
"This year's (Kansas) team and this year's accomplishments would be an example for any corporation, anybody running a business, anybody working with any team or anybody trying to accomplish anything or move forward with anything they do in their daily life," Hinson said. "Great example."
If Hinson can find a way to right the listing academic ship without APR penalties kicking in to sink it, the players he recruits will be better for life for having Hinson in their lives. It certainly would be a shame for a rule intended to make basketball players as well-rounded as what they dribble to make it more difficult for Hinson, through no fault of his, to have another successful tenure as a Division I head coach.
More like this story on KUsports.com