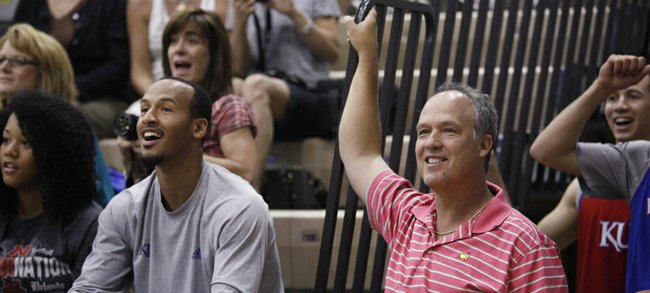 Doc Sadler says he's going to enjoy the Allen Fieldhouse experience a lot more as a member of the home team's basketball staff than he did as a visitor.
"I promise you the bench on that (northwest) end is a heck of a lot better than the one I've been on. I'm not the smartest guy in the world, but I know the view will be a lot better on that end," former Nebraska coach Sadler joked to the Journal-World on Wednesday after officially being named KU's director of basketball operations. "To have this opportunity is unbelievable, kind of like a dream come true. I hope to not wake up."
Sadler's five Nebraska teams from 2007-11 went 0-5 in the fieldhouse, losing to KU by 3, 11, 17, 35 and 46 points. NU didn't play KU last season — Sadler's sixth and final year in Lincoln — following the Huskers' move from the Big 12 to the Big 10.
"It's unbelievable," Sadler said of joining (Bill) Self's KU staff. "It seems like two or three times I've talked to coach Self about working for him, and it never seemed to work out. I appreciate the opportunity he's given me. He has such a great staff. Anything I can do to make those guys' jobs easier is what I want to do. I'll do whatever I can to help those guys out."
Sadler replaces Barry Hinson, who served in the director of basketball operations position for two seasons before taking over as head coach at Southern Illinois in April.
"I've known Doc for 25 years and have certainly followed his career. Watching his career at UTEP (head coach for two years) and seeing and competing against him when he was at Nebraska sold me on his ability for him to come in here and make us better," Self said.
"Very few programs in the country have the experience that our staff will have with Joe (Dooley), Kurtis (Townsend), Norm (Roberts) and now adding Doc into the mix," Self added. "We lost two great coaches this past year due to staff turnover — Danny (Manning) getting the job at Tulsa and Barry (Hinson) getting the job at Southern Illinois. We replace them with Norm Roberts, who is a terrific coach and recruiter and was a head coach at St. John's for six years, and Doc Sadler, who has done just about everything and has been a head Division I coach for eight years. I'm excited. My batteries are charged, and I know he's ready to get to work July 1."
Sadler, who has been in Lawrence all week, first interviewing for the job, then observing Self's basketball camp, went 101-89 in six seasons at NU. His Huskers advanced to the NIT in 2008, 2009 and 2011. His 2009 team finished Big 12 play with an 8-8 league record, the Huskers' best conference mark in a decade, and his 2008 team posted a 20-13 record, giving NU its first 20-win season since 1999. Overall, at NU Sadler had eight wins against ranked squads in six years.
Prior to Nebraska, Sadler spent two seasons as the head coach at UTEP, where he compiled a 48-18 record: 27-8 in 2005 and 21-10 in 2006. His 27 wins in 2005 rank ninth on the NCAA list for first-year head coaches. 
Sadler's first head coaching stint was at Arkansas-Fort Smith (1998-99 through 2002-03). He has a career coaching record of 269-146 in 13 seasons, including a Division I record of 149-107 in eight seasons.
A native of Greenwood, Ark., Sadler served one season as a high school coach, guiding County Line High to a 38-7 record.
"This is an unbelievable opportunity to have a chance to get back into college basketball," Sadler said. "When making decisions, I really thought I would sit out this year (perhaps working in TV), but when this came along I don't think anyone would ever pass it up. I am thankful to coach Self in giving me this opportunity. To be part of a program such as Kansas is unbelievable," added Sadler, who also worked as an assistant at Arkansas (1982-85), Lamar (1985-86), Houston (1986), Chicago State (1987-88), Texas Tech (1991-94), Arizona State (1994-97) and UTEP (2003-04).
He met Self when he was coaching at Fort Smith and Self at Oklahoma State.
"We had some players he recruited," Sadler said. "We were two finalists for the Oral Roberts (head coaching) job. I was at Texas Tech and he got the job. We talked several times and developed a friendship. We know all the same people. I've gotten to know his family. That's been neat. I've known Norm since he was at Oral Roberts. Kurtis ... I thought I had him hired at UTEP. And coach Dooley I've known as well. There's not a better staff."
Sadler and his wife, Tonya, who is also a native of Greenwood, Ark., have two sons, Landon and Matthew. The plans right now are for his family to remain in Lincoln.
"I told my wife I feel like I'm going to college," Sadler said with a laugh.
Asked when he wants to be a head coach again, he said: "I am a coach. But I'm not thinking about that. I'm thinking about doing the best job I can here."