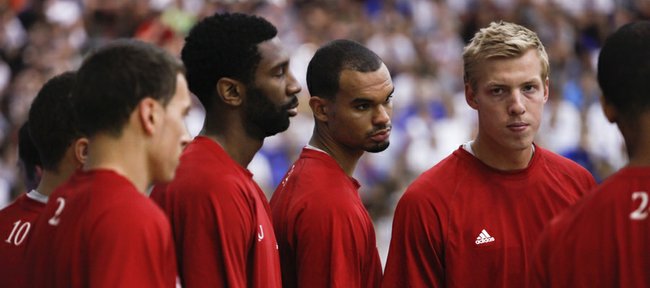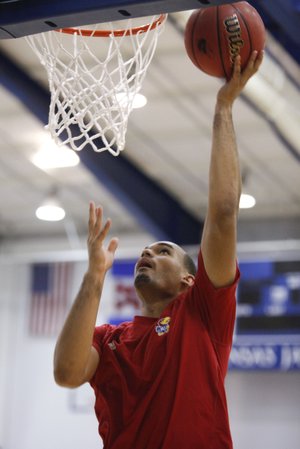 McDonald's All-American Perry Ellis, the all-time leading scorer in Wichita City League history, capped his Wichita Heights basketball career by winning his fourth straight state championship and fourth-straight Gatorade Player of the Year Award.
He had just as impressive an exit on the academic side, serving as one of four valedictorians at Heights' May 22 graduation ceremony.
"It was great. A lot of people respect me for that," Ellis, a 4.0 student, said Monday before taking part in drills with his new Kansas University basketball teammates at Bill Self's hoops camp in Horejsi Center.

"It was real tough. It didn't come easy to me," he added of acing all his classes. "I really had to work in the classroom to do that. That's what I tell a lot of people. Anybody can do it. You just really have to work."
The 6-foot-8, 220-pound Ellis, who plans to major in business at KU, is taking two summer-school courses.
He hopes to keep his streak of A's alive.
"I'm going to try," he said of claiming a college 4.0. "It's going to be tough again, another challenge for me, dealing with school and workouts and weights and all that. I'm going to definitely try."
It seems somewhat surreal that Ellis is finally settled on KU's campus. He has been highly publicized since eighth grade, with folks following his college recruitment on an almost-daily basis until his oral commitment to KU last Sept. 21.
"I enjoyed it. I didn't feel too much pressure," Ellis said of time spent in high school. "I tried to not put a lot of pressure on myself. My parents and coaches helped with that, also. I feel it's time to move on, time to start something new ... this is my next step in life."
He has already noticed some differences between high school and college.
"You are more on your own now. I don't have my mom, my dad to help guide me. It's all on myself. I've got to take care of myself now," said Ellis, who is rooming with fellow freshman Evan Manning. "We are playing a lot of pick-up, too, which is helping give me a feel for the players, and going to class is helping me, also.
"It's physical," Ellis continued of pick-up basketball and two hours of practice per week with the coaches in accordance with new NCAA rules. "It's going to make me a lot better, playing with these guys and competing with them."
His goals during practices?
"Just playing hard, getting more physical. That's the main thing I want to focus on," said Ellis, who averaged 25.8 points and 9.4 boards per game last year for Heights.
Ellis, who hit 67 percent of his shots and 43.4 percent of his threes last season, figures to play both inside and out for KU.
"I'll try to do everything I can, try to do both," Ellis said. "I'm not really sure yet. I might play on the wing a little bit if I get somebody smaller on me. Then I might go in the post. We'll have to wait and see."
Ellis likes what he has seen of KU's freshman class.
"First of all, they are all great kids," he said. "I feel they will all be great teammates."
KU senior Jeff Withey says he has been impressed with Ellis thus far.
"He's definitely a raw talent, one of the best high school players (in country)," Withey said of Rivals.com's No. 24-rated player nationally. "He needs to get more aggressive, I'd say, in pick-up and stuff. He'll get more involved in the offense. He'll get more outgoing as time goes on. I'd say Kansas fans have a lot to be excited about."
They were elated in March when Ellis became the sixth Wichita native to play in the McDonald's All-America game.
"It was a great experience, learning about the years before me and all the players who went through it (the game) and learning their stories," he said of the likes of LeBron James and Michael Jordan. "I thought it was a pretty awesome experience.
"A lot of people when I was going up there (Chicago for game) said, 'Represent us. Represent us.' I did. I wanted to represent my hometown, Wichita, Kan. There's only a couple before me who got to do that. It was a real honor."
Finals begin tonight: KU coach Bill Self's hometown Oklahoma City Thunder will meet the Miami Heat in Game One of the NBA Finals tonight in OKC.
"Knowing another Jayhawk will get a championship ring is pretty cool," Self said, well aware Nick Collison and Cole Aldrich play for the Thunder and Mario Chalmers the Heat.
"It's been really cool because the Thunder team has totally unified the state. When you've got OU, OSU, Tulsa and Oral Roberts, you don't have everybody ever cheering for the same team. This is one case in which you do. It's really brought the state closer together. It's done great things for the city. You've got a guy like (Kevin) Durant that you can sell as face of the franchise, and it's great to see Nick play so well. Cole's not had a chance to play much. Mario has played very well.
"I've not missed many games. We've been sitting and watching entire games the last three weeks. Even on vacation, we planned our vacation around the Thunder and the Heat. It's really cool, fun to watch."
Trials: Future KU guard Conner Frankamp of Wichita North is one of 31 players who will attend tryouts for the FIBA Under 17 world championship team, which start Friday in Colorado Springs. In all, 31 players will attend tryouts. It is anticipated the final 12-member U-17 team will be announced after the morning session on June 17, and those 12 athletes will remain in Colorado Springs to train through June 20. The world championships start June 29 in Lithuania.