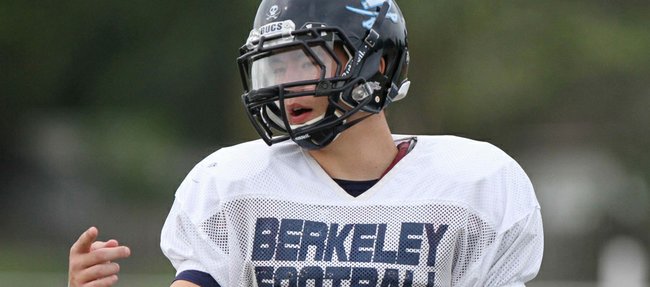 It may sound crazy, but Schyler Miles could not wait to leave his home state of Florida for his new home in Kansas.
Forget the sun, the surf and the familiarity with his hometown. The Berkeley Prep linebacker who picked Kansas University over in-state powerhouse Florida longed to leave the sights and sounds of Tampa, Fla., for the Midwest for a couple of reasons.
The first was obvious. Miles is a born football player, and his arrival June 4 marked the beginning of a life devoted to the sport from sun up to sun down, year round.
The other reason, though not as obvious, was equally important. Since the day he committed to KU in early February to the day he left for college, Miles fielded countless questions about why in the heck he chose to play football in Kansas.
"I still get it today from some of the former players I played with," Miles said. "I get it almost every week. They ask me, 'Why didn't you go to Florida,' or 'Why didn't you go to West Virginia or Notre Dame,' and I just tell 'em that (KU) coach (Charlie) Weis was the main reason why I was gonna commit to Florida when he was there, and he just made me feel real comfortable, and I wanted to play for him."
It has been well documented how Miles ended up at Kansas. After visiting him as Florida's offensive coordinator, Weis got the rare luxury of a second visit a few months later, this time as the head coach of Kansas. Although the colors and mascot changed, the philosophies did not, though Miles said Kansas wasn't on his radar.
"I didn't even want to visit there at first," he said. "But out of respect for coach Weis, I visited, and once I stepped foot on that campus, I ended up falling in love with it, and I loved everything about it. I love (linebackers) coach (DeMontie) Cross, I love (defensive coordinator Dave) Campo, and I just felt like that was the best place for me to get early playing time and make an impact right away."
That's the goal. And by impact, Miles is not talking about being a solid practice player or a good teammate. He wants to start and believes he can.
"That's been my goal ever since I committed," he said. "And it was one of the main reasons I committed. I plan on starting as a freshman. I know it's not going to come easy. It's gonna take hard work, and I gotta get in that playbook, but I think I'm very capable of doing it."
He's not alone. Campo once said that Miles was the kind of player he could build a defense around. And Cross has said that he likes Miles' blend of power, smarts and speed. All are traits Miles developed as a young linebacker while playing for his father.
"I've been playing linebacker since I was 7 years old," said Miles, a 6-foot-2, 230-pounder. "I grew up with my dad coaching me, so I've been doing film study since I was 10 or 11 years old, watching little league games and having my dad correct me if I'm taking wrong steps or how to read the guards or read the quarterback's eyes in pass coverage.
"My whole career, I've really been trying to make a name for myself, and I don't really like to compare myself to someone. If I had to say my style, I'd say I'm aggressive, a run-stopper, I've got a good nose for the football, and I've got a lot of good instincts that I carry with me, and that's probably the main part of my game."
While those subtle nuances appealed to him and made film study fun, Miles was drawn to one other key component of the position.
"I just love to hit," he said. "I've gotten in trouble many times in practice and stuff, tackling people when I'm not supposed to and that kind of thing. Linebacker's just always where I've felt the most comfortable, and I just have the most fun playing it."
• A previous version of this story has been updated.