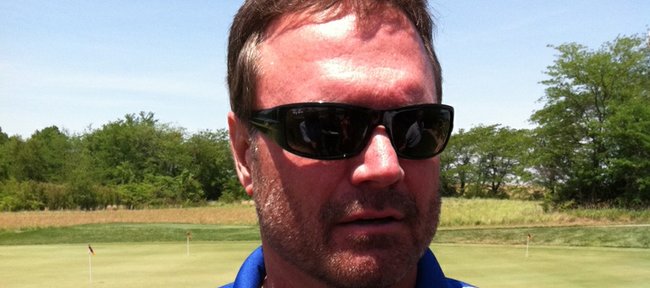 Mayetta — Thomas Robinson, who was listed as a 6-foot-10 power forward his junior season at Kansas University, shrunk just a bit at this week's NBA Combine in Chicago.
"I saw Thomas measured 6-83⁄4 (in shoes), which is good. I was hoping anything 6-8 (or taller)," KU coach Bill Self said with a smile at Friday's Otto Schnellbacher Classic at Firekeeper Golf Course.
"His wingspan was 7-3, which is a pleasant surprise. His body fat is 5 percent. That's remarkable. He's obviously in shape," Self added of the Washington, D.C., native, who weighed in at 244 pounds.
The measurements met the approval of draftexpress.com, which immediately moved Robinson up three slots to No. 2 overall in its latest mock draft.
KU's Tyshawn Taylor measured 6-4 in shoes, 177 pounds with 4.2 percent body fat and a 6-61⁄4 wingspan. He's listed as a first-round pick by draftexpress.com at No. 27 overall.
"Tyshawn is playing well (in individual workouts). We've been talking to NBA people all the time," Self said. "He could be the fourth or fifth point guard taken, with a chance to move up a little bit. I'm excited for both of them."
Robinson, by the way, talked a little trash at Thursday's combine media session. Asked about projected No. 1 pick Anthony Davis' T-shirt that read, "Check my stats," Robinson told SI.com: "If you wanted to check the stats, then I'd be the No. 1 pick easily — if that's what you want to do. I should get one of those shirts. I'll get a shirt that says, 'Numbers don't lie.'"
Robinson added: "I'm going to go after every team that I step on the floor against. There's really not going to be a specific team that I'm going to point out and just try to kill. I'm trying to kill everybody. I think I play with a different level than everyone else, a different intensity level. I'm going to play every night. That's not something every guy does."
Assisting youth: Self's Assists Foundation is ready to make a sizable donation toward a proposed recreation complex in northwest Lawrence. KU tentatively plans to build an outdoor track and soccer complex at the site as well.
"It is not done yet. Hopefully it'll be finalized," Self said. "I know there's been several generous people in our community who stepped up to try to make this a reality ... and the backing of the city. The great thing about it is it will not cost people money. It will not raise taxes, at least the way I understand it now. It's something that will definitely benefit the community, benefit the youth, which is my primary concern, to give them more opportunities, but also have huge economic impact moving forward."
Eight freshmen: While not naming names of unsigned players, Self clarified his incoming recruiting class of 2012 on Friday.
"It's not a heralded recruiting class (by experts). Throw Ben and Jamari in there, we're going to have eight good freshmen," Self said.
Red-shirt freshmen Ben McLemore and Jamari Traylor are joined by signees Perry Ellis, Landen Lucas, Zach Peters and Andrew White. The other two players in the class figure to be Anrio Adams, a combo guard from Seattle, and Milton Doyle, a point guard from Chicago. Both are awaiting their ACT test scores to be matched with final grades to see if they qualify academically. If, as expected, they qualify, it is believed they'll be in KU's recruiting class. In fact, it is believed both have filled out their scholarship grant-in-aid papers. KU also is adding walk-on freshmen Tyler Self and Evan Manning.
NBA playoffs: Self, who indicated he's been watching the NBA playoffs with great interest — interrupted only by last week's vacation in Cancun — was asked about the possibility of a Boston-Oklahoma City NBA final or Miami-OKC final.
"As a basketball purist, I could make the case I want to see the Spurs and Celtics play," Self said. "If you have the Heat and Thunder go at it ... I don't know if there's ever been a more athletic final two teams playing. Oklahoma City is so young and bouncy. The Heat have the biggest athletic freak on the planet now in LeBron (James). It'd be unbelievable. I'd think that's exactly how David Stern would love to script it from a marketing standpoint, having the two best players in the world going against each other."
Tidbits: Self told the golfers that the popular Legends of the Phog game likely would be contested in Allen Fieldhouse "every three or four years. I don't think you can do it every year. It would lose its sting." ... Self said this year would be KU's 115th year of basketball, with former players coming back to town to be honored as they are every five years. "As cool as the Legends game is ... that's cooler," Self said. ... The Topeka Jayhawk Club golfers had a moment of silence for Topeka native Charlie Hoag, a four-sport standout for KU who died March 8. Hoag's son, Chuck, was in attendance.
More like this story on KUsports.com