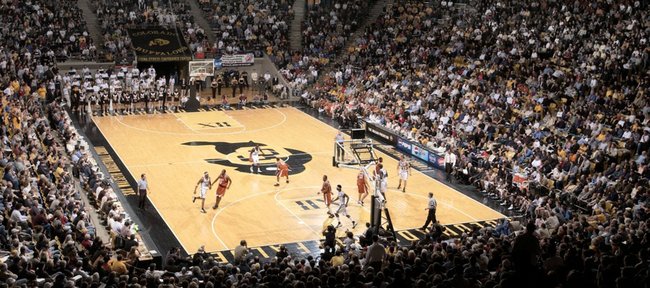 Some Missouri fans, radio talk show callers and Internet message board posters were grumbling last week when it was revealed that Kansas University and Colorado would begin a home-and-home men's basketball series next season.
KU coach Bill Self, who was on vacation when the furor hit, was asked by the Journal-World about playing former Big 12 member Colorado of the Pac-12 while having no plans to schedule former Big 12 member MU of the SEC.
"We have a great relationship with Colorado, plus we have 4,000 to 5,000 fans in Western Kansas. That's an opportunity to see us play whenever we play in Boulder," Self said of fans who likely will find tickets to the game during the 2013-14 season at Coors Events Center. This year's game is in Allen Fieldhouse.
"It's a great deal for us and our fans. We are playing a KU grad (CU coach Tad Boyle), who has done a remarkable job there in a short amount of time," Self added.
As far as the nitty-gritty of the issue ...
"No one ever held Colorado responsible for them leaving the league. They did something they felt they had to do," Self said. "There were so many rumors they could be left out in the cold, too. Everybody respected that without question. There are no hard feelings there. With the climate, the landscape at that particular time (summer, 2010), with all the talk about Texas, Oklahoma, A&M;, Oklahoma State, Texas Tech, all those schools going to the Pac-10 back then ... all the talk before that about Missouri and Nebraska going to the Big Ten ... Colorado was just making sure they had a conference affiliation. No hard feelings about that."
Merv to New Mexico: Former KU small forward Merv Lindsay on Thursday orally committed to the University of New Mexico at the conclusion of his recruiting trip to the Albuquerque, N.M., school. Lindsay, 6-7, 195 pounds from Moreno Valley, Calif., will practice but not play in games next season and be eligible as a sophomore during the 2013-14 campaign.
He averaged 2.2 minutes a game in 12 games this past season, scoring 11 points.
"I felt really good there, very comfortable," Lindsay said in a phone interview. "I liked everything about the place — the coaches, players. I didn't have any complaints, none at all. It's a family atmosphere. I'm going to use the year off to work on everything that is wrong with my game, get in the weight room and improve so I'll be ready to contribute to the team the following season."
Merv and his parents met with UNM coach Steve Alford at 9 a.m. Wednesday, quickly gobbling up the scholarship offer.
"He said, 'Welcome to the family,'" Lindsay said.
Of his one season at KU, Merv said: "No regrets at all. I respect everything about Kansas. I love the school, the coaches, players and fans. I want to thank coach Self, his staff and my teammates for a great year, working with me in a family atmosphere. I'm also looking forward to playing at New Mexico. Coach is building a great program there."
Juneau to Tulsa: Former KU player/assistant coach Danny Manning and his high school coach, Ted Juneau, have been reunited at Tulsa University. The J-W has learned that Juneau will soon be introduced as a liaison for men's and women's basketball players in the academic services area at TU. A Tulsa athletic department official said former Lawrence High coach Juneau currently is working in a volunteer capacity at Tulsa. No official appointment has yet been made or announced. Juneau also has coached at Topeka High and Haskell and worked as Haskell athletic director. Manning was named Tulsa basketball coach on March 29. His staff includes former KU players Steve Woodberry and Brett Ballard and former KU manager Justin Bauman.
Tickets on sale: KU basketball season tickets are now on sale for the 2012-13 season. The deadline to order and make a minimum pledge of $100 to the Williams Fund is July 20. Seat locations will be allocated at the Select-A-Seat event, which begins August 13. Season-ticket prices will remain the same for 2012-13, and all ticket packages include 20 home games – all 19 games in Allen Fieldhouse and one game in Sprint Center in Kansas City. Information is available at kuathletics.com or 800-34-HAWKS.
This, that: Jeff Goodman of CBSsports.com reports that Thomas Robinson measured 6-83⁄4 with shoes with a 7-3 wingspan and 5 percent body fat at the draft combine. Official measurements are released today. ... Class of 2015 players Austin Grandstaff and Elijah Thomas stopped by KU's campus this week on unofficial visits, Rivals.com reported. "Great visit at Kansas deffinitley one of my favorites so far #rockchalk," Tweeted Grandstaff, a 6-4 combo guard from Rockwall (Texas) High. Thomas is a 6-8 forward from the same school. Grandstaff is son of Team Texas AAU coach Wes Grandstaff. They also were to visit Oklahoma and Missouri this week. ... KU freshman-to-be Ben McLemore reports that he weighs 197 pounds, up 12 to 15 pounds from the start of last season. He's a 6-5 guard/forward from St. Louis.
More like this story on KUsports.com