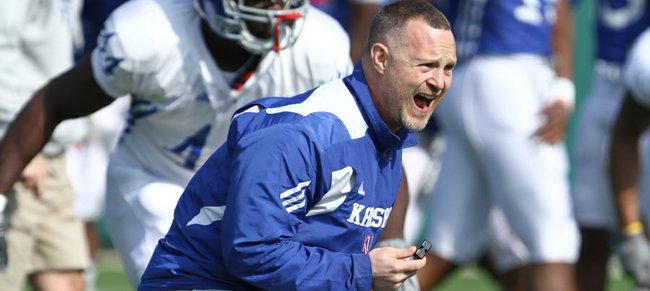 Now that June has arrived, things begin to get very interesting with the Kansas University football team.
For months we've heard head coach Charlie Weis and several of his assistants talk about the crop of players who were on the way, many of whom, they said, would be asked and expected to contribute immediately.
The majority of the incoming class of 26 players is here now, and, although Weis and his staff cannot work with them directly until August, strength coach Scott Holsopple and his crew get their chance immediately.
What the newcomers do in June and July probably will not be reflected on the first depth chart Weis puts out at the beginning of fall camp. But their efforts — both good and bad — will be noted, and Weis will be briefed by Holsopple almost daily about which players look good and which players need to pick it up.
While the adjustment to what Holsopple has in store no doubt will take some getting used to, many of the newcomers got at least a taste of what to expect from individual workouts back home during the past four months.
"Coach Holsopple sent out a workout packet, and I've been following it very closely," said freshman offensive lineman Sean Connolly, who arrived in Lawrence last Sunday. "All the running and lifting and all that, I've been doing all of it. I just wanted to be as prepared as I could be to come to KU and help out as soon as I can."
So, too, does junior-college defensive tackle Ty McKinney, who found out recently that he would not make it to Lawrence until July so he could complete a class he needed to transfer.
"They sent us a packet so I did that until I finished it up, and once my friends got back from school, I've been working with them these last three weeks," McKinney said. "Now I'm about to pick back up on my own again just to stay in shape until I get there."
So what's next for the 20 or so newcomers and their teammates who are here? More of the same, according to Holsopple.
"Day by day you chip away at it," he said. "You chip the rock and get better and better and better, and you don't accept anything else. You have to be disciplined, and it's gonna be tough every day."
Such a statement is exactly what Connolly expects, and he is not entertaining any notions that what he has done the past several weeks was anything like what he'll do this summer.
"I think there's some tricks he has up his sleeve, obviously," Connolly said. "But those workouts were pretty intense. I think it was like four or five pages of directions on just how to do a workout. It was crazy. His main thing is just you can't take breaks in college football when you're working out. That's something I've tried to get adjusted to, and I think I've done a good job. I've gained strength and I feel like I'm ready to help."
While some high school football players may be a little intimidated by the transition from the prep ranks to major college football, the bulk of KU's incoming class seems excited about the chance to grow, literally and figuratively.
"I'm definitely looking forward to being a part of the strength and conditioning program," said juco defensive tackle Keon Stowers, who arrived on campus last Saturday. "I've heard a lot about coach Holsopple, and I know he's gonna push us hard and he's gonna be on our butts, so I'm really looking forward to getting into that weight room and getting to the weight that I need to be at, which coach Weis told me was about 295."
At last check, Stowers weighed 289, up six pounds from the end of classes at Georgia Military last month.
With this coaching staff, it's all about earning your spot. Hard work pays off, and the guys who show the best work ethic and also execute consistently are likely the guys that will play. The bulk of KU's roster received a head start with the new coaching staff in April, but KU's coaches have emphasized that it's what's ahead that matters most.
"No one here should think that we're gonna automatically put a freshman or a junior-college guy third string just because he's new," defensive coordinator Dave Campo said. "If we think he's a second-string or a first-string guy, that guy's going there right away. If we've done a good job of recruiting, there will be some guys jumping right into the second unit or the first unit right off the bat."
Mueller leaving KU
The KU kicking game got a little thinner recently, when sophomore place kicker Alex Mueller decided to transfer to a school closer to his Grapevine, Texas, home.
Mueller, who earned the starting job as a true freshman in 2011, told Jon Kirby of JayhawkSlant.com that he had no destination in mind and was just beginning to look at other schools. He also said he enjoyed his time at KU.
"The coaching staff is doing great things and turning it around," Mueller said. "I wish nothing but the best for the football program."
Mueller's departure leaves junior Ron Doherty as the only kicker with game experience on KU's roster.
Berglund lands at juco
Former KU quarterback Brock Berglund, known more for what he didn't do at KU than what he did, has announced that he will enroll and play football at Scottsdale (Ariz.) Community College this fall.
Berglund, the former three-star QB from Valor Christian High in Highlands Ranch, Colo., who graduated high school early but never got his KU career on track because of legal issues back home, said he chose Scottsdale CC to give him time to reevaluate his plans, which he hopes again will include playing quarterback at the Div. I level.
Berglund, who said in a statement that he maintained a 3.49 grade-point average while at KU, officially was dismissed from the team by new coach Charlie Weis after he missed a mandatory team meeting shortly after Weis' arrival.