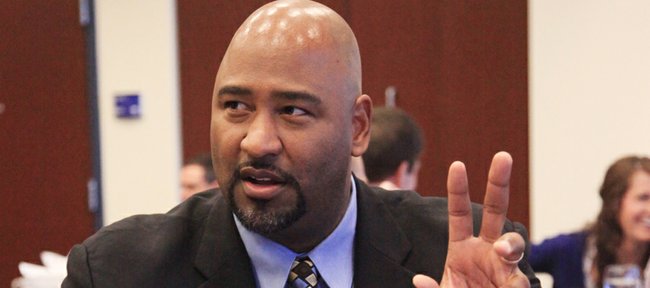 A recruit's parent asked Buddy Wyatt how his wife was handling his crazy travel schedule.
The Kansas University defensive-line coach just smiled.
"I don't know," he said. "She's not talking to me right now."
He was joking, of course. But during that time in early December 2011, when KU athletic director Sheahon Zenger was still looking for a head football coach, the truth was that Wyatt had little time to be a family man.
He had to try to help keep some semblance of a KU recruiting class intact.
Wyatt was in a different city each day, selling a program without a coach, trying to do the recruiting job of more than two assistants.
At the time, KU had only three assistant coaches left on the staff to recruit — Wyatt, running backs coach Reggie Mitchell and former receivers coach David Beaty — and that was at a point in the calendar when college football teams typically have seven assistant coaches out recruiting.
Mitchell, KU's recruiting coordinator at the time, came up with a plan. He split up the country, deciding it would be best for Wyatt to visit primarily with defensive linemen to keep his relationships with them.
So Wyatt hit the road. He went from Houston to Dallas to Wichita, flew to Gainesville, Fla., then drove to Tampa and Orlando before going back to Gainesville and catching a plane back to K.C.
That was one week.
"It's kind of the nature of the beast," Wyatt said. "You've got to go where the kids are."
Mitchell's travels were similar. One day he started in Chicago and ended up in Atlanta before heading to Florida the next day.
Making it even more difficult was the fact that the assistants couldn't take commitments without a head coach. Not only that, the assistants couldn't even be assured of their own job security, since the new coach could choose not to retain them.
Mitchell remembers times when players asked what he was doing there, and he'd tell them that he was recruiting. Then they'd ask him if he had a job, and he'd tell them he did ... sort of.
"It's like selling ice to an Eskimo. You're trying to sell them something they don't need," Mitchell said. "What you're trying to do is basically go in and say, 'Hey, listen. We want you. You have a scholarship here. We're going to hire a good coach. When we hire a guy, give us an opportunity to come to your home.'"
Wyatt said for most of the two weeks before Charlie Weis was hired, he was on auto-pilot, cramming his tall body into small jet seats while also perfecting his skills in cell-phone solitaire at airports.
In the end, his relationship-building was rewarded, as KU was able to pick up commitments from four defensive linemen, including three defensive tackles.
"It didn't take a rocket scientist to see that we had to improve at that area," Wyatt said. "That was an area of need that we had been saying we needed to address, even from a year ago."
There were a few reasons for KU's futility at that position in 2011. For one, the Jayhawks were hampered by injuries. Defensive tackle Pat Dorsey missed the first two months because of a broken foot, and he still wasn't 100 percent when he returned.
John Williams — probably the most productive player at defensive tackle — suffered a torn ACL two weeks into the season.
Kevin Young played in nine games, but he did so with a torn labrum in his shoulder. He had surgery at the end of the year.
"We didn't have that explosion, that punch in the middle, that quick-twitch that you need to be productive," Wyatt said. "You don't just want to be there taking up space. To be productive, you've got to be able to get off blocks and then explode to the ball."
Wyatt believes his entire defensive line will have a different look in 2012 with the arrival of the new recruits.
That includes Ty McKinney, a 6-foot-3, 297-pound defensive tackle from Trinity Valley Community College in Athens, Texas.
KU basketball fans might become familiar with Ty's brother, Adrick, who will be a senior forward for TCU next season.
"(Ty) was a basketball kid growing up, but he got too big to play basketball, so he went the football route," Wyatt said after signing day in early February. "So he's very athletic. We're very excited about him."
Keon Stowers, a 6-3, 273-pound defensive lineman, comes to KU from Georgia Military College in Milledgeville, Ga.
"He can play a lot of different positions because he's athletic enough," Wyatt said. "But he's extremely strong."
Jordan Tavai —at 6-3, 280 — transfers from El Camino C.C. in Torrance, Calif.
"He's been well coached at his junior college, because he really understands the game," Wyatt said. "He's very athletic. He's going to bring us that pass rush from the interior that we haven't had since I've been here."
KU also picked up a commitment from 6-3 Tyler Holmes — the only high-school defensive lineman in the class.
"He's already up to 280 pounds, and he looks like he's a junior in college right now," Wyatt said. "And so we've definitely beefed up the interior with size, and I think we've added athleticism as well."
If KU's defensive line is improved in 2012, Wyatt knows he'll most likely think back to those crazy days in December when his travel schedule had double the stops of a normal year.
"It was worth it," Wyatt said, "because I thought the class turned out to be pretty good."