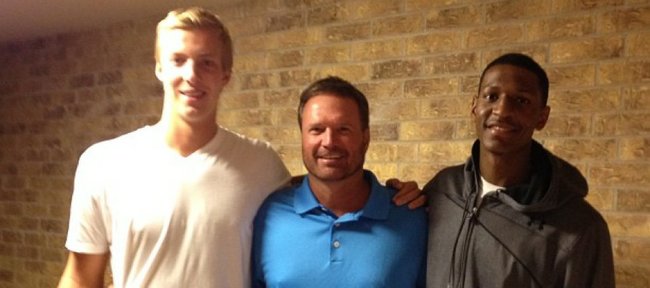 Future Kansas University point guard Conner Frankamp, who earned first-team all-state honors after averaging 32.3 points a game last season for Wichita North High, continues to emerge as a major player nationally on the spring/summer AAU scene.
Frankamp, Rivals.com's No. 42-ranked player, was named tri-MVP of the Pangos All-America Camp's "Top 30 Cream of the Crop Showcase" on Sunday in Long Beach, Calif. The 6-foot-1, 160-pound senior shared the award with Stanley Johnson, 6-6, junior, Mater Dei High, Santa Ana, Calif., who is ranked 18th in the Class of 2014, and unranked Zena Edosomwan, 6-8, senior, Harvard Westlake High, North Hollywood, Calif.
"He's a tremendous three-point shooter who plays with savvy and great confidence. He was one of the top five guards here, if not top three," tourney organizer Dinos Trigonis said Sunday night, referring to Frankamp.
"I'd say he reminds me a little bit of (Jeff) Boschee, a little bit of (Kirk) Hinrich. He can shoot threes and is good off the bounce. He's good at creating separation. He worked hard in the drills. A lot of teams would have interest in him (if KU hadn't landed a commitment last July 17)."
Here's what others had to say about Frankamps's performance at Pangos.
Jason Hickman, of MaxPreps, added: "It's tough to circulate around the gym for even a couple of minutes without hearing a fellow camper or observer mention his name."
Ryan Silver, coach of Los Angeles Pump N Run Elite, on Twitter, commented: "Kansas commit Conner Frankamp is much better than I thought. He makes everyone better and is a great kid. He was impressive."
Dave Telep, ESPN, on Twitter: "Conner Frankamp won me over as PG not just shooter. Cliff Alexander has a chance to be nasty."
Alexander, the most outstanding performer overall at Pangos, is a 6-9 junior from Chicago Curie, who is ranked No. 8 in the Class of 2014.
Frankamp has 1,641 career points. He's 591 points from passing KU freshman Perry Ellis as all-time leading scorer in Wichita's City League history.
Frankamp will travel with USA Basketball's Under 17 team to the Cayman Islands later this month, then compete in the FIBA World Championships in July in Lithuania.
"I can't wait," Frankamp told MaxPreps.com. "It was so fun last year and such an honor to put that USA jersey on (for gold-medal winning USA team at the FIBA Americas U16 tourney). To be a part of that team was something I'll never forget."
Of his play at Pangos, Frankamp told MaxPreps: "I just wanted to try and get better and play against the best competition. I wanted to get ready for USA Basketball, too. I figured this would be a good tournament for that. I just want to get my game up as much as I can."
Move-in day: Incoming KU scholarship basketball players Ellis, Andrew White and Zach Peters, plus walk-on Evan Manning moved into Jayhawker Towers on Sunday. White, 6-6 from Charlottesville, Va., proudly posted a picture of him, KU coach Bill Self and roommate Peters (6-9, Prestonwood Christian, Plano, Texas) to Instagram off his Twitter account Sunday.
Ellis, 6-8 from Wichita, will room with Manning, 6-2 out of Free State High and New Hampton Prep School.
Landen Lucas, 6-9 from Portland's Westview High, will graduate June 11 and arrive at KU a day later. He'll be rooming with junior Niko Roberts. Anrio Adams, 6-3 from Seattle, who has orally committed to KU, has said on Twitter he'll arrive at KU on June 28. It's believed he'll be a member of the incoming recruiting class as long as he qualifies academically. He has indicated on Twitter and Facebook he should have no problems qualifying.
Another addition could be Milton Doyle, 6-4 from Chicago's Marshall High, who will graduate on June 9. It's believed Doyle, who has not made any other campus visits since a mid-May trip to KU, likely will attend KU if he, as expected, qualifies academically.
Doyle and his family members are not commenting publicly on his recruitment at this time.
Shepherd excels: Karviar Shepherd, 6-9 senior from Grace Prep High in Arlington, Texas, who has KU, Louisville, UCLA, LSU, Georgetown, Oklahoma, Texas A&M; and Tennessee on his list, played well at Pangos.
"Shepherd has always had good hands and played with confidence on the offensive end. Now, he's catching, turning and facing the defender and going to work with jab steps, jumpers and good decisions. He looked polished and seemed like he was ready to play," wrote Eric Bossi of Rivals.com.
More like this story on KUsports.com