Kansas City, Mo. — Bob Bowlsby, who will officially take over as Big 12 commissioner on June 15, was far from timid during his first meeting with Big 12 beat reporters on Friday morning.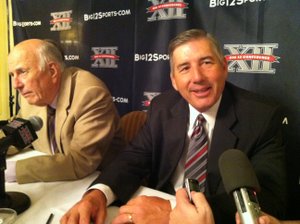 Among the topics he discussed was his belief that the Big 12 was fine with 10 teams.
"I think we should be the hardest fraternity in college athletics to join," Bowlsby said during the final day of the Big 12 spring meetings at the InterContinental Hotel. "When it's right, we'll know it's right. In the meantime, there's not a thing wrong with the (10) we have. I think it's going to be a terrific alignment."
The 60-year-old Bowlsby, who will join the Big 12 after six seasons as the athletic director at Stanford, was quick to point out the advantages of a smaller conference. That included Big 12 money being split in fewer directions and the ability for some sports like basketball and football to have full round-robin conference schedules.
He's also seen the benefit of not having a conference championship game in football, saying he's seen instances in the past where teams are "damaged goods coming out of those games."
Bowlsby also wasn't shy about sharing his thoughts on the issue of potentially paying student-athletes.
"I think we should never do anything to establish an employee-employer relationship between institutions and these students, because that's what they are," Bowlsby said. "There are places you can go and play for money, but universities and colleges are not among them. This is an educational undertaking."
Bowlsby also said that, philosophically, he would have issues paying athletes in revenue sports like football and basketball while not paying athletes in non-revenue sports like wrestling or swimming.
"They certainly work just as hard," Bowlsby said, "as the people that are blessed by having full stadia and lots of admiring fans."
Bowlsby said there already were a few avenues for those student-athletes truly in need. Those individuals can apply for Pell grants or attempt to obtain money through the Student-Athlete Opportunity Fund or Needy Student-Athlete Assistance Fund.
The incoming commish also opened up about his personal life, chatting with reporters for an additional half-hour following the formal news conference.
Bowlsby enjoys golf and has had a pilot license for around 20 years, though he hasn't flown in a plane himself in the last five years. He enjoys fishing trips to northern Ontario, Canada, and was most impressed by former Stanford football coach Jim Harbaugh during his interview when he said, "Mr. Bowlsby, I just can't be convinced that with 300 million people out there, there aren't 25 good football players who are smart enough to come to Stanford. I promise you I'll go out there and find them."
"And he did it," Bowlsby said. "He brought some unbelievable energy to it."
For now, Bowlsby will try to learn about his new job quickly while dealing with a busy schedule.
After attending Big 12 football media days in late July, Bowlsby will fly to London as a member of the U.S. Olympic Committee.
He's also set the goal of making it to each of the Big 12 campuses during his first 30 to 60 days on the job.
"I'm high-energy," Bowlsby said. "I don't allow a lot of grass to grow around my feet. I like to be proactive on issues."
This job will certainly be different than his last. Instead of overseeing 300 employees like he did at Stanford, he'll be in charge of about 30 in the Big 12 office.
And instead of a $90 million budget, he'll oversee a budget of $10 million or so that the Big 12 operates on its own.
Even before his first official day, Bowlsby has high ambitions.
"I would like the Big 12 to be the most highly competitive and most innovative conference in college athletics," Bowlsby said. "Aspirationally, that's what I want us to be."
Other notes from Friday's Big 12 meetings ...
Oklahoma State president Burns Hargis, who serves as the chairman of the league's board of directors, announced that the conference would be distributing about $19 million to each of the eight remaining league schools from the 2011-12 season. The aggregate Big 12 pool is an all-time high and includes the withdrawal fees of Missouri and Texas A&M;, though $10 million of those fees were used to finance a loan to West Virginia.
Acting Big 12 commissioner Chuck Neinas said that there were three scheduled meetings in June to discuss college football's new playoff format, and that his hope was that the NCAA could come conclusion on the new postseason format before June 26.
Big 12 officials once again reiterated their belief that a four-team playoff was best, and that those four schools should be the highest-ranking teams using a yet-to-be-determined ranking system.