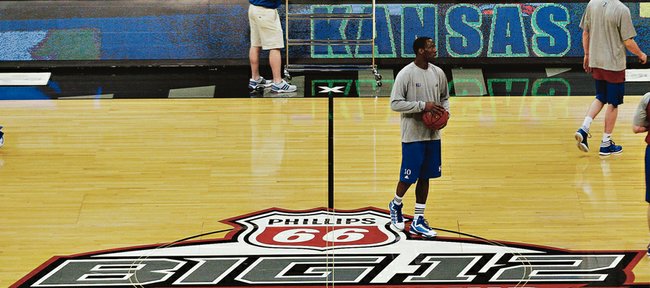 Kansas City, Mo. — The Big 12 tournament will remain at Sprint Center in Kansas City, Mo., through at least the 2016 season, the conference announced at a news conference on Friday afternoon at Sprint Center.
The two-year extension was made public following a vote by the conference Board of Directors at the Big 12 spring business meetings.
"I'm claiming that Kansas City is a Big 12 city," Kansas chancellor Bernadette Gray-Little said. "It has been a great place for our tournament."
The agreement also provides the Big 12 first rights to championship dates after 2016. Officials from both Sprint Center and Kansas City Sports Commission said they were not in discussion with other conferences about hosting a different league tournament in the future.
There was some fear, because of Missouri's departure to the SEC this season, that the Big 12 might want to take its league tournament out of the state of Missouri.
Acting Big 12 commissioner Chuck Neinas said that during an athletic directors' meeting in December of 2011, the ADs said publicly that they had an interest of retaining the tournament in Kansas City. That was shortly after MU had announced plans to leave the Big 12.
"There was unanimous support," KU athletic director Sheahon Zenger said. "The ADs wanted to be here in Kansas City and show how much they appreciated what happened in the past."
Zenger said he didn't have to lobby to others to keep the tournament in K.C.
"I say this as a native Kansan who's been to multiple Big Eight tournaments and Big 12 tournaments. It's not something we think about in Kansas City. Anyone in the Kansas City area looks at Kansas City as Kansas City. It's its own entity," Zenger said. "It's in both Kansas and Missouri, and we shop in stores on both sides of the line, and we eat in restaurants on both sides of the line. When you're in Kansas City, that's just not something ... I think we all know, you don't contemplate that on a daily basis."
The Big 12 men's basketball tournament has been held in Kansas City 11 times since the league began in 1996-97, which is more than any other city.
The agreement means that K.C. will play host to the Big 12 tournament for seven straight years through 2016. The last time the tourney was played outside of Sprint Center was in 2009, when it was played at the Ford Center in Oklahoma City.
Gray-Little said she was pleased the event would remain in the location that contains the largest collection of KU alumni in the world.
"We've had a little bit of luck here in Kansas City," Gray-Little said, "so I think it's a great place to have the tournament."
KU has won six of 11 Big 12 men's basketball tournaments that have been in Kansas City.
"It's good for us, but I think it's good for the entire Big 12, too," KU men's basketball coach Bill Self said. "Our fans are close, the College Basketball Hall of Fame is great and the Sprint Center is a first-class facility. Kansas City does a great job and makes it enjoyable for the student-athletes and fans. They did that with the Big Eight way back and carry that on with the Big 12 today."
Neinas also said a major reason the conference elected to stay in K.C. was attendance. He said that frequently the Big 12 men's basketball tournament is a "hard" sellout, meaning every one of the tickets is sold.
Some tournaments still claim sellouts when a few hundred tickets are not purchased.
One big reason for the strong sales is the presence of KU supporters at the event.
"I would thank our fanbase for what they've done here over the years and encourage them to continue to be even more rabid," Zenger said, "so that we can continue this tournament here for years to come."