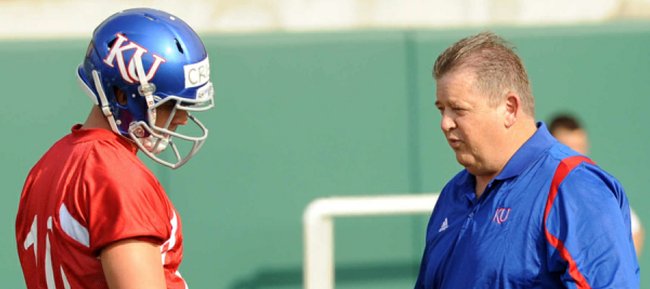 One of the eye-opening bits of information that came from a recent sit-down with Kansas University football coach Charlie Weis was the fact that the man keeps a mattress and blankets in his office so he can grab some quick sleep before getting back to work without having to go home for the night.
That box of bedding was not put there for show, nor does it go unused. Weis is famous for working while others are asleep and is dedicated to putting countless hours into coaching.
Part of his intense work ethic came from his blue-collar, New Jersey upbringing. Many of the people Weis grew up around had this same mentality in their jobs, and that sense of pride rubbed off on him at an early age. But one of the most recent men who inspired Weis to become such a hard worker was Bill Parcells, the legendary NFL coach whom Weis credits for shaping him into the coach he is today.
"Parcells was the ultimate button-pusher," Weis said. "He'd find what button made everyone achieve a higher level and he'd keep on pressing that button."
Most days, Weis had a front row seat to watch Parcells push, prod and manipulate his players into digging deeper. Every once in a while, and with some regularity, Parcells picked the buttons that belonged to his coaching staff.
Weis remembers well the first time Parcells fired his way.
"With me, it was questioning my work ethic," Weis said. "I always worked as hard or harder than anyone, but it would be 11 o'clock at night, we'd be at Hofstra (University for training camp), I'd be the only one left in the building, everyone else is gone and he'd walk by as I'd be getting my coat on to go ahead and leave and he'd say, 'Another early night, huh?' And then he'd walk out, knowing that I'd take my coat off (and say), 'OK, there's something else I could be doing.' He knew what button to push and he'd press it and he'd press it and he'd press it. And he did it with everyone. He was the best. Always will be."
As the years went by, Weis not only got used to Parcells' signature style — even evolving to be able to predict when it was coming — but also began to incorporate the art into his own coaching playbook.
The list of players whose buttons Weis has pushed is long and still growing, but one in particular holds special significance for Kansas fans.
Sometime in early 2008, when a highly-touted high school quarterback out of California named Dayne Crist made one final trip to Notre Dame, Weis did his finest work.
"The day he came in to visit," Weis recalled, "he was about ready to commit to LSU, and I said, 'What? Are you afraid of competing against (Notre Dame starter Jimmy) Clausen?' Well, then he committed three days later to us. Because that wasn't him. I pressed the right button with that one."
If not for that move, Crist probably would have gone to LSU, and, therefore, probably would not be the starting quarterback at KU today.
That's just one example of the dozens of strategies that Weis swiped from Parcells. But it seems to be the one he's most proud of, and, even though he's only been around his new team for seven months, Weis already has started pushing buttons in Lawrence.
"We've settled in on a lot of them," he said. "But the thing is you're gonna have to learn the new ones. Recruiting them and actually having them here are two different things, now. Obviously, the ones you knew already are easy. (Notre Dame transfers, Mike) Ragone and Anthony McDonald coming here, they're easy. Because I'll say things to them a lot colder than I will most other people. If they screw up, it's bad. I mean really bad. As bad as you've ever heard it. Just think of the worst you've ever heard and go a lot worse than that."
Weis says this with not so much as a hint of a smile. It's fact. Business. His way of doing things. And, just as his mentor did with the whole button-pushing thing, Weis takes great pride in his ability to reach his players this way.
"I can safely say there isn't a player that I can't break down within 60 seconds," Weis said.
On this team?
"On any team," he said.