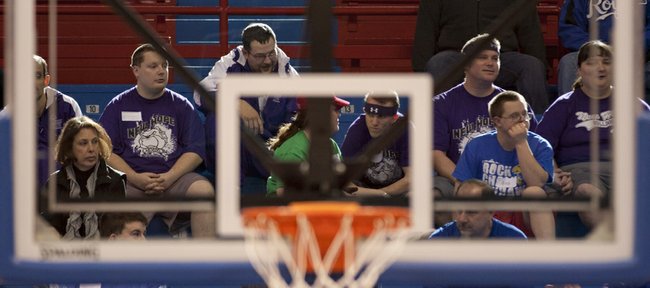 Upset with himself and the world after Kansas University's 72-64 loss to Iowa State on Saturday, Bill Self elected to delay the agonizing task of reviewing game film for 24 hours.
"I did not watch the tape on the bus. I was not in the best of moods coming home," Self, KU's ninth-year coach, said of the four-hour bus ride back from Hilton Coliseum, where KU (17-4) suffered its first conference loss in eight games.
"I figured, 'You know what? Instead of getting upset, I'm going to relax and watch TV and not watch the tape.' I saw plenty of highlights on TV about our game. I'm just now going to watch the tape as soon as we leave here," Self added Sunday on a much happier occasion — the Jayhawks' 28th-annual Wilt Chamberlain Special Olympics Clinic.
KU players and coaches worked with 200 or so Special Olympians from 1:30 to 3:30 p.m.
"Losing in Ames ... this certainly changes everyone's perspective and has everybody in a good mood today," Self said. "I truly believe our players get as much or more out of it than the Olympians do."
Senior Tyshawn Taylor said the clinic took the sting off the loss to ISU.
"There's definitely a bigger picture outside of basketball," Taylor said. "Life goes on after a loss. I'm just enjoying my time here with our fans today. We're in the position of being role models, and it's fun to put smiles on the faces of the Special Olympians today."
Of course, the minds of Taylor and Self drifted back to Saturday's loss for at least a few moments Sunday.
"We've got to be a better defensive team," Taylor said. "We've got to play teams 35 seconds into the shot clock and not let up. I think that's where we make a lot of mistakes. We need to be a better rebounding team. We've not rebounded the ball well at all lately."
KU, which was outrebounded, 36-23, by ISU, has been out-boarded in three of the past five games.
"One thing very evident to all of us is we have to pay attention to detail better," Self said. "We've got to pay attention to scouting report better. We can't take three or four possessions off or forget three or four possessions. That's the difference in winning and losing. We've got a good team, but our margin for error is not as great as it has been in the past. We need to pay more attention to detail and be more disciplined."
That will all be addressed at practice today. Sunday was about working with the Olympians on fundamentals and bonding with the players.
"This is a tremendous thing for our kids. They look forward to it every year," said Gary Tanner, volunteer coach for Douglas County Special Olympics. "Their eyes are big ... just to be down here on the floor and get to be with the players and coach Self ... it's a highlight of their basketball season. We are just grateful and excited they do it every season."
Scary scene
Self on Sunday discussed what was a scary scene Saturday in Ames. Hundreds of students stormed the court after the final horn and, in the process, injured ref Darron George.
"After coming off the court, our players were tending to the official, Darron George, who was down. He was in so much pain," Self said. "From what we were told, he broke his arm trying to push people off in the melee. It was a very dangerous situation yesterday.
"Whenever an official is in so much pain he can't stand up, and he's one of the first ones off the court and they have police escorts to get them off the court ... whenever it can happen to an official, it can happen to anybody. We are fortunate more people don't get injured during those situations."
After the game, ISU officials said George hurt his wrist, but did not head to the hospital for treatment or X-rays. The Big 12 said Sunday George "suffered a hand injury" and is OK.
Self said he believed fans have stormed the court in about 60 percent of KU's road losses during his nine years at KU.
"We've had some great ones. That court storming at Bramlage (Kansas State) was great. Missouri had a great court storming on us. That deal in Ames yesterday ranked right up there with the best of them as far as court storming," Self said. "I am OK with it, but I think if you are going to allow your students to do that, administration should do a better job of somehow providing security to protect the players and everybody else."