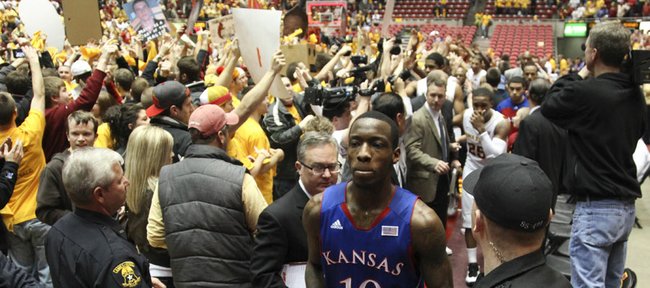 Podcast episode
Kansas coach Bill Self talks to reporters following the Jayhawks' 72-64 loss to Iowa State on Jan. 28, 2012.
Podcast episode
KU players Tyshawn Taylor and Thomas Robinson talk to reporters following the Jayhawks' 72-64 loss to Iowa State on Jan. 28, 2012.
KU vs. Iowa State
Ames, Iowa — Hundreds of Iowa State students raced onto the court, swaying and singing the song "Sweet Caroline" before finally heading home after the unranked Cyclones' 72-64 victory over No. 5 Kansas on Saturday afternoon at Hilton Coliseum.
There certainly was a lot for ISU (15-6, 5-3) to celebrate.
Such as ...
• Snapping a 13-game losing streak vs. KU, which fell to 17-4 overall and 7-1 in the conference.
• Beating KU for the first time in Ames in eight seasons.
• Downing a Top-10 team at home for the first time since a 79-71 victory over KU in the 2000-01 season.
• And overcoming a ranked team at home for the first time since a 96-78 victory over No. 25 Colorado during the 2005-06 season.
"It's really frustrating, really tough. I don't know how to put it into words, the feeling when everybody is out there like that," KU junior center Jeff Withey said of fans swamping the court at the Jayhawks' expense. "I think a ref got hurt. I hope he's all right."
No Jayhawks or Cyclones were hurt during the court-storming that took place at the final buzzer. ISU officials, however, indicated that ref Darron George hurt his wrist trying to escape the mass of bodies en route to the locker room.
He iced the wrist, but did not head to the hospital for X-rays or treatment.
"I kind of wanted to get in there, rushing in there and party with them," ISU forward Royce White said after scoring 18 points and grabbing nine rebounds. "It was a good thing that they were excited. It was a good win for us."
White scored nine points in a critical 15-6 run that turned a 53-52 Cyclone deficit into a 67-59 lead at :59.
"I think we did an above-average job on him," KU coach Bill Self said. "We guarded their team better the second half and did a bad job on him (in the second half, when he had 14 points). He's good. Obviously Jeff and Thomas (Robinson) had problems with him the second half."
Self cited rebounding as a critical factor in KU's first league loss.
"I think they 'outmanned' us," Self said. "When your guards combine for four rebounds and there were so many long misses ... I thought their guards did a great job. McGee (Tyrus, six rebounds) kept a lot of balls alive."
Withey had six boards and Robinson seven on a day KU was outboarded, 36-23. ISU also outrebounded KU by eight in the Jayhawks' 82-73 home victory over the Cyclones on Jan. 14.
"They are all, 'man plays,'" Withey said of grabbing rebounds.
The last time KU was outrebounded by 10 or more was by Oklahoma State (36-26) on Feb. 27, 2010. KU's 23 boards were fewest since securing 23 at Kansas State last season.
"They crashed the glass," said Robinson, who scored 13 points off 5-of-11 shooting. "I'm just not playing like me. I am not taking my time. I am not playing."
Robinson missed a dunk try with 4:58 left, with KU down by just three points. He also misfired from the inside on KU's opening two possessions.
"That's not how he's been playing. He labored today," Self said of Robinson, adding that only Tyshawn Taylor had a good line statistically (16 points, 10 assists, two turnovers, 35 minutes).
KU led by as many as six points (45-39) with 16:52 to play. However, Scott Christopherson (14 points, 9-of-10 from line) had four points in an 11-4 surge to put the Cyclones (who led 37-34 at half) right back on top.
"We were up six and hadn't played well," Self said. "If you had told me before the game we'd be up six with 13, 14 minutes left, I'd say, 'OK, I can live with that.' Iowa State was so much better down the stretch. I don't know if we played without poise ... I don't think we responded great the final four minutes."
The Jayhawks dropped their first road game in a rough stretch of four. The next three road contests are at Missouri, Baylor and Kansas State.
"We didn't get off to a great start in what I told our guys is really the start of the conference season," Self said. "It's going to get hard. We have to tighten some things up. Sometimes maybe through a loss you can get their attention more than by winning ugly."
KU will meet Oklahoma at 8 p.m. Wednesday in Allen Fieldhouse.
More like this story on KUsports.com