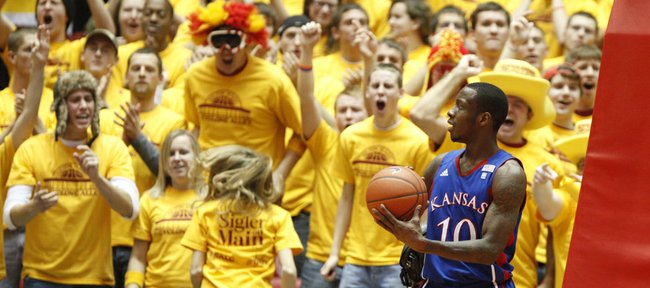 Ames, Iowa — Just two of 10 teams in the Big 12 Conference have won more league road games than they have lost during Bill Self's nine seasons at Kansas University.
They are ... KU, which takes a 50-17 league road record (.746) under Self into today's 1 p.m. contest at Iowa State, and Rick Barnes' Texas Longhorns, a whopping 15 games behind the Jayhawks at 35-32 (.522).
All other teams in the conference are way, way, way under .500 in enemy gyms. Kansas State is 28-40, Texas A&M; 27-41, Oklahoma 23-44, Missouri 21-47, Oklahoma State 19-48, Baylor 15-53, Texas Tech 14-53 and Iowa State 12-56.
"We love winning at home, but certainly you can't win conference championships unless you win away from home," said Self.
His No. 5-ranked Jayhawks (17-3) take a 7-0 league mark (3-0 on road) into today's clash against the Cyclones (14-6), who are 2-1 in Hilton Coliseum, 2-2 on the road in league games.
"We've done pretty well with that. Hopefully we can keep it up," Self added.
KU, which has won seven-straight Big 12 regular-season titles, currently holds a two-game lead over Baylor and Missouri in this still-young conference season.
"Certainly we know the last six (road games) we have (ISU, MU, BU, K-State, A&M;, OSU) will all be tough games, starting with a tough one in Ames," Self said.
Asked the keys to winning on the road, Self said: "I think foxhole, tight huddle, blinders on; I think those things are very important when going away from home to play."
KU may be facing its roughest road test to date in Iowa State's 14,356-seat Hilton Coliseum.
"They call it, 'Hilton Magic,'" Self said of the term coined by Des Moines Register sports writer Buck Turnbull back in 1989 after an 82-75 home victory over No. 3-ranked Missouri.
"Kansas had some great teams with Larry (Brown). Larry never won at Hilton (0-5). I've been part of teams that lost some heartbreakers there. When that place is jumping, it's really a great place," Self said.
The Jayhawks have won seven-straight games in Hilton, where they are 22-18 all-time.
Self's first KU team fell at ISU, 68-61. Since then, the Jayhawks have won by five points twice and four points once (in overtime in 2007) to go with double-digits victories of 10, 11, 15 and 23 points.
The Cyclones are 10-2 in Hilton this season, with the only losses coming to Missouri and Northern Iowa. In the league, ISU has home wins over Texas and OSU.
"That place, with 'Hilton Magic,' it's going to be a tough place to play," KU fifth-year senior Conner Teahan said. "Every year that I've been there, it just seems like no matter how many fans are in the stands, it gets exciting. I think we've had a couple games where we pulled away, but just a couple buckets or one run can really put the fans back in the game. You have to be able to limit that."
KU defeated coach Fred Hoiberg's first Cyclone team by just five points — 84-79 — a year ago in Ames.
Just two weeks ago, KU overcame a 12-point second-half deficit in a 82-73 victory over the Cyclones in Allen Fieldhouse.
Tyshawn Taylor scored 22 of his 28 points in the second half of a game KU was outrebounded, 49-41. Royce White, ISU's 6-foot-8, 270-pound junior forward, had 18 points and 17 rebounds.
"Trust me, Iowa State should have our full attention after the way they handled us for 25 minute at our place," Self said. "They kicked us on the glass pretty good. Royce had 17 (boards). He kind of wore us out. We have to do a much better job defensively and play more aggressively."
White, who averages 13.9 points and 9.6 rebounds a game, is an extremely difficult match-up for any team.
"I don't know if the game plan will be a ton different. He's such a good passer. He's hard to trap. The thing about it is, when a 5-man — well, he's not your 5-man, he's your 4-man that plays point — brings it up, it's really hard to have a different strategy because you can't leave shooters to go guard him if you're a man-to-man team. We don't play a lot of zone, and they're a good-shooting team. So I'm not sure it'd be real smart for us to do that. I would just like to see us play better. I thought he just whipped us physically, and I'd like to see us challenge him more, at least from a physicality standpoint," Self said.
Taylor hit 10 of 21 shots (three of nine threes, five of nine free throws) with six assists, four steals and four turnovers in 37 minutes of the first meeting. He had 13 points in the first 10 minutes of the second half, helping KU turn a 52-40 deficit (with 17 minutes left) into a 70-61 lead (with eight minutes to play).
Jeff Withey had 13 points, 11 rebounds and seven blocks in 25 minutes; Elijah Johnson 12 points off 4-of-9 shooting (3-for-8 from three) with five assists, three turnovers and two steals in 35 minutes and Thomas Robinson 11 points and 14 rebounds in 32 minutes. Kevin Young had seven points off the bench.
ISU, which led 43-40 at half, received 17 points from Chris Allen; 12 from Melvin Ejim and 10 from Scott Christopherson. Overall, ISU hit nine of 28 threes to KU's eight of 26.
"I recently watched that last game (on tape)," KU's Taylor said. "We shot a lot of threes. I think it was trying to match them. They were sagging in on T-Rob. We got a lot of open ones. We can't fall in love with them (threes). Conner can get hot. Elijah can get hot, and I can get hot sometimes, but our offense is inside-out. We've got to play through our bigs, be in attack mode."
More like this story on KUsports.com