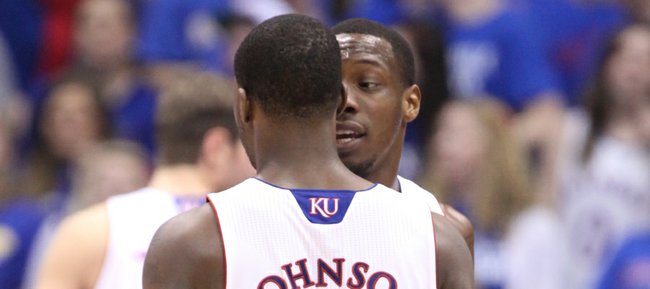 Tyshawn Taylor has been hot from three-point land — teammates Elijah Johnson and Conner Teahan not so much — in recent Kansas University basketball games.
"I was actually just talking to Elijah about this yesterday. My threes aren't that important because that's not really my game," said Taylor, a 6-foot-3 senior who has hit 10 of his last 18 threes over the last three games (55.6 percent) and for the year is a 45.7 percent long-distance shooter.
"It's good that they are falling for me, but I'm at my best when I'm attacking. That's what I'm looking to do. If the threes fall, that's good, but if not, we just have to keep playing. We can't live and die by that."
Teahan, a 6-6 senior, has made five of his last 23 threes (22 percent) over the last six games and has made 36.4 percent for the season. Johnson, who made one of seven threes in Monday's 64-54 victory over Texas A&M;, has cashed 19 of 49 (38.8 percent) treys in his last seven games, which is actually better than his 28.8 mark for the year.
"I think he's kind of falling in love with that three," Taylor said of Johnson, a 6-4 junior from Las Vegas. "I've been yelling at him and talking to him and giving him pep talks and letting him know he's a way better player (than that), he's not strictly a three-point shooter.
"That's a luxury to have because he is able to get in the paint just like I am. He has to get himself going, get fouled, attack the rim, make a couple free throws, get a layup, and maybe those long balls will start falling. He's keeping a good attitude, working hard, coming in the gym early to shoot. He'll be fine," Taylor added.
Johnson has been to the free-throw line 17 times all season, making 13 for 76.5 percent. Taylor has made 83 of 121 free throws for 68.6 percent.
"He can get hot. He can make four or five (threes) in a row. I've seen him do it, but I think he's just falling in love with it too much," Taylor said. "It's still going to be there, try to get something easier to get something going. That's what I tell him, anyway."
KU coach Bill Self said the good news is he's seen "nothing wrong" with Johnson's long-range shooting form.
"It can get a little flat sometimes," Self said. "If you are a good shooter, you never miss right or left, you miss long or short. If you notice, his misses are all long. I don't think it's major. I guess one was wide-left last game, but for the most part they are short or long."
Johnson definitely isn't shy about bombing away.
"Obviously, the way he was clipping them off the other day (vs. A&M;), he wasn't too worried about what happened on the previous shot. That's a positive," Self said. "I think his shot selection the other day wasn't great, though. It was almost like he was pressing, just trying to make one. I think he has progressed a lot in a lot of ways. He had a bad game against Texas A&M;, but he also made the biggest shot of the game against Texas. He has done a lot of really good things, he just hasn't shot the ball consistently from behind the arc."
Of Taylor's three-point accuracy, Self said: "I never put numbers on guys, but I thought he could potentially be a 40 percent three-point shooter, which I think is pretty good. If you take away a stretch at the beginning of Big 12 play (4-for-17 over the first four games), he's probably shooting about 50 percent for the year. He has done a good job with his shot. It has gotten a lot better. Still, the best thing he does is get to the basket."
KU will meet Iowa State at 1 p.m. Saturday at Hilton Coliseum in Ames, Iowa.
Frankamp MVP: Future KU combo guard Conner Frankamp tied Nino Samuel's McPherson Invitational record of 114 points (in three games) in winning MVP honors at last week's tourney. Frankamp, a 6-foot junior from Wichita North, scored 48 points against Derby, 38 vs. Buhler and 28 against Blue Valley West. Samuel scored 114 points at that tourney back in 1972. Frankamp's 48-point outing came in a 66-61 loss in the fifth-place game. Samuel still holds the single-game scoring record in the tourney (54).
"He (Frankamp) is unbelievable. His point total got away from us a little bit," Derby coach Brett Flory told derbyinformer.com. "You have to tip your cap to him, obviously. We were trapping him at every opportunity, running two guys at him every opportunity and he still put on a show."
Ellis honored: Future KU forward Perry Ellis of Wichita Heights averaged 29 points a game in taking most inspirational player honors at last week's Dodge City Tournament of Champions. Ellis also made the all-tourney team and won the tourney's academic award. Ellis, a 6-8 senior, scored 31 points in Heights' 69-52 title victory over Wichita East. He hit 13 of 16 free throws in that game.
"He is unbelievable," Heights coach Joe Auer told the Dodge City Globe. "He plays his tail off, and he does it with such class and dignity. He's the greatest high school basketball player I've ever seen in the state of Kansas, and he'll never tell you that, but I'll tell you that right now. His resume speaks for itself, as he's doing things no one has ever done, and it's a joy and a treat to coach him and be around him every day, and I'm going to enjoy the rest of the games I get to spend with him because he's a special young man."
More like this story on KUsports.com