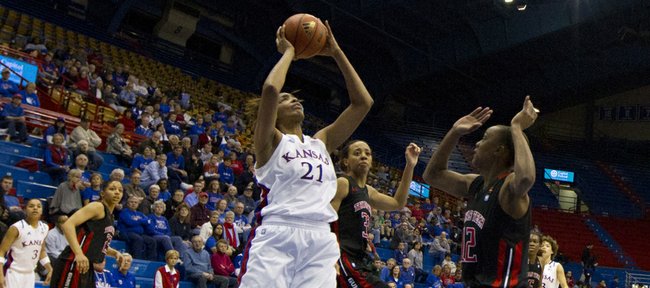 Wednesday afternoon, Kansas University junior Carolyn Davis stopped by the office of KU women's basketball coach Bonnie Henrickson and was shown a box score from a 2011 game against Texas Tech that revealed that Davis took just five shots in a road loss.
After glancing at the box score and digesting what she saw, Davis asked about the square Henrickson had drawn around the five shot attempts.
"'Squares are bad, circles are good,'" Henrickson recalled telling Davis. "It was the only mark on the stat sheet and she put it back on my desk and said, 'I gotcha.'"
A few hours, 24 shots and 34 points later, Davis and the Jayhawks trounced No. 21 Texas Tech, 62-43, to pick up their second victory against a ranked opponent this season.
"Once I saw that, it kind of drove me to play hard tonight," said Davis when asked about the friendly reminder from her head coach. "It was kind of surprising. I didn't realize that. I actually thought I played pretty good last year, but obviously not."
That wasn't a problem Wednesday. Despite a couple of early misses — Davis was 10-for-17 in the first half and 7-for-7 in the second — the forward from Houston found her rhythm by getting great position, running the floor and converting with confidence.
"She didn't finish well early, and we talked in the huddle about how she had to take out her frustration on the rim," Henrickson said.
Added junior guard Angel Goodrich: "I wouldn't say I'm shocked or anything because we need her to do that. We need her to be who she is."
Thanks to Wednesday's performance, Davis is now tops in the Big 12. The 34 points were the most scored by a Big 12 women's basketball player in a single game this season. KU's second victory this year over a ranked opponent marked the first time since the 2008-09 season that the Jayhawks had achieved such a feat.
"It feels awesome," Davis said of her 34 points. "In conference play, against a ranked opponent, that's when it matters to me most."
One of the more impressive parts about Davis' night was the fact that all of her points came off of field goals. Davis, who averages nearly six trips to the free throw line per game, shot — and missed — just one free throw on Wednesday. Henrickson said seeing that kind of point total with just one trip to the free throw line was unusual.
"There's a thing in the NBA, with high volume scorers, that says for every three points a guy scores, there's a free throw," Henrickson said. "That's the ratio. So for her to have 34 points and none from the free throw line, that's amazing."
Davis now has scored more than 30 points in a game seven times in her KU career. Wednesday's total was four off of her career-high of 38, which she recorded against Duquesne in March of 2011.
While Wednesday's victory came largely because of Davis' big night, both Henrickson and her players seemed more pleased, after the game, with the fact that they finally played well against a conference opponent at home. Despite running out to a 5-2 start in league play and sitting in second place, both of KU's conference losses came at Allen Fieldhouse.
"I thought we got off to a good start finally at home," Henrickson said. "We talked about that, how we've played with a great sense of urgency on the road and built leads and haven't done that at home. I thought we were really, really good early. We had good rhythm and defensively we were tough."
KU jumped out to a 16-4 lead but saw the margin trimmed to one with 2:37 to play in the first half.
"Really where they made their run was in transition, and we got caught standing and watching," Henrickson said.
KU (16-3 overall, 5-2 Big 12) responded to Texas Tech's run with a 6-0 spurt to close the first half and an 8-0 run to open the second. That effectively ended the game.
"We have a great team this year," said senior Aishah Sutherland, the only other Jayhawk to score in double digits, with 10. "And we are ready to beat any ranked team that comes to us."
KU will face its toughest test of the season on Saturday, when the Jayhawks travel to Waco, Texas, to take on No. 1 Baylor and All-American center Brittney Griner
"We just have to prepare to get around Brittney Griner," Sutherland said. "They have her and a good guard (sophomore Odyssey Sims) and we have to be able to space them out."
Texas Tech (14-5, 2-5) was without leading scorer and rebounder Kierra Mallard, who missed the game because of injury, and KU was without freshman Donielle Breaux, who Henrickson said quit the team prior to last week's game at Oklahoma State.
More like this story on KUsports.com