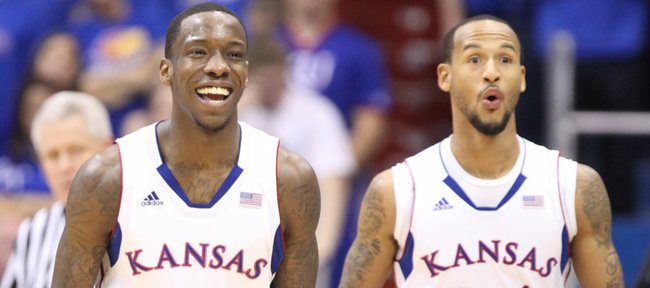 Videos
KU vs. Texas A&M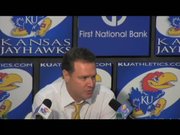 Kansas defeated Texas A&M, 64-54, on Monday, Jan. 23, 2012, at Allen Fieldhouse.
KU vs. Texas A&M
Baseball Hall of Famer Tommy Lasorda visited with Kansas University basketball coach Bill Self in the Jayhawks' locker room after KU's somewhat-lethargic 64-54 victory over Texas A&M; on Monday in Allen Fieldhouse.
"He said, 'Hey, you looked great.' I said we didn't look good at all," Self said, eyes gleaming as he prepared to relate a classic tale involving the former Los Angeles Dodgers manager who trekked to Allen Fieldhouse (with KU alum Jamie Coulter and his niece, who is married to Coulter) for the first time.
"He said, 'You don't understand. Stats don't matter.' I said, 'If your starting pitcher gives up five runs in six innings and you just hang on to win, you're happy?' He said, 'I'm happy. I'm happy.'
"He said, 'You've got to enjoy the wins.' He's right. We do. I just didn't think tonight we were very good, but A&M; had a lot to do with it, too," Self added.
One stat that stood out helped KU survive a first-half performance in which the Jayhawks, in Self's words, played, "soft, selfish and dumb."
It was free-throw shooting — specifically, Thomas Robinson's free-throw shooting. The 6-foot-10 junior went 10-for-10 from the line on a night the Jayhawks made 20 of 23 free throws to A&M;'s seven of 11.
Self was asked if he ever thought Robinson, who had hit just 13 of 28 free throws (46.4 percent) the last six games, would have a perfect 10-of-10 night.
"Sure, I'm a positive thinker," Self said, smiling. "I also didn't expect him to miss some bunnies (inside shots). If I'd pick one of the two, I'd take the bunnies because they count for two (points) instead of one.
"I thought he had nice rhythm at the line tonight."
Robinson, who has made 66.7 percent of his free throws on the season, said he didn't do anything differently Monday.
"No, it's the same," he said of his form.
He finished with 18 points off 4-of-10 shooting after scoring just two points off 1-of-6 shooting the first half. KU, which led, 11-0 early, actually was down, 30-28, at the break.
"The defense was trying to not let me touch it, so I had to knock my free throws down," Robinson said. His 10-of-10 outing was the most KU free-throw attempts without a miss since Wayne Simien went 11-for-11 against Colorado on Feb. 12, 2005.
Robinson scored five straight points to open an 11-3 run that stretched a narrow 44-42 lead (with 7:11 left) to 55-45 at 4:41. Elijah Johnson, who missed five threes the first half (he finished with four points off 1-for-7 shooting, 0-of-6 from three) finally hit a jumper, followed by a basket and two free throws by Jeff Withey.
Withey had a huge game with 10 points and eight blocks in 33 minutes. Foul-plagued Tyshawn Taylor scored 17 points with three steals, two assists and two turnovers in 28 minutes.
"That wasn't a very good basketball team that played tonight," Self said of his Jayhawks, who improved to 17-3 overall and 7-0 in the Big 12. A&M; dropped to 11-8, 2-5. "We had mental lapses. It was our focus. I also thought we looked like a tired team."
The Jayhawks, who hit 42.6 percent of their shots (four of 20 threes for 20 percent), were inefficient against an A&M; team helped by the presence of assistant coach Kyle Keller, who had worked as video coordinator at KU the past three seasons.
"I think Kyle did a good job. I think Billy (Kennedy, A&M; head coach) and his staff had them ready to play, defensively especially," Self said. "We knew we weren't going to hang 80 on A&M.;"
The Jayhawks will travel to Iowa State on Saturday for a 1 p.m. tipoff in Hilton Coliseum.
More like this story on KUsports.com