Tuesday, January 24, 2012
Videos
KU vs. Texas A&M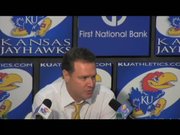 Kansas defeated Texas A&M, 64-54, on Monday, Jan. 23, 2012, at Allen Fieldhouse.
KU vs. Texas A&M
Baseball Hall of Famer/former Los Angeles Dodgers manager Tommy Lasorda came away from Allen Fieldhouse impressed by the atmosphere in Kansas University's tradition-rich basketball barn.
"These people are excited already. This is amazing," Lasorda told the Journal-World right before tipoff. "I've been to Kentucky games, and they are 3-0 when I've talked to them."
He didn't speak to the Jayhawks before their hard-earned 64-54 victory over Texas A&M on Monday.
Lasorda attended Monday's game as a guest of KU alumnus Jamie Coulter, and Lasorda's niece, who is married to Coulter.
Lasorda chatted with ESPN announcer Bob Knight before the contest.
"I thought it was an exciting game. I told our guys (sitting with him in the fans' seats on press row), 'We're gonna win this by 10,' when it was really close. Kansas played great. This area ... basketball is it," Lasorda added after the contest.
Also in the house were former KU players Marcus Morris, Julian Wright and Ryan Robertson.
Wright, who played for the NBA's Toronto Raptors last season, still hopes to be picked up by a team in this lockout-shortened year.
"I'm staying in shape," Wright said. "There's still a lot of season left. I'm not discouraged or anything. I'm here tonight to cheer the guys on."
He was not worried with KU down, 30-28, at halftime Monday.
"They'll be all right. That locker room talk is going on right now," he said.
On top ... so far: ESPN.com's Joe Lunardi awarded KU a No. 1 seed in the Midwest Regional of the NCAA Tournament in his latest Bracketology released on Monday. Other No. 1 seeds: Kentucky (South), Syracuse (East) and Ohio State (West). The No. 2s: Baylor, North Carolina, Duke and Missouri.
Must be fired up: Self was asked on the Big 12 coaches call if he was concerned there might be a letdown for A&M, a team that entered 2-4 in the Big 12.
"Our guys know they were preseason pick to win the league and have had numerous things going on that were uncontrollable," Self said.
A&M freshman Jamal Branch transferred to St. John's at semester break. Also, sophomore forward Kourtney Roberson has been limited to nine games because of a broken foot. And junior forward Khris Middleton has been hampered by a bad knee all season.
"Kyle (Keller, who worked at KU last three years) is on their bench. They know everything we are going to do. They have a good scouting report. It's Big Monday, a chance to be on the national stage."
No go: Middleton, who reinjured his knee in Saturday's home victory over Oklahoma, did not play against KU.
"It doesn't look like it's a lot worse than when he fell on it the other day, but he's just not 100 percent," coach Billy Kennedy said on the Big 12 coaches call.
Kennedy said the Aggies will "get a second opinion early this week and a feel if there's anything wrong with it any more. We don't think so. It's kind of a wait-and-see thing to give him more time to heal and more time to rest at this point."