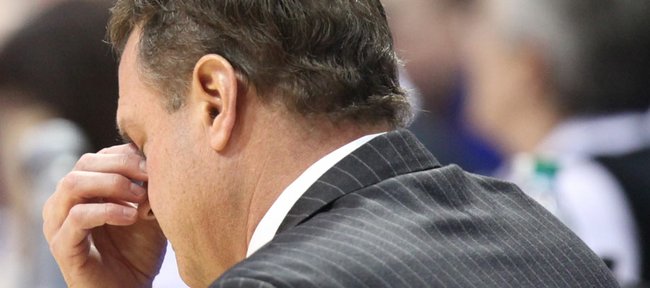 Videos
KU vs. Texas A&M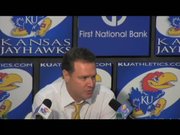 Kansas defeated Texas A&M, 64-54, on Monday, Jan. 23, 2012, at Allen Fieldhouse.
KU vs. Texas A&M
It was as if some of the players on the fifth-ranked Kansas University basketball squad had been instructed by an acting professor to pretend, for a half, to be a team as diametrically opposed to itself as possible, just to see how that might work.
Elijah Johnson played the leading role, a man on an island by himself trying to throw stones into the sea and missing. And trying again and again, expecting a different result and not getting one.
Shock of shocks, playing an individual game in a five-man sport didn't work as well as the usual Kansas approach of smart, scrappy play.
Kansas ascended so high in the rankings by doing all the things necessary to create easy shots and spent the first half of Monday night's game against Texas A&M; taking difficult shots. Kansas took a nine-game winning streak into the game in part by exhibiting more toughness than the guys wearing the other uniforms.
The Jayhawks who had played such stingy defense of late, played for a half as if this were an NBA game with a 24-second shot clock, instead of a college game that requires maintaining defensive focus for 35 seconds at a time.
Kansas snapped out of it in the second half and survived its own hubris and wayward shooting to defeat the Aggies, 64-54, but it took a fight to finish the job.
Afterward, all three Kansas players — Thomas Robinson, Tyshawn Taylor and Jeff Withey — who appeared in the post-game news conference pointed to the outstanding scouting job done by Aggies assistant coach Kyle Keller, a former member of Bill Self's staff.
"I'm sure that helped a little bit," Taylor said. "Every time I called a play or coach Self called a play, they called it right out after us and pretty much knew what we were doing. I think that helped, but every team is going to have a pretty good scouting report on us. It's just part of the game. We get scouting reports on other teams as well, so we know their stuff pretty well, too."
For the final 14:29 of the first half, the score was Texas A&M; 30, the anti-Kansas 17.
Billy Kennedy had his defensive-minded team ready to play, and Keller prepared an outstanding scouting report, Self said.
Of course, it didn't hurt the Aggies' cause that Johnson chose this as the night to audition his three-point shooting touch. For the first half, he was on a one-man mission, firing away from long range early in the clock. Clank. Clank. Clank. Clank. Clank. He missed all five first-half three-point shots and his lone three in the second half, pushing his season percentage from long range down to .288.
"Elijah went haywire, brain-dead with a couple of shots he was clipping off," Self said.
The dud of a half came at the perfect time for reasons that extend well beyond Texas A&M; not having enough offensive firepower to make Kansas pay for its off night (4-of-20 on three-point shots). KU's next game, Saturday in Hilton Coliseum against improved Iowa State, ranks as one of the toughest tests on the schedule. The Jayhawks gave their coach so very many moments Monday that he can use when reviewing the game film.
"We have to do a better job passing and finishing plays and not get frustrated," Self said. "I thought we acted like a bunch of babies in the first half."
Kansas doesn't practice today before the coach paints the Allen Fieldhouse air blue Wednesday. Cover your ears.
More like this story on KUsports.com