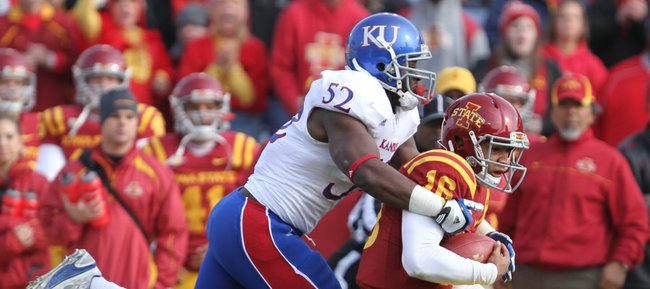 During his week-long stay in St. Petersburg, Fla., as a member of the West roster in the 87th annual East-West Shrine Game, former Kansas University linebacker Steven Johnson met a lot of people, developed some key connections and even enjoyed a reunion or two.
One stood out above all the others.
"I actually got reunited with coach Mangino," said Johnson of former KU coach Mark Mangino. "He's coaching the O-Line."
When Johnson first arrived in Florida, he and Mangino caught up for a little bit. As the week went on, Johnson said Mangino, who is rumored to be considering a return to coaching on Bob Stoops' staff at Oklahoma, continually sought him out during practices and told him to keep working hard. When the two actually had time to talk away from the practice field, Johnson said he was thrilled by the tone of the conversation.
"He said he was really proud of me, and he said he watched me all year, and he said he thought really highly of me for becoming one of the best linebackers in the Big 12," Johnson said. "He was talking to the other coaches, telling them my story of how I walked on and how that's really going to help me at the next level."
Johnson, who walked-on at first and played very little under Mangino, led the Jayhawks in tackles during each of the past two seasons. When he suits up at 3 p.m. today at Tropicana Field to participate in the longest-running college football all-star game, he will become the fourth Jayhawk in the past three seasons to play in the game and the 48th Jayhawk all-time to receive an invite.
"I was a little rusty at first," Johnson said, "because I haven't played in about a month. But it was a lot of fun getting out there with a whole bunch of guys who have the same dreams and aspirations as you."
During his senior season at KU, Johnson led the Big 12 Conference in tackles (93) and finished the season ranked 16th in the nation with 124. Johnson, who earned both second team and third team all-league honors following KU's 2-10 season, also finished in the top 25 nationally in solo tackles with 66. While those stats put his name on the map, the Media, Pa., native has dreams of playing in the NFL and hopes that his time at the Shrine Game will help him reach that goal.
"I got to talk to and meet with a lot of different scouts," he said. "I feel like I talked to almost every (NFL) team."
Energized by the chance to talk to pro scouts, Johnson said he did not lose sight of the purpose of the game, which raises money and awareness for Shriners Hospitals for Children across the country.
"It's a business trip," he said. "But at the same time, it's kind of laid-back, and you still remember the community and the kids and the hospital and all of that stuff, because that's really what it's all about."
Already moved by his interaction with the children, Johnson said today's game could be emotional for another reason.
"It might be a little bit," he said. "I don't think it's going to be anything like Senior Day, but just being able to wear that helmet one more time, that's always an honor. That was the university that gave me an opportunity when no one else did. I'll always be Jayhawk for life. And it's going to be fun to be able to represent the University of Kansas on TV. Hopefully I'll go out there and make a bunch of plays and rep where I'm from."
Johnson is on the West roster, which will be led by former Minnesota Vikings coach Brad Childress. The West team will wear blue during the game and its roster includes three other players who called the Big 12 home during the 2011 season — Dominique Hamilton, DL, Missouri; David Snow, OL, Texas; and Blake Gideon, SS, Texas.
Interestingly enough, the East roster, which will wear red and is coached by former San Diego Chargers coach Bobby Ross, also includes a couple of Big 12 alums — Nick Jean-Baptiste, DL, Baylor, and Tysyn Hartman, FS, Kansas State
The game will be televised on The NFL Network.
More like this story on KUsports.com