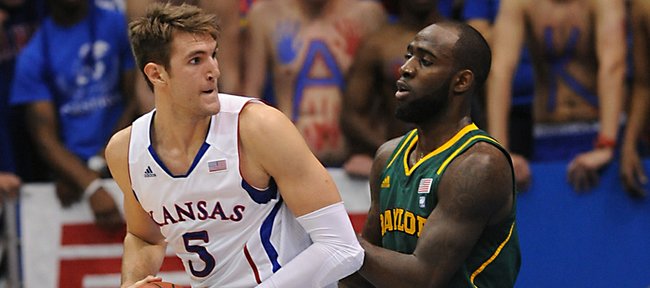 Jeff Withey was quick to accept a fashion tip from his boss last weekend.
"He (coach Bill Self) wanted me to get a haircut," Withey, Kansas University's junior center from San Diego, said with a smile, explaining the new look he brought to Monday's game against Baylor in Allen Fieldhouse.
"It (hair) was too long. It was getting in my eyes. I think you could see that," added Withey, who had a friend apply scissors to his locks Sunday night.
The amount of hair clipped was significant.
"I think I had to lose at least three inches," the 7-footer said of his official height measurement changing after a visit from his barber buddy. "It felt weird tonight (running the court). I could feel the breeze."
Feeling light on his feet, Withey scored 10 points off 3-of-10 shooting and grabbed 10 rebounds in KU's 92-74 Big Monday victory over the previously undefeated Bears.
He also ...
Went 4-for-4 from the line to up his free-throw percentage to 83.7.

Made a perfect bounce pass to Tyshawn Taylor that led to an acrobatic layup.

Plucked three steals and blocked three shots to up his Big 12-leading block total to 56.
"It (effective play from Withey) changes our team a lot because we turn into a Baylor-type team and there is height everywhere," KU junior guard Elijah Johnson said. "T-Rob (Thomas Robinson) brings the strength because he is going to muscle everything through and intimidate people.
"If teams are able to make that pass (inside), they still have to go over a 7-footer, who is athletic and can do just about anything. So when we get Jeff going, it really gets a lot of us going, and a lot of people don't know that. Jeff is a key player to our team, especially with getting us started. When he is on track, it can be a long night for some teams," Johnson added.
When Withey is on, he's part of a killer inside combo with the 6-10 Robinson, who burned Baylor for 27 points and 14 rebounds in 35 minutes.
"Thomas makes the game easier for me, because he's so strong. He moves everybody out of the way, so I can just go up and rebound," Withey said.
"We knew they (Bears) were long and would be physical. We are pretty big too. I am 7-foot. Thomas is 6-10. Justin (Wesley) is 6-8 and Kevin (Young, 6-8) is a big man also. We match up pretty well."
Withey, who had nine offensive rebounds on a night KU outrebounded BU, 39-24, brought great intensity to the court in his 30-minute stint.
"All the coaches tell me I'm too nice, I'm too laid back. Before the game, they try to get me pumped up," Withey said. "Coach (Kurtis) Townsend is always in my ear saying, 'Get mad. Go dunk the ball.' My teammates are always trying to get me more aggressive. It helps a lot. I try to get into a zone."
He works on controlling the glass at practice.
"We have a lot of drills. We get hit with pads, stuff like that just to practice rebounding," said Withey. He averages 6.2 rebounds and 7.8 points per game. "With coach (Danny) Manning, we're always going to be a good rebounding team."
Withey's biggest attribute has always been his defense, most specifically shot-blocking.
"Coach wants me to go after everything. If I don't block it, I'm supposed to alter it," Withey said. "I've always tried to go after the ball."
Wooden list: Robinson has been named a John R. Wooden Award midseason top 25 candidate, the L.A. Athletic Club announced Tuesday. Others from the Big 12 on the list: Missouri's Marcus Denmon and Baylor's Perry Jones.