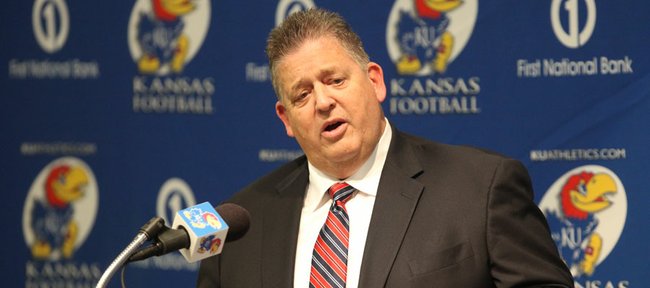 Kansas University football coach Charlie Weis on Monday announced the dismissal of 10 players from the KU football team.
The players, many of whom played significant snaps during the 2011 season, fell into three different categories and were dismissed for everything from academic and behavioral issues to a desire to continue their playing careers elsewhere.
The first group — JaQwaylin Arps, Dexter McDonald, Darrian Miller, Adonis Saunders, Brock Berglund and Keeston Terry — was released by the program.
The second group — Jordan Webb, Tyrone Sellers and Tom Mabry — will no longer be a part of the program but will remain enrolled at KU for the spring semester and may consider playing elsewhere in the future.
The third group — Travis Bodenstein — informed Weis that he would transfer to another school.
Weis spoke to the media for 35 minutes Monday, his first such meeting with reporters since being named head coach on Dec. 8.
In addition to news of the dismissals, Weis addressed several other questions surrounding his program including recruiting, the hiring of his coaching staff and much more. Be sure to check back with KUSports.com throughout the week for more from this news conference.
As for the notables from Monday's meeting, which also included a question-and-answer session with new arrivals Dayne Crist, Jake Heaps and Justin McCay, they included:
• Weis said the names will return to the backs of the uniforms for the 2012 season.
• McCay's eligibility status remains up in the air but the school is petitioning the NCAA to allow the Oklahoma transfer to be able to play this season. If granted, the wide receiver from Bishop Miege High will compete as a sophomore and have three years of eligibility remaining. If it's not granted, he would have to sit out this season and could compete as a junior beginning in 2013.
• Spring practices will begin March 27 and the annual spring game will take place on Saturday, April 28.
Be sure to log on to KUSports.com throughout the day for more.