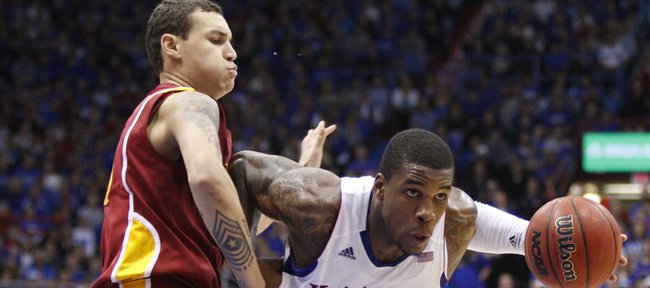 Kansas University forward Thomas Robinson was swarmed so much by Iowa State's defense Saturday that he didn't even have a field-goal attempt after halftime.
That didn't mean he wasn't a big contributor in the Jayhawks' 82-73 comeback victory over the Cyclones.
"I was proud of Thomas," KU coach Bill Self said. "I thought considering the lack of production, the lack of touches, the way they guarded — they put two guys around him all the time — I thought he showed pretty good patience and poise today."
Robinson's final line wasn't overly flashy, at least for what the team has come to expect from him. He posted 11 points on 4-for-10 shooting with 14 rebounds, three blocks and two assists in 32 minutes.
Perhaps his most important number, though, was zero — as in, no turnovers for just the third time this season.
In a fast-paced, high-possession game, Robinson set the tone for KU's big men, who combined for no turnovers. The Jayhawks had only seven giveaways in all, with four coming from Tyshawn Taylor and the other three coming from Elijah Johnson.
Robinson was pestered all day inside by ISU's big men, who sagged to help on him. That actually opened up some shots for teammates like Jeff Withey.
"This is just kind of similar to what USC did to me, just keeping a man shadowing me the whole time," Robinson said. "It was definitely tough, but we have other players on this team, so that's definitely ... that's the upside for us, knowing that my team can still play when I'm not performing at the highest level."
Robinson said he couldn't get frustrated by hounding defenses like ISU's, simply because he knows more will be coming.
"I still played pretty well, and Jeff stepped up, and Tyshawn stepped up," Robinson said. "As long as we got the 'W,' that's all that matters."
For a while in the second half, Robinson watched from the bench while his team grabbed the momentum.
When he checked out of the game with 13:20 left, KU was trailing, 54-50. The Jayhawks went on a 20-12 run in his absence, taking a 70-66 lead before Robinson subbed back in at the 7:37 mark.
"I think he was as happy as anybody sitting over there that we got rolling," Self said.
The next test for Robinson will be Baylor and its talented front line, which includes potential NBA lottery pick Perry Jones III.
"It's a challenge, definitely with them having length like that," Robinson said. "But, I mean, they bleed just like we bleed."
More like this story on KUsports.com